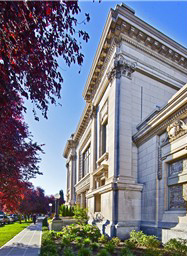 After its long awaited completion and re-launch in January, The Sanctuary has sold half of its twelve luxury townhomes in the historic First Church building on Capitol Hill. The remaining homes range from $729,950 to $999,950.
Listing broker Carrie DeBuys of Realogics Sotheby's International Realty describes the public intrigue with The Sanctuary as "overwhelming" and estimates that she's hosted thousands of visitors over the past month. Several additional sales are expected in the next week.
"The public interest is understandable," says DeBuys. There's been six years of anticipation building for The Sanctuary and it happened to arrive at a very opportunistic time in the marketplace. I haven't seen this kind of excitement for a new community since before the housing correction."
DeBuys points to a dearth of new construction inventory in the pipeline. "This may be the final act for a while," she said.
View the available Sanctuary homes for sale
Inquire for a private tour or for additional information
Disclosure: The Sanctuary is an advertiser of Seattle Condos and Lofts.