The first progressive Belltown Open House Tour of 2012 will take place this Sunday, January 29th from 1 pm to 4 pm.
There are over 14 re-sale properties on the condo tour representing 10 of Belltown's most desirable condo buildings including The Vine, Bellora, Pomeroy, the Concord and Seattle Heights. The units range from a $199,000 studio to a spacious $1,900,000 3-bedroom home.
Just park your car once (it's free on Sunday), then walk and tour Belltown's best places to live.
Click image for larger, printable map (pdf):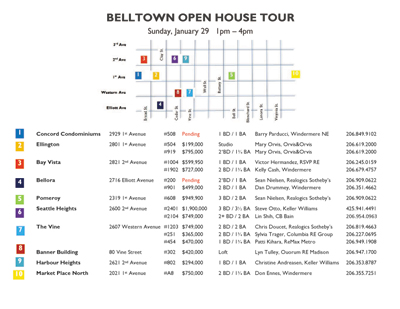 Did you know you can search open houses on SeattleCondosAndLofts.com?
Just start a Seattle condo search and in the "Open House" search filter on the left hand column, select the appropriate day option.