The Bellevue Towers Condominium development topped the region's new construction condo sales in 2011 with 144 sold and closed homes. Overall, the large twin-tower residential complex in downtown Bellevue is now 48% sold with 263 of its 539 homes sold.
The following is adapted from a press release: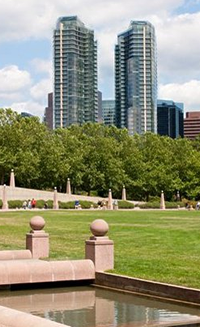 BELLEVUE, WASH (January 13, 2012) – Bellevue Towers, the region's largest urban condominium project, was also the region's best selling condominium project in 2011 at 144 homes closed and sold since January 1, 2011. With sales of $88,940,000 – triple the volume of the closest, comparable project in the market – the cost for Bellevue Towers' homes averaged $433 per square foot, representing the most attractive condominium value offered to buyers in the market. To date, the luxury, downtown Bellevue project has now sold a total of 263 homes and just this week sold two more $2 million plus homes.
"We chose to prioritize sales velocity and value for our buyers rather than wait for market demand and pricing to return to pre-2008 levels," said Patrick Clark, principal with Realty Trust, the brokerage company marketing and selling the project.
Bellevue Towers' remaining homes include studio and one-bedroom residences priced from the $300,000s, two-bedroom homes priced from the $600,000s, and spacious penthouses priced from $2 million. Original prices have been reduced on average by 30 percent, with a limited release of new homes reduced by as much as 40 percent from original pricing to generate strong momentum for the New Year.
Bellevue Towers consists of a 42-story North Tower and a 43-story South Tower with 539 total homes. Each tower offers its own lobby with dedicated concierge service, while sharing an array of other amenities. Residents of Bellevue Towers have access to a 24,000-square-foot urban garden nestled between the two towers, a private screening room, large dining room with terrace and chef's kitchen, fitness center, spa and sun deck, and a great room that opens to an expansive outdoor terrace with fireplace and barbecue grill.
The project also features more than 300 original pieces from Northwest artists including Lucinda Parker, Julie Speidel and George Batho. Standard finishes in all Bellevue Towers homes include Viking or Wolf cook tops and ranges, Sub-Zero refrigerators, Bosch dishwashers, full-height granite kitchen-counter backsplashes and master bathrooms finished in marble or travertine. "It's a fabulous building, not only because it's green, but because it's beautifully constructed, offers luxury amenities, and contains high-quality finishes and appliances," said resident Michael Brandt.