September's Seattle condo market results continued the trend we've seen throughout the year – consistent sales volume from falling prices and low mortgage interest rates.
The median Seattle condo sales price took a big hit in September, dropping to $240,000, a decline of 19.19% compared the same period last year and 2.4% from August..the lowest point since October 2004. In spite of that, median condo prices rose in two areas last month – Queen Anne and Northeast Seattle. Although the year-over-year figures have shown considerable decline, citywide median prices have remained relatively flat over the past five months.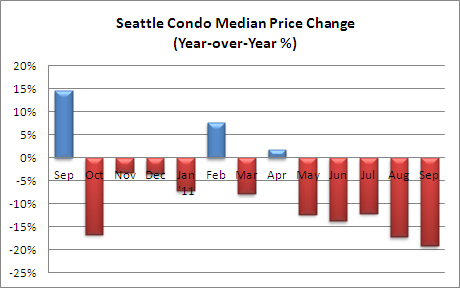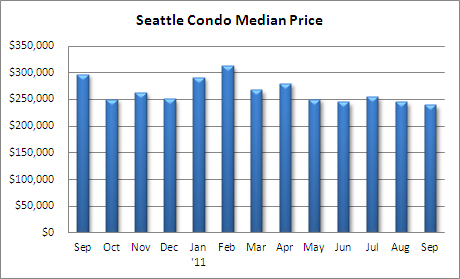 Seattle condo sales continued to do well reflected by a 34.7% year-over-year increase in pending transactions (202). Lower condo prices and historic low interest rates have created opportunities for home buyers and investors. Currently, 15% of the condos for sale in Seattle are priced less than $150,000 and 40 units are priced under $100,000.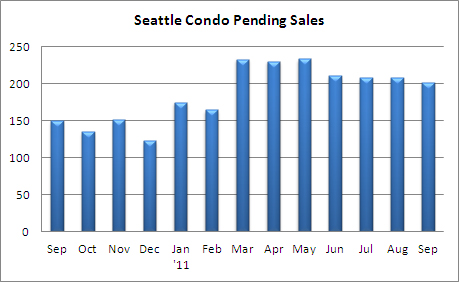 The number of closed sales (137) reflected a 20.3% one-month drop, but still outpaced last September closings by 4.6%.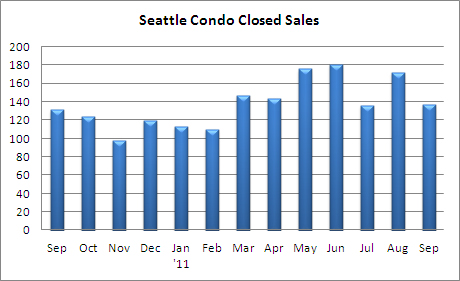 The number of active condo listings for sale continued to reduce, down to 983 properties last month, inching the market back to pre-boom inventory levels.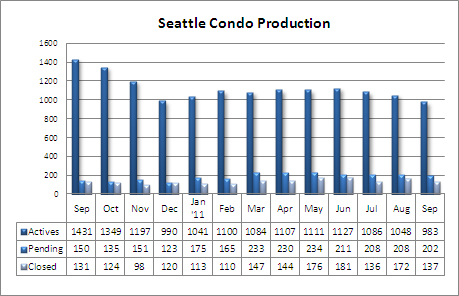 With fewer available condos and a stable sales volume, the Seattle condo inventory supply rate (absorption rate) dipped slightly to 4.9 months based on pendings, though it increased to 7.2 months based on closed sales. Both methods indicate the city continues to reflect neutral/balanced market conditions, presently.
Heading into fall, the seasonal market slow down will reflect fewer listings, reduced sales and likely lower prices, still. One thing I noticed in the past month is the increasing number of Fannie Mae foreclosed condos coming on the market. This will place even greater pressure on Seattle condo values.