According this this report by MSNBC last week, mortgage interest rates fell to its lowest point this year to 4.63% for a 30-year fixed and 3.82% for a 15-year fixed. A quick look at rates today (5/16/2011) show the low rates holding…Wells Fargo rates are at 6.25% for a 30-year fixed and 3.75% for a 15-year fixed mortgage.
How do the current rates stack up historically? The graph below shows the average annual interest rates for 30-year fixed mortgages over the past 20 years. Even if rates move into the 5's this year, comparatively, it'll remain among the lowest we've seen for decades.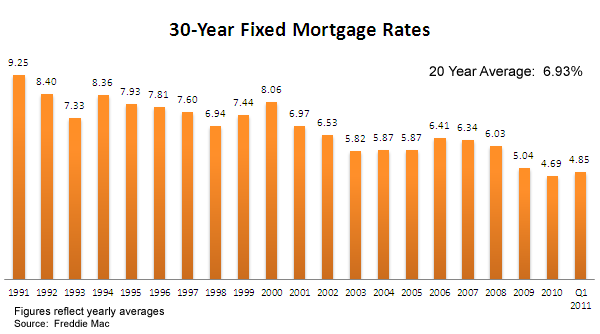 Did you know that you can obtain a mortgage loan with as little as 3% down with no mortgage insurance?
Wells Fargo Home Mortgage offers a special in-house Community Development Mortgage Program geared towards lower income qualified buyers. In many ways it's similar to an FHA Mortgage with two distinct advantages for condo buyers:
It's not limited to a small pool of approved condo buildings.
It does not have mortgage insurance. This is significant as FHA raised its mortgage insurance premiums on April 18th, increasing monthly payments by as much as $100.
There are a few requirements and restrictions that apply to the Community Development Mortgage Program. These are:
Borrowers must attend a state certified home buyers education seminar.
Income is restricted to 80% or below of the HUD Area Median Income, which is $68,400 for King & Snohomish counties. That roughly translates to a maximum purchase of $250,000.
Credit score as low as 620 with flexible underwriting guidelines.
Down payment and closing costs assistance is allowed; sellers may contribute up to 3%.
Does not require reserves.
Purchase of a principal residence.
Borrowers not need to be a first-time home buyer.
The program does have a higher interest rate, however, it has a lower monthly payment than a corresponding FHA mortgage. And, for now, mortgage interest is tax deductible.
Example:
FHA $200,000 Purchase with 3.5% down, 30-year Fixed:
$193,000 loan at 4.75% equals a monthly payment of $1,340.44.
CDMP $200,000 Purchase with 3% down, 30-year Fixed:
$194,000 loan at 5.25% equals a monthly payment of $1,221.28. A savings of $119 per month.
Note: monthly payment includes principal, interest and taxes.
To learn more about the Wells Fargo Community Development Mortgage Program, please contact us and we'll personally put you in touch with our partners at Wells Fargo.