If you're in the market to purchase and considering or relying on FHA backed mortgage loan, keep in mind, the mortgage insurance premium fees will be changing effective October 4, 2010.
The upfront mortgage insurance fee is being reduced from 2.25% to 1.0%, while the monthly fee will increase from 0.55% to 0.90%.
That means buyers using FHA, will as of Oct 4th, have a smaller loan value amount (due to the reduced upfront mortgage fee) but higher monthly payments (due to the increased monthly fee). According to mortgage brokers, this may negatively affect purchasing power by about $10,000. Not a tremendous amount, but something to keep in mind.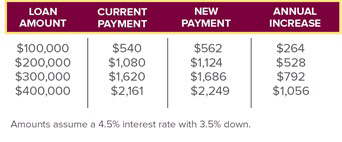 For all loan amounts, the impact of the increase in the Mortgage Insurance Premium is equal to between a .375% to .500% increase in interest rate. The effect on annual payments for loan amounts in all ranges can be seen in the graph above.
It is important to understand that if you are in the market to purchase a home or refinance, you have until October 4 to identify a property and order a case number before these new rates take effect.