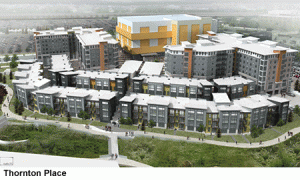 The Thornton Place development at Northgate is offering a several incentives, including a layoff guarantee, to new condo purchasers. Thornton Place is a large 5-acre mixed-use development south of the Northgage mall that includes condominiums, apartments, retail, a senior living community and a 14-screen Regal Cinema with IMAX screens. Read more about the project in our Thornton Place review.
With their Spring Sales release of 27 condominium homes Thornton Place is offer several great incentives for buyers who purchase by May 25, 2009. One of the most unique, if not the first for a condominium, is a layoff guarantee. Homeowners who are laid off within their first year of ownership can receive up to six months of paid mortgage payments. The guarantee is worth up to $2,500 in monthly principle and interest, so buyers are responsible for taxes and insurance. Though, that's a pretty sweet deal. The unit must also be a principle residence.
Additionally, Thornton Place is also offering the following incentives through May 25th:
Three percent (3%) of purchase price towards closing costs, rate buy downs or to pay the mortgage on a buyer's existing home while it is listed for sale
No homeowner dues until July 2010
$1,000 cash if financed through the developers preferred lender
A price guarantee that's valid through December 31, 2009
The development is FHA approved so eligible buyers will be able to purchase with FHA's low 3.5% down payment requirement. And, given the price point of the homes, low-$300,000 to mid-$400,000, many buyers will be eligible for the $8,000 first-time homebuyers tax credit that's available through November 30, 2009.
Thornton Place is developed by Lorig Associates and Stellar Holdings.