Olive 8 Condominium concluded the auction of 32 units on September 19, 2010. Originally, 34 units were scheduled for auction, though only 28 were listed on the auction day list. After the 28 were auctioned, an additional 4 one-bedrooms were added (part of the original 34). The two units that were not available at the auction were #1901 and #2102, both two-bedroom + den units that were listed over $1 million.
The results were similar the prior auctions, with the winning bids averaging 67% of the last listed prices and averaging 73% over the starting bid prices. The higher priced two-bedroom + den units got the best deals, with winning bids averaging 42% below list prices.
If all auctioned units eventually close, by my estimate, that will bring the sold percentage to approximately 50%, leaving around 100 units remaining in Olive 8. The auction will reset market values within Olive 8 and other downtown buildings, so if you missed out on the auction, you'll likely be able to negotiate decent deals post-auction. Given the state of the market and the rate of sales at other new condo buildings, it will take a year or more to sell off the remaining Olive 8 units.
Click image to download PDF: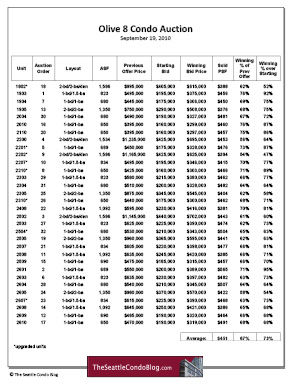 View available Olive 8 condos for sale.
See also: Seattle Times write up