Lumen officially announced it will auction the remaining 19 condominium homes on Saturday, July 11, 2009 at the Seattle Grand Hyatt Hotel.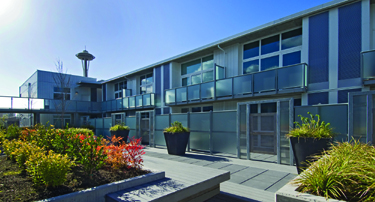 The one-bedroom, one-bath homes previously priced over $460,000 will carry minimum selling prices at auction from only $175,000, or 40% of original pricing. Two-bedroom homes carry minimum bids starting at only $275,000. Auction pricing averages nearly 50% below original pricing. One 1,631 square-foot loft-style home will open with a minimum bid of only $395,000, more than $500,000 below original price.
Buyers will need to be be pre-registered and pre-qualified with the seller's designated lender, Wells Fargo Home Mortgage, prior to bidding. They also should inspect the specific property they wish to bid on prior to the auction.
To help those new to auction buying, the auctioneer, TeamBuilder Auction Group, will host a pre-auction seminar for interested buyers on Wednesday, July 1st at 7 p.m. At that time potential buyers can pre-register, learn about the auction process, review the terms and conditions of sale, and participate in a mock-auction to experience first-hand how this type of real estate transaction works.
To learn more about LUMEN and tour the homes available for sale at this event, please visit the on-site information office located at 501 Roy Street, Seattle, 98109. The onsite office is open seven days a week from 10 a.m. to 6 p.m
More information about the auction along with the units available with the minimum starting bid and last offered price are available at www.LumenCondoAuction.com.