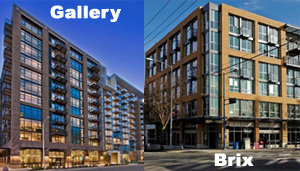 Developer Schnitzer West, who earlier this month converted their Equinox condo development in Eastlake to apartments have just announced they are auctioning the remaining units in their two other Seattle properties – The Gallery Condominium in Belltown and Brix Condominium on Capitol Hill.
The auctions for both properties will be held on Sunday, September 27th at the Grand Hyatt Seattle (721 Pine Street). Brix goes first starting at 1:00 PM with Gallery starting later at 6:00 PM. The auctions will be conducted by Accelerated Marketing Partners, who previously handled the auction for the 1707 Boylston condo on Capitol Hill.
There are 40 units available at Brix with the minimum bid starting at $165,000 for an open one bedroom. The Gallery has 43 units available with the minimum starting bid beginning from $195,000. Schnitzer clarified that there are more units available but are only offering 83 through the auction process. Presently, their focus is on the 83 auction units so no home will be available for purchase through normal channels until after the auction concludes.
According to their press release:
The auctions will be conducted mid stream of the properties' sales campaigns, and are not intended to "liquidate" the remaining inventory, but rather will establish market pricing for the projects.
For more information including the full list of homes available, registration and deposit requirements, please click on the following:
Both auctions have a buyer/agent registration policy. Therefore, if you want to be represented by your own buyer's agent, then your agent must accompany you on your initial visit to the auction center at both Brix and Gallery. If a buyer visits the auction office without their agent, they may be denied their own representation.
The developer's other condominium project is The Bravern in Bellevue.