If you've been by Northgage Mall in North Seattle lately you'll notice a lot of construction activity at the mall's former south lot. No, it's not an extension of the mall (that's on the north side), but a massive residential, retail and entertainment development on a controversial piece of land whose tumultuous history dates back more than eight years.
Back then, there were contentious debates among local residents, conservationists and mall owners about developing the south lot and Thornton Creek which ran beneath it. In 2002 the Appeals Court overturned a lower court decision and ruled that the water running below the lot was not Thornton Creek, thus opening the door for development. But, more debate and lawsuits followed. It wasn't until 2004 when numerous stakeholders reached an agreement that plans for development moved ahead.
Fast forward.
Today, Thornton Place, is rising like the phoenix out of the south lot asphalt ashes. When fully completed by the end of Summer 2009, Thornton Place will feature a 14 screen & IMAX theater, retail and restaurants, 266 apartments, 121 condos including 12 live/work lofts, a 143-unit senior living development by ERA Living and an uncovered Thornton Creek channel.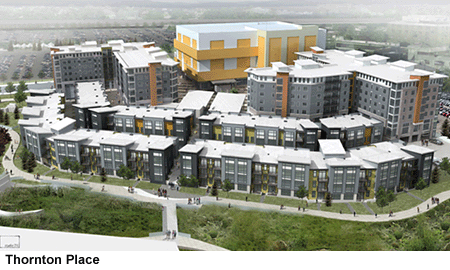 The Thornton Place urban village is one of only five projects in the state participating in the LEED ND (neighborhood development) pilot program which strives to create a compact, walkable and vibrant mixed-used neighborhood. Additionally, the developer, Lorig Associates, is expecting to achieve a LEED Silver certification for green building practices.
Key dates ahead:
Apartment rentals begin – April 2009
Cinema and retail open – May 2009
ERA Living's Aljoya opens – Summer 2009

Condo sales begin.
The first structures to finish will be the condos, which began sales this past weekend. Thornton Place offers a variety of floor plans to fit most everyone's needs, including studios, one- and two-bedroom flats, two-bedroom townhomes and live/work lofts.
One thing that struck me as I toured the units was the sheer size of the homes compared to their downtown counterparts. Even the smallest homes are huge. The studios start from 600 square feet, some with 9′ 10″ ceiling heights, and include a large sleeping alcove, walk-in closets and a defined dining area. The other floor plans range up to 1,364 square feet in size.
Home features and amenities include:
Two color palettes to choose from
Various ceiling heights, up to 14′ in select top floor units
Natural Maple or Kempas microstrip hardwood floors in living area, plus porcelain tiled flooring in kitchen and bath
Striking polished slab granite countertops in kitchen and bath, with porcelain tiled surround
Wenge or cherry veneer cabinets
GE appliances including stacked washer and dryer
Large, oversized windows
Patio or deck space for most homes
Heat and glo gas fireplace in most homes
Gated entry after hours, plus parking and extra storage
Community room and lounge area, 24-hour accessed fitness facility and a business/conference center, shared with the apartments
Currently, 62 condo units are available for purchase ranging from $299,000 to $589,000. On a per square foot value, the condos are among the priciest in North Seattle. So, what's the benefit of spending a more for a piece of Thornton Place – location. An urban village in its own right, Thornton Place is part of the larger Northgate urban village that includes various transportation options including two park-and-rides, ample retail, restaurant & entertainment choices, and numerous business and community services. Plus, Thornton Place will be home to a diverse 600 residents.
While the condos are market rate, the apartments will include both market rate and workforce housing units. The workforce housing units will be available to residents earning 80% of King County's median income.
The condo sales center is open daily from 11 am to 6 pm, enter parking garage from NE 100th Street. For more information about Thornton Place, visit:
– Thornton Place
– Thornton Place Apartments
– Aljoya (ERA Living)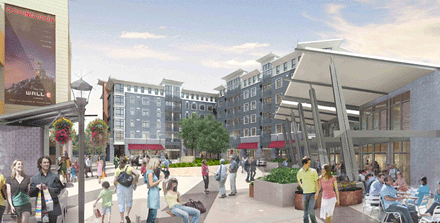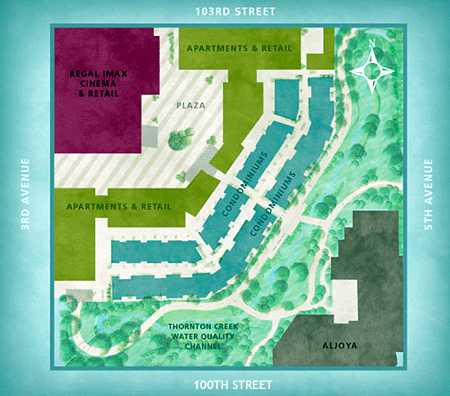 images courtesy of Lorig / Thornton Place