Official August figures from the NWMLS haven't been released yet, though a review of sold condo properties for the month points to a year-over-year median price decrease of approximately 2.2% and about a 4% increase over the prior month. These figures may change due to a lag in end of the month reporting of sold properties.
If the figures hold, it'll reflect the fifth monthly year-over-year citywide condo median price decrease so far this year, which isn't surprising. Condo list prices have taken a hit this year.
Throughout 2008 we've seen a rising inventory supply rate (even with recent declines in the number of active listings) and fewer properties being sold (42% drop in YTD sales), resulting in a buyer's market. Yet, despite the wide fluctuations in monthly sales activity and median prices, overall, Seattle condo values have remained on par with 2007…so far.
Looking at year-to-date values, the citywide aggregate median price for the first eight months this year was $315,000. By comparison, the median price for the same period last year was $314,950, essentially unchanged.
The market has softened quite a bit over the past few months and that's likely to continue. Going forward, especially through the characteristically slower part of the season, we'll probably see a downward, though nominal, movement in the aggregate median price.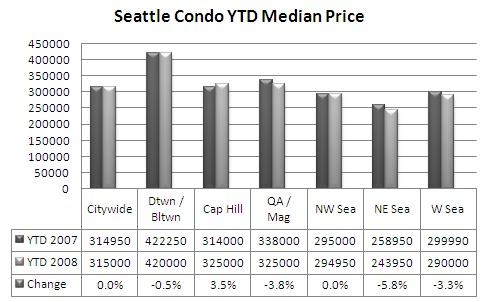 Data reflects YTD median price through August 31, 2008.
Data Source: Provided, but not computed, by the NWMLS.