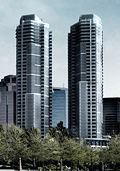 Bellevue Towers, the Eastside's most hyped (and likely to be one of the region's few condo successes) is hosting an open house of three newly completed model homes. The model homes, which range in size from 800 sf to over 1,600 sf, showcase three distinct interior designs with budgets from $20,000 up to $100,000.
When: Sunday, September 14th from 12:30 pm to 4:30pm

Where: Start in the lobby of the Key Bank Building, 10655 NE 4th Street
Since Bellevue Towers is still under construction, the following event safety rules apply:
Close-toed, flat shoes are required to enter the construction site (i.e. no high heels or sandals will be permitted).
Please meet in the lobby of the Key Bank building to sign your release waiver prior to entering the construction site.
Children under 18 are not permitted on the construction site.