As has been the case throughout much of the year, each passing month exhibits the fluidity of Seattle's condo market. A number of factors have contributed to the buoyancy such as new construction closings, seasonal changes, mortgage availability and rates as well as consumer confidence levels.
The citywide condo median price rose 3.3% in August to $310,000 compared to July. Historically, though, August outperforms July along with an uptick in the median price so it's to be expected. In comparison to the prior year, the citywide condo median price in August fell 5.3%. And, that's significant when you consider it was the largest one-month YOY decrease spanning back several years. Yet, keep in mind that only compares the results of two 31-day periods in time. Looking at YTD median price figures, the citywide median price is unchanged relative to 2007, though a downward movement is expected.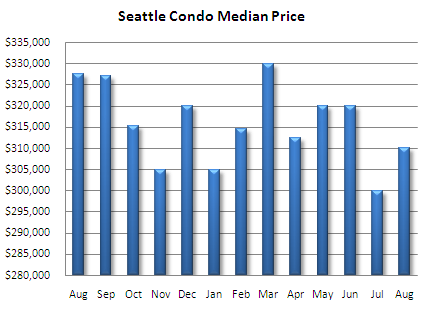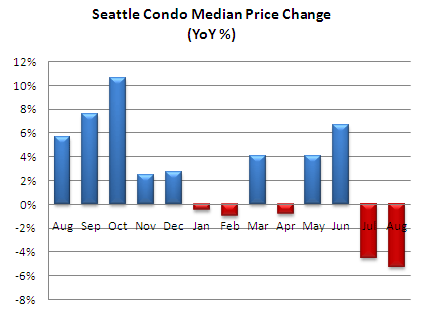 Perhaps the best piece of news in August was the third consecutive decrease in the number of active condo listings, down to 1,491 or 48 fewer than July. In comparison to August 2007, there were only 127 more listings, or 9.3%, the slimmest margin in YOY listings since the condo market softened. A fair number of sellers are mitigating the effects of the downturn by taking advantage of the rental market. Interestingly, should the number of listings plateau in September, we'll realize a YOY decrease in listings next month.
On the other hand, the inventory supply rate (a measure of months of inventory based on active listings and pending transactions) remains at a moderate 7.6 months, even though we're seeing parity in the number of active listings compared to 2007 levels. The main reason being that buyers are remaining on the sidelines, tepid about the market and concerned about the economy. Compared to last year, the number of condo purchases is down 45.3%.
We may yet see a bounce in the market given two key factors – inventory options and recent government actions. Buyers have the advantage of a buyers market resulting in more inventory choices (fewer active buyers in the market to compete against). Slower sales volume may also translate into better deals in terms of price, contract terms and concessions. The government's recent takeover of Fannie Mae and Freddie Mac helps to instill confidence in the mortgage market and has resulted in lower rates, dropping below 6% this week. Plus, low down payment loan options are still available. Finally, the $7,500 first time home buyer tax credit (an interest-free loan) means a more immediate benefit to buyers.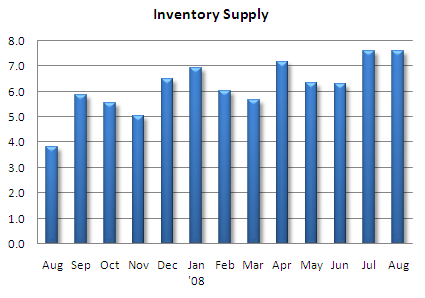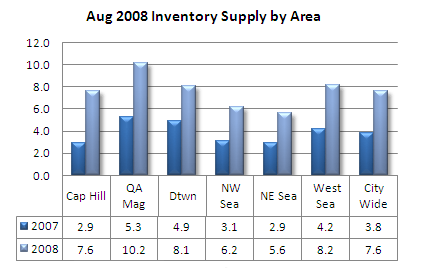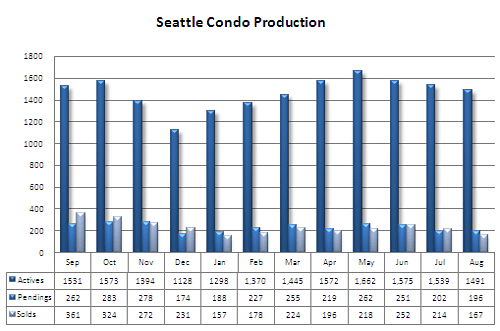 As for sellers, September may result in a rebound as well. Not in regards to price, which is likely to remain below 2007, but rather in the number of properties that are selling (pending transactions). Through the first week-and-a-half of September we're seeing a rise in sales volume. But, this is cyclical as well since we normally see a bump in September/October, though lower interest rates may be spurring buyers off the fence.