NoMa sent the following mass email out exclaiming "Closeout Pricing" and claiming they have the best prices in Ballard for new two-bedroom condo homes and to compare their prices with two other new developments.  So, I figured it's fair game to take them up on their comparison suggestion.
It is true they recently reduced prices (mid-August), rather signficantly, between $20,000 to $80,000.  But their claim regarding one of the other projects, Canal Station, is not accurate.  Canal Station has several two-bedroom units that match NoMa's price levels, between $399,990 and $489,990.  It's also a little disingenuous to state $399,990 is "NOW" upper $300s since a measly $11 separates it from the "WAS" low $400s.  Finally, not all of NoMa's two-bedrooms include a den as implied in the email ad.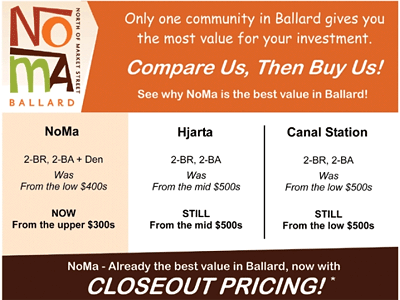 Let's look as some of those NoMa units a bit more closely, again, fair game. Unit #503 originally came on the market 625 days ago at $499,950, then two price increases followed taking it up to $544,950.  But in the past three months, it was decreased to $519,950, increased to $529,950, then down again to $489,990.  Currently listed at $489,990…after 625 days it's a net reduction of only $10,000 from the original list price.  Not quite what I'd call a close out.
Unit #204 is currently on the market at $449,990 which reflects a recent $80,000 reduction.  However, it's been on the market for 734 days, originally starting at $519,950, rising to $539,950 at one point, then hanging out at $529,950 for 11 months before the adjustment to $449,990 last month.  This unit comes with two decks and with the $80K decrease is among the lowest priced new-construction two-bedrooms in the area.
Unit #303 came on the market some 590 days ago at $479,950 followed by two increases taking it to $514,950.  It was eventually reduced $80,000 last month.  Currently listed at $439,990, it's a net reduction of $40,000 after nearly 600 days, yet compares favorably to other two-bedrooms in the area.
Unit #302 was listed approximately 613 days ago at $469,950.  During that time it increased to $499,950 followed by two reductions last month that brought the list price down to $429,990.   That's a $70,000 reduction, not the $80,000 as claimed in the listing remarks.  And, since 2006, only a $40,000 net decrease, but still a fair value in comparison.
Unit #415 came on the market more than 700 days ago with an original list price of $419,950.  The price was subsequently increased to $454,950 before three reductions eventually brought it down to $399,990 last month.  In over 700 days, the net reduction amounts to only $20,000 from the original list price.