If there's anything to be said about the Seattle condo market this year, is that it's been rather consistent. The median price has been consistently below 2010 levels, inventory remains around the 1,100 mark and sales continue to improve over last year.
The citywide condo median sales price dropped by its largest margin this year, down 17.17% to $246,000 compared to the same period in 2010. That also reflected a one-month slide of 3.5%. Capitol Hill saw the greatest decline (-25%), while West Seattle was the only area where the median sales price increased (+2.5).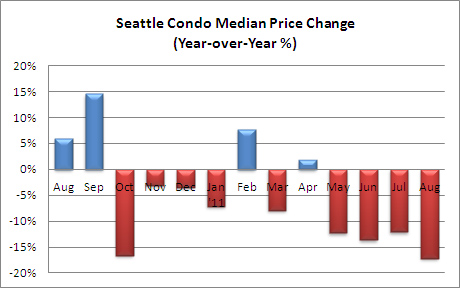 Even though there's been considerable fluctuation from 2010 levels, median Seattle condo prices have actually been fairly stable this year. Over the past four months, the median sales price has settled around the $250,000 mark.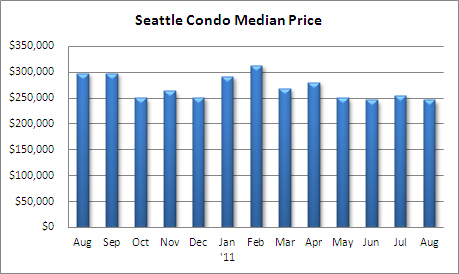 Sales have been steady this year, although at a slower velocity than we saw in the spring. The number of pending transactions under contract last month increased 11.2% over last year, the 4th consecutive month of year-over-year improvement. The increased sales in August were primarily in Queen Anne / Magnolia and NE Seattle. If the trend holds, the market should outpace 2010 sales for the remainder of the year.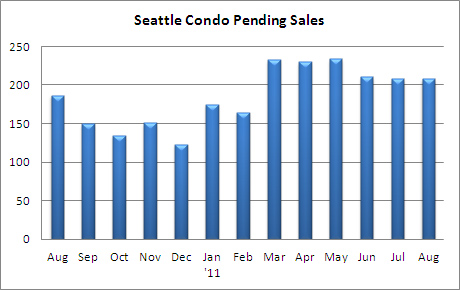 The number of closed sales in August rose 21.1% over last August and rebounded 26.5% over the prior month. Year-to-date, the number of closed condo sales is off by 116 units compared to the same period in 2010. That's not bad considering 2011 sales have been market driven rather than incentivized by tax credits.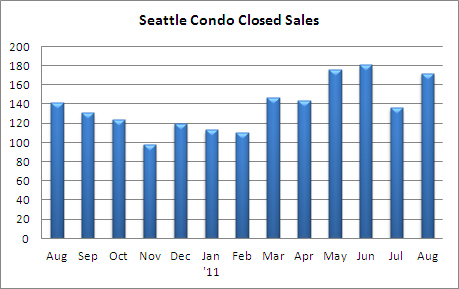 The number of active condo listings has been consistent thoughout the year, approximately within 50 units either side of 1,100 and well below 2010 levels. There were 32.9% fewer condominiums listed for sale in August compared to last year. We're heading back down to pre-boom levels and are not likely to see the excess inventory that we experienced between 2007 and 2010 anytime soon given the market and new construction environment.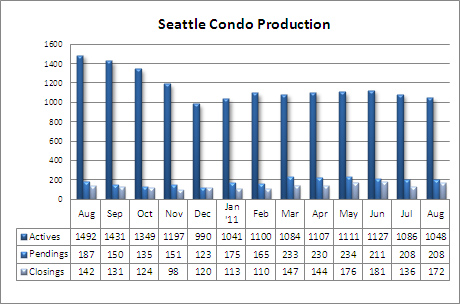 The reduced number of listings, combined with a steady rate of sales, has kept the Seattle condo inventory supply rate, or absorption rate, within balanced market parameters. Citywide, the absorption rate has dipped to 5 and 6.1 months of supply based on pending and closed sales, respectively.
The areas with the lowest condo supply rates are SE Seattle with 3.6 months of supply and downtown / Belltown with 4.6 months.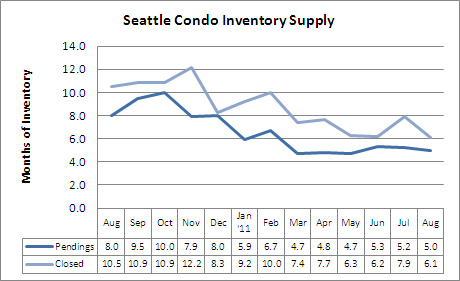 Currently, distressed condos comprise 24.1% of the inventory and 26% of the sales last month. What's interesting, however, is the difference in sales between bank-owned (REO) properties and short sales. Short sales make up 16% of the inventory but only 0.9% of closed sales, where REO make up 8.1% of the inventory yet account for 16.8% of sales.
That's not completely surprising, though, considering most short sales have a low success rate while buying an REO property isn't very different from regular sales. Eventually, the market will absorb those units as short sales foreclose and end up as REOs. That'll continue to put downward pressure on prices and will likely keep the market in a balanced/buyer's market.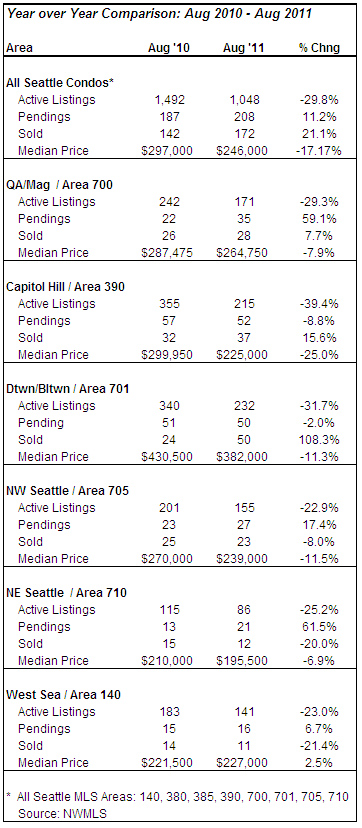 ________________________
© Seattle Condos and Lofts