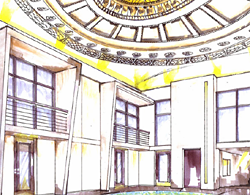 Received a project update from First Church this afternoon. The Capitol Hill church-to-condo conversion is on schedule with work on the interior progressing. When completed in the first half of 2009, the church will be home to 12 multi-level luxury townhome units centered around the church's dome.
The two-bedroom homes, which span 3 to 5 levels, range in size from 1,109 sq ft to 2,269 sq ft. For more detailed info, floor plans are now available on the projects website: www.firstchurchseattle.com.
Pricing information and home sale release will take place later this Summer. Though, individual units have been sold as raw shells.