UPDATE: Moda is converting to apartments.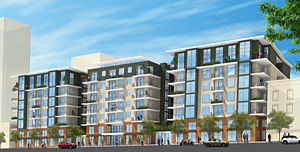 Today was the official start of sales at Moda Condominiums in Belltown. Moda fills a gap left by many of the other developers by providing "affordable" in-city condominium homes under the $500,000 price point. And, that resonated well with buyers. Though, affordable is relative since price per square foot range from $460 to $535 which matches many of the swankier downtown projects.
Officially, sales began at 11 AM this morning for the 251 units, though several hundred people were given advanced purchase opportunities. By noon this afternoon, a good majority of the homes were sold, leaving only the sub-400 sq ft alley facing studios & one bedrooms available. Those units are priced up to mid-$200,000s.
The Nitty Gritty
Studio & smaller one-bedroom units face East towards the alley & neigboring buildings, larger one bedrooms are located in the interior, and the two-bedroom units face West on 3rd Avenue. Many of the top floor units are two-level townhome styled homes.
Aside from the kitchen, the units are rather non-descript. The kitchens feature slab granite or limestone countertops, slimmed down LG & GE stainless steel appliances (range is regular sized) & veneered press board cabinetry.
An early press release mentioned walnut or cherry hardwood floors, which actually turned out to be laminate flooring in walnut or cherry finishes. which are engineered manufactured hardwood rather than solid hardwood in walnut or cherry finish.
At least with the one-bedroom model unit, the bedroom and closet did not come with doors. Doors may be installed as an option.
The bathrooms are good sized and include a full sized tub/shower with tiled surround, slab granite countertops and nice lighting fixtures.
Only 43 units come with assigned parking. Another 125 spaces are available, though 156 permits for selected units are available on a first come, first served basis. Fifty-six units, all studios, do not come with, nor is it an option to purchase, parking.
Twenty-five units on the 2nd floor are designated "Affordable Housing Units" where buyers must qualify based on income requirements. Yet, those low income requirements are quite high – $78,000 for 1 person household, $89,100 for 2 person household, $100,300 for a 3 person household and $114,450 for a 4 person household.
Other features include a stacked washer & dryer, rooftop deck with barbecue and entertainment area, a central boiler system and a moisture monitoring system.
Though the finishes and quality may not have lived up to the hype and earlier descriptions, overall, these are nicely designed and finished units at an affordable price located in the heart of the Belltown neighborhood. Moda fills a need by catering to the average homebuyer, often overlooked by many of the glitzier projects.