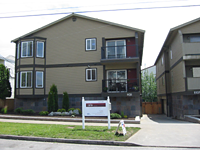 Nestled in the North Seattle neighborhood of Licton Springs is the newly converted Zulo Condominium development (website). What's with the name? Zulo is Spanish for "hideout", thus the naming implies an "urban hideout" retreat.
Zulo includes just 12 condominium homes within 2 buildings consisting of 8 two-bedrooms and 4 one-bedrooms. The two-bedrooms range in size from 724 to 754 square feet and are priced between $259,950 and $269,950. The one-bedrooms are 675 square feet and are priced from $234,950 to $239,950. The two-bedrooms are well priced though the one-bedrooms are among the highest priced for the area.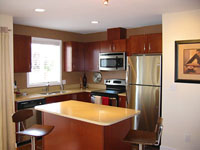 Currently, the developer is finishing up work on the first building and has released 6 units for sale. Overall, they've done a good job with the remodel. The home features include:
New solid wood cabinetry
Cesar stone countertops in kitchen and bath
Hardwood, Corten Tile (metalic rust finish) and Wool Berber carpet flooring
Stainless steel appliances
Stacked washer and dryer
Every unit is a corner home offering two or three windowed walls
Vaulted ceilings (upper floor units)
Private decks
Garage parking
A new slate tile facade has been installed on the ground level exterior walls, which the developer was quick to point out is for aesthetic rather than structural purposes. The buildings are secured but are walk-ups (no elevators) with the residences on the 2nd and 3rd floors. The 3rd floor South-facing units currently have views of downtown though that could change in the future with development of the parcel across the alley. And, even though Zulo is 1/2 block from Aurora, the traffic noise was barely discernible during my visit.
Zulo is developed by AGB Development who also converted the Forte Condominiums in Pinehurst.