May's condo market performance reflected an improvement over April marking the second year-over-year increase in median price this year. At $320,000, Seattle's condo median price increased 2.4% over April and 4.1% over May of last year.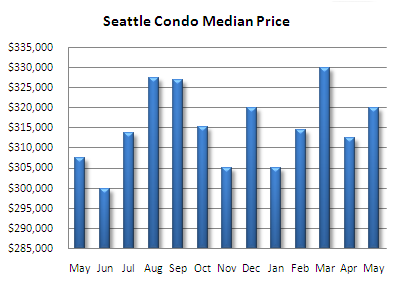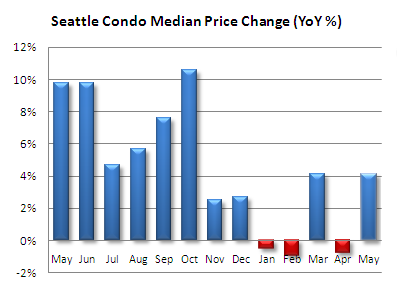 There was a slight drop in the inventory supply rate, even as inventory continues to climb, thanks to a 19.6% bump in the number of condos going under contract compared to April.
With a citywide 6.3 month condo supply, Seattle remains a buyer's market. Broken down by area, Northeast Seattle (e.g. U-District, Northgate, Lake City, Roosevelt) is the only part of town reflecting normal market conditions. On the other end of the spectrum, West Seattle exhibits an entrenched buyer's market with a 9 month supply rate based on current level of sales.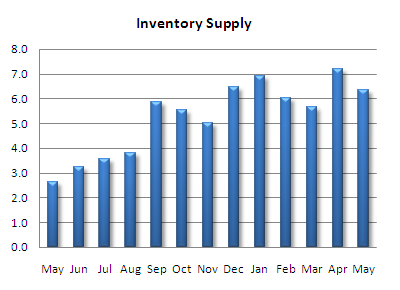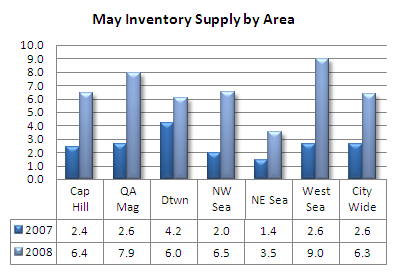 Overall, the market performed decently for sellers in respects to market value, though longer-term, we'll likely experience greater volatility as inventory continues to escalate. There were 1,662 available condos listed in the NWMLS last month and I expect we'll continue to see inventory rise throughout Summer.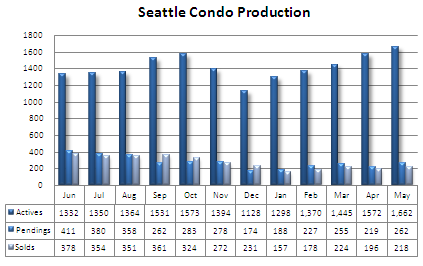 Compared to last May, the number of pending and sold transactions have reduced significantly as illustrated below. Given the transition to a buyer's market, coupled with stable mortgage rates and more buyer incentives being offered, I'd expect to see buyers take advantage of the market. Yet, that hasn't happened. Is concern about the economy combined with the expectation of a furthering decline in market values holding buyers back? If you're on the fence, what's holding you back?