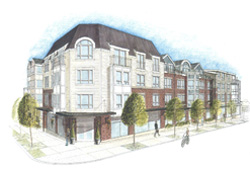 Fifth Avenue North is a conversion project just up the street from the Lumen on the lower SE side of Queen Anne. From the developer's website – "These luxury condominiums and townhomes feature new paint, choice of designer carpet and porcelain tile, and in-unit washers and dryers. Walk to the Seattle Opera House, Intiman Theater, eclectic shops, late-night espresso bars and some of the best nightlife in the city! Few other places can offer such exceptional urban living, a cosmopolitan lifestyle and the majestic view of The Residences at Fifth Avenue North".
After touring a number of units today, I think there's a bit of marketing enrichment in the above statement. True, they are in a decent location, close to the Seattle Center and an easy commute to downtown. And, there's a Caffe Vita right across the street. Plus, the two-story townhomes have an interior and street entrances. I think it's great that you can walk out the front door to a little landing. It makes it feel like a home rather than a condo.
That said, it's sort of a quasi conversion. It is a conversion in the sense that it's converting from an apartment building to a condominium, true enough. However, the pricing reflects the units "as is" — basically you'd be purchasing the apartment. Worn carpeting from the previous tenants, old cabinets and countertops (with the laminate peeling), used appliances and so forth. Upgrades – new flooring, cabinets, countertops, etc, are extra! Normally, when converting an apartment to a condominium, the developer guts and renovates the units. So, for units starting around $300,000 (current allotment), it's a lot to pay.
Of the current allotment, there are six available one- and two- bedrooms units. Another 20 are reserved for future release as tenants are still in the process of moving out.