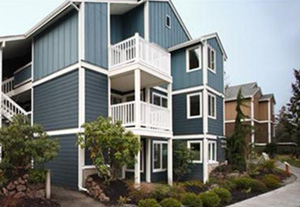 The Cove at Veridian Condoiminium is coming back to the market in North Seattle. The complex of several low-rise buildings near Bitter Lake were originally converted to condos and marketed as "Veridian Cove" in 2007. Like many other condominium developments at the time, they were caught up in the housing and condomiminium market crash. By 2011, the developer removed the properties from the market and re-rented the units.
With the Seattle condo market now in recovery and values appreciating, the units will be coming up for sale again, by late May according to a teaser email from the marketing firm. Homes at The Cove at Veridian will start from the $100,000s.
In the intervening years since the homes were first sold, most of the resale properties that have come on the market have been distressed properties – either short sales or bank-owned (foreclosure) sales, and there was a lawsuit against the developer, which appears to have been settled.
We'll provide more details about the re-launch of The Cove at Veridian as information becomes available, so stay tuned.