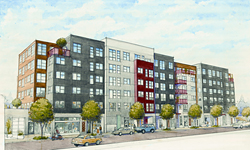 HomeSight, a non-profit community development company, is breaking ground on a new condominium project in Seattle's Rainier Valley neighborhood on city-owned surplus land intended for affordable workforce housing.
The six-story $32 million project will feature 17 live/work lofts and 85 condo units. Prices will start from $220,000 with financing assistance up to $120,000 for families earning less than 80% of the area's median income. Additionally, 20 units will have a resale cap to ensure affordable inventory will be available in the future.
The project is located at 809 Hiawatha Place. Completion is slated for late 2009.