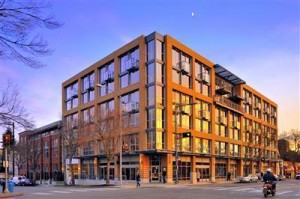 Update: This project has been completed.
A new condo project in the heart of Capitol Hill, the Brix condos, will certainly add vitality back to "the Hill". Brix is planned for the old Safeway site on the north-end of Broadway. If anyone has been to Broadway lately, it has lost its luster with many of the long-time and quaint business closing or moving. Combined with other new residential/retail projects on Broadway, Brix will infuse a bit of life back to Broadway.
Brix will be concrete, glass and steel featuring 140 one & two bedroom flats, lofts, 16′ ceiling SkyLofts and two-level townhomes. The taller modern Broadway facing wing will house the flats & SkyLofts while the brick-facade 10th Avenue wing will be home to the townhouses and lofts.
Building & unit features include:
hardwood floors
custom cabinetry
stainless steel appliances
upscale plumbing and lighting fixtures
Option Entertainment centers and kitchens with floating islands
Courtyard & roof top deck
7,700 square of retail space at ground level, no doubt housing a coffee place or two
Looking at preliminary renderings I'm a little disappointed. Don't get me wrong, it's great looking building, very modern with clean lines. But, it would be more appropriate in Belltown, Lower Queen Anne or South Lake Union; a little out of character for Broadway.