Lets start with the bad news first. The median price for Seattle condos fell for the third consecutive month; it now stands at $305,000, a 3.3% decrease compared to October. And, as we'd expect with cyclical patterns, fewer condos were sold last month, though pendings transactions remained unchanged.
The good news? Overall, Seattle's condo market performed very well in November. While the month over month figures show a downward trend in the median price, compared to a year ago, median price rose 2.5%, the 11th consecutive month that 2007 sale prices have outpaced 2006. Additionally, the number of closed sales increased 15.3% over the prior year. Buyers are still buying and sellers are still experiencing value appreciation.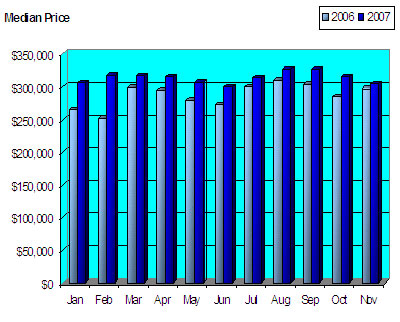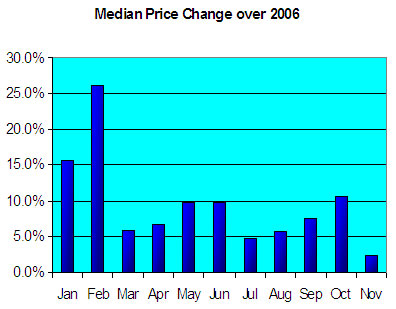 There was an 11.4% drop in the number of active condo listings last month with the number of listings that went under contract remaining relatively unchanged. As a result, the absorption rate (inventory level) dropped to 5 months, the lowest level since Summer. I anticipate the number of actives will drop again in December, then pick up during the first quarter of 2008.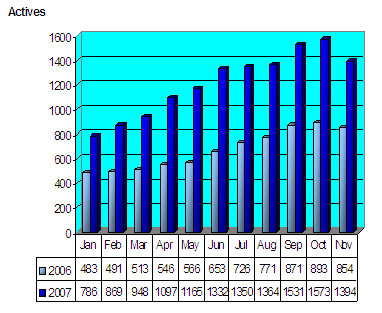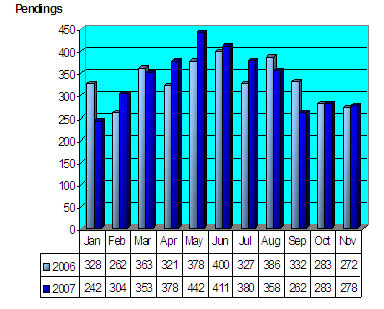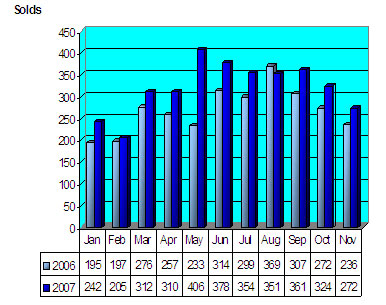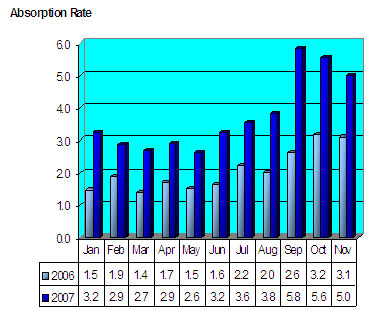 In compiling the information provided in the charts below, I'm strictly using published NWMLS area data. Previously, I manually calculated the data based on narrower neighborhood parameters.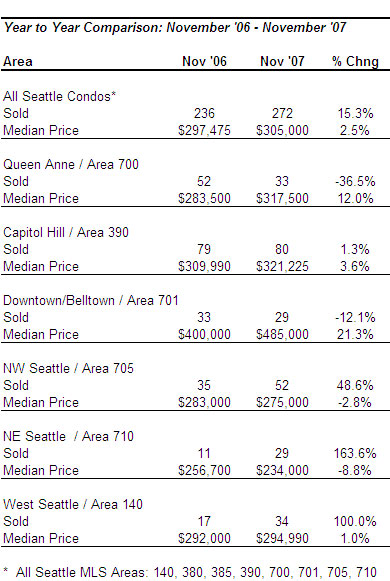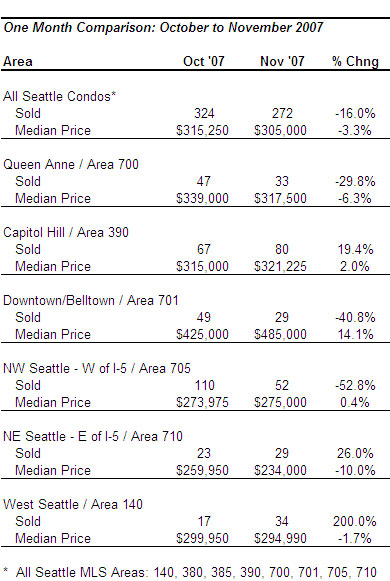 Personally, I'm experiencing a surge in business, mostly on the buyer side. The softer market is encouraging buyers into the market. Sellers are being far more open towards negotiating price and terms, providing some sweet deals for buyers. Sellers will still come out ahead, just not at the levels we've become accustomed to over the past few years or even earlier this year.
Looking forward, there aren't any significant projects due to be completed in the first half of next year providing the market time to normalize and absorb the remaining resales from Cosmo, 2200, the Parc and Canal Station. Trio will likely dump resales on the market but it's a smaller project that hasn't sold well in pre-sale so it's unlikely to make much of an impact.
Source: NWMLS