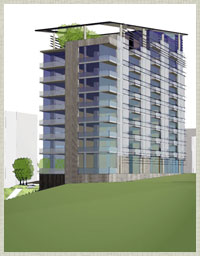 Martin Selig Real Estate is proposing a new 14-story apartment building adjacent to the Olympic Sculpture Park. Located on the north end of the park, residents at the 3031 Western project will enjoy unobstructed front-row park, downtown and Elliott Bay views.
…the vision calls for layers of glass "veils" with various degrees of translucency and transparency to create an ephemeral and ever-changing canvas for light and shadow as viewed from the park. Balconies of each unit will feature floor-to-ceiling glass, blurring the boundaries between interior and exterior spaces…
But, those glass "veils" come at a price, at least for Alexandria and Trio owners. The proposed building will sit directly across from the North half of the Alexandria and will likely block most of the SW park & bay views from Trio.
An early design guidance meeting for the project has been scheduled for Tuesday, January 8th at 5:30pm. The meeting will take place in the Boards and Commissions Room L280 at Seattle City Hall.