May continued to exhibit an active condo market with double digit increases in units sold city-wide. Interestingly, NE Seattle and West Seattle showed the greatest increase in unit sales, mostly attributable to a robust resale market.
City-wide, condos appreciated approximately 6% based on average sales price. However, across the board, median prices took a tumble from the prior month. Inventory has increased helping to create a buyers market, particularly with high-end properties, though I believe interest rates play a role as well. As rates continue to creep upwards, buying power decreases which move buyers to a lower price point. And, though the market has softened, sellers are receiving +/- 1% of the asking price.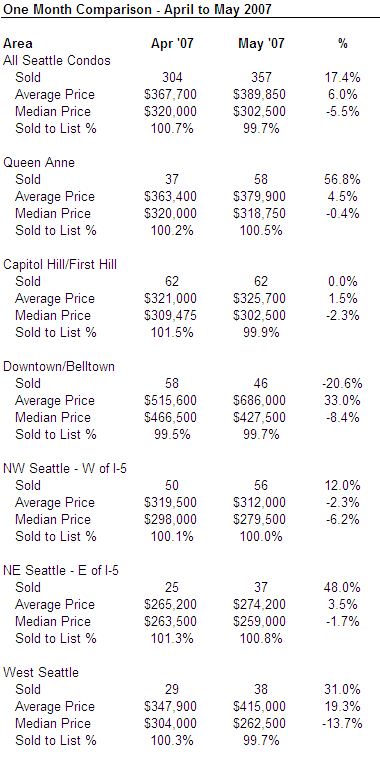 Year to Year Comparison – May 2006 & May 2007
While the month-over-month figures show a downward movement in median sold prices, year-over-year figures indicate the Seattle condo market is performing quite well, with increases in units sold and value appreciation. Most notable is NW Seattle with double digit percentage increases in both sales and price value.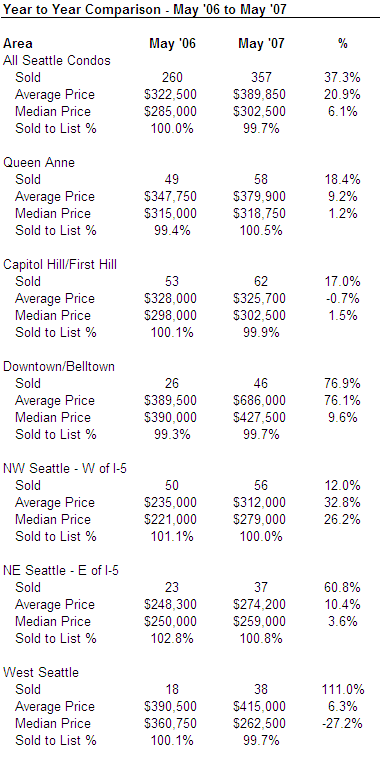 – Downtown / Belltown area – changed from prior reports, now only includes downtown, Belltown & Denny Triangle.
– NW Seattle – MLS area 705, north of ship canal, west of I-5.
– NE Seattle – MLS area 710, north of ship canal, east of I-5.
– Source: NWMLS – statistics not compiled by the NWMLS. Information deemed reliable but not guaranteed. Data used was available on May 6, 2007.