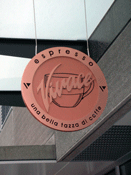 Brix announce today that Espresso Vivace will move its flagship store to Brix, becoming its anchor retail tenant.
The new flagship Espresso Vivace Roasteria at Brix, which will take the place of the Denny Way Roasteria, is expected to take the art of coffee a step further – into the design of the coffee bar itself. The interior will not only bring in design elements of both the Sidewalk Bar and the Roasteria, but also will feature a mural under the main bar dedicated to Espresso Vivace's history on Capitol Hill. Vivace is nearly as famous for its drink-topping coffee art patterns, including its caffe latte rosetta, as it is for its pioneering research on coffee-making techniques.
The current location at Denny & Broadway is expected to become the Capitol Hill station for Sound Transit's light rail system.