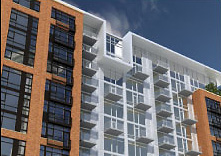 The Gallery Condominium, Belltown's newest project is gearing up for its long anticipated sales; over 1,500 people registered online through their official website.
Located at the corner of 2nd Avenue & Broad Street, Gallery is a concrete, steel and glass building that will feature 214 homes comprised of numerous floor plans to suit many different living styles: open floor plan, SkyLofts, flats, townhomes and penthouses.
Gallery is very reminiscent of the Brix Condo project on Capitol Hill in style, finishes and design. Gallery shares the same developer (Schnitzer Northwest), architect (Mithun) and interior designer (MNID) as Brix. However, Gallery features more floor plan choices, larger square footage, usable decks/balconies and more resident amenities.
Another comparable property is Vulcan's Rollin Street Flats in terms of style & floor plans. Rollin's, however, features more upscale finishes, green construction and a higher price point.
The project feature highlights include:
Four interior design themes – minimalist, modernist, expressionist and individualist.
A 7th floor lounge
A 2nd floor supper club
Fitness center and yoga studio
Two outdoor decks / entertainment areas
Fisher/Paykel refrigerator, Bosch diswasher and Frigidaire range & microwave.
Optional room divider ($6,000-$7,000) as seen in the model unit
Engineered hardwood floors and carpeting
Veneered cabinet finishes
Decks in many units
Concierge services
Expected HOA dues to be under $.50 / sq ft, which is on par with developments featuring similar amenities.
Please view this PDF for a complete list of features, amenities and options.
Gallery has altered the dates of its sales process slightly than what they previously emailed to their VIP buyers. Here's a breakdown of the sales process:
Preview –
VIP Event – Thursday, October 12th, 6:30 to 8:30 pm
Preview Weekend – Saturday & Sunday, October 14th – 15th, (11 am to 6 pm)
Reservation –
Private reservation appointments, Saturday & Sunday, October 21st – 22nd, (10 am to 6 pm)
A $10,000 refundable deposit is required to reserve a unit
Fixed pricing, unit specific (pricing is expected to be available as of the 21st)
Purchase –
Purchase & Sale appointments will begin around October 28th for those who placed a reservation
A 5% earnest money down payment is required (less the $10,000 reservation deposit)
Buyers must provide a mortgage pre-approval letter from Gallery's preferred lender, HomeStone Mortgage, at time of purchase. However, buyers may elect to obtain financing from their own lender.
Please view this PDF for preliminary price ranges, floor plan type and square footage.
The Gallery Presentation Center is located at 2500 First Avenue (corner of First Avenue & Wall Street) across from El Gaucho.
Gallery is located one block from Denny Way and is in close vicinity to many attractions, restaurants and recreation including the Seattle Center and the new Olympic Sculpture Park.