I have been posting info an potential new condo projects on this blog, but will now move those posts to my other blog – Seattle Housing Buzz. What I consider "potential" are projects that are proposed and/or are wading through the city's design review process that are yet to be approved. Additionally, the city uses the term "apartments" for both condominium and rental apartment housing units so it's not always easy to decipher whether it's truly an apartment building or condominium at the early stages.
Three projects popped up as potential condos include proposals in the Market District, Ballard, and Lower Queen Anne/Denny.
UPDATE: Reprinting from SHB.
Market District
Supplemental Design Review Board Meeting set for 120 Pike Street for a 23-story building including 18 floors of residential units. This is located on the NE corner of 2nd Avenue, right next to the Liberty Jewelry. If memory serves, there used to be a teriyaki place on the ground level.
Lower Queen Anne / Denny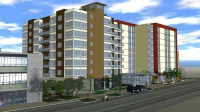 Design Review Board Meeting set for 600 Denny way for a hotel/residential building – 150 room hotel, 56 residential units. From the map, this looks to be the Greg's Japanese Auto lot. Update: the hotel will be a Hyatt Place Hotel and will be developed by Kauri Investments and Ariel Development. The residential units are condos.
Ballard
Design Review Board Supplemental Meeting set for 1545 NW Market for a 230 unit residential building (south of Market at 17th Avenue NW, across the street from Hjarta).