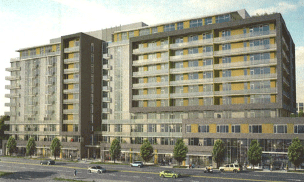 Rollin Street Flats (website) is another of Vulcan's South Lake Union condominium projects. Homes in this project will be one-level flats (SoHo-style lofts) with open floor plans, 10′ ceilings and floor to ceiling windows. Vulcan is planning 197 208 units on 11 floors ranging from 700 square feet to over 2,000 square feet. Construction will begin at the end of 2006 with a Fall 2008 completion date.
The building will be on the corner of Denny and Westlake (which used to be called Rollin Street) across from The 2200. The 2200 will include a Whole Foods market, Pan Pacific Hotel, restaurants and retail, making living at Rollin Street very convienient. Rollin Street is also the new street car route running from Lake Union to Westlake Center.
Other amenities will include hardwood floor, European kitchens, natural stone surfaces, air conditioning and 3 levels of underground parking. The samples of the interior look fantastic and certainly an upgrade from the Veer but not quite as upscale as the 2200 or Enso. Many units will feature fireplaces and decks. Prices will start in the $300,000's.
When word about Vulcan's projects first came around, I was really interested in a unit at the Veer. However, after viewing the finish samples I think Rollin Street will be a better value in the long run. To be fair though, I will wait until the Discovery Center updates its project models before making a final decision.
One Bedroom Units
West facing: 1044-1085 sq ft, mid $500,000s to low $800,000s
East facing: 655-913 sq ft, low $400,000s to low $600,000s
South facing: 835 sq ft, high $400,000s to low $600,000s
Two Bedroom Units
West facing: 1303-1568 sq ft, low $800,000s to over $1 million
South facing: 1403 sq ft, mid $800,000s to over $1 million
Penthouses – available upon request
For information about the Rollin Street presale lottery, please see Vulcan Presale Process.
Post updated 7/19/06.