The Escala Condo's public design preview event is still two weeks away and anticipation is building. However, Escala has pre-released a number of units at special introductory pricing and a quite a few reservations have already been placed. Reservations can be made with a $10,000 deposit which converts to purchase & sale contracts in the Fall.
Prices for the design preview release on July 27th will be higher than the current release allotment. This is the most opportune time to reserve a unit for your next home or investment.
Here's an illustration of a floor plan for floors 4-6. It's a little difficult to see but there are 12 units, 4 on each end and 4 in the center. Even the one bedroom units on the lower levels have semi-private vestibules.
Click image for larger version: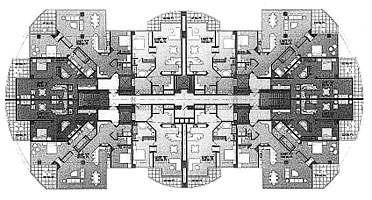 For more information about the current release and pricing, please contact me.
* * * * * *
Escala released it's second allotment of homes earlier this week to those who had 2nd or higher position reservations in the first release with price ranges approximately 10% higher.
Escala also updated it's website with revised floorplans and renderings.
View available Escala condos for sale.
Updated 7/27/06