8th & Stewart (aka Stewart Condominiums)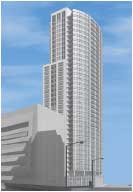 Located in the Midtown area, near the new Federal Courthouse, 8th & Stewart will be tall at 400 feet. Designed by the renowned architectual firm NBBJ. The 300+ unit project will break ground 2007 with 2009 occupancy.

Howell & Terry (aka 1800 Terry)
This proposed 275+ unit highrise will be in the Midtown district at the site of the former headquarters of Regence Blueshield. The 30 story building is billed as "Vancouver" design styled (that's British Columbia, not Washington). Glass & steel, floor to ceiling windows with garden and pool area. Occupancy planned for 2009.

8th & Westlake
Another planned Midtown project. Designed to be graceful with curved walls, no exterior decks, floor to ceiling windows. It is 1 block from the 2200 project, close to Whole Foods, retail and on the planned street car route. The 225+ unit project is planned for a 2009 occupancy.
Gallery
One of the few planned Belltown projects, Gallery will provide 200+ residences between $250,000 to $2 Million. Preview is planned for this summer with occupancy in 2008.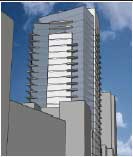 2nd & Stewart
Located in the downtown / Pike Place Market district, this highrise will include 170+ units with a 2009 occupancy.
G

2nd & John
This lower Queen Anne project (next to the Pacific Science Center) will feature 113 flats and work/loft units.
1915 2nd Avenue
Located in Belltown with 170 units, construction to begin in early 2007.
The above were some of the projects highlighted at the 2006 Downtown Seattle Realtors Symposium. Unfortunately, for such a hyped event, they didn't provide a lot of information on upcoming projects. There were some great information provided about the future of the downtown housing outlook which I'll post in my Seattle Housing Buzz blog a little later.