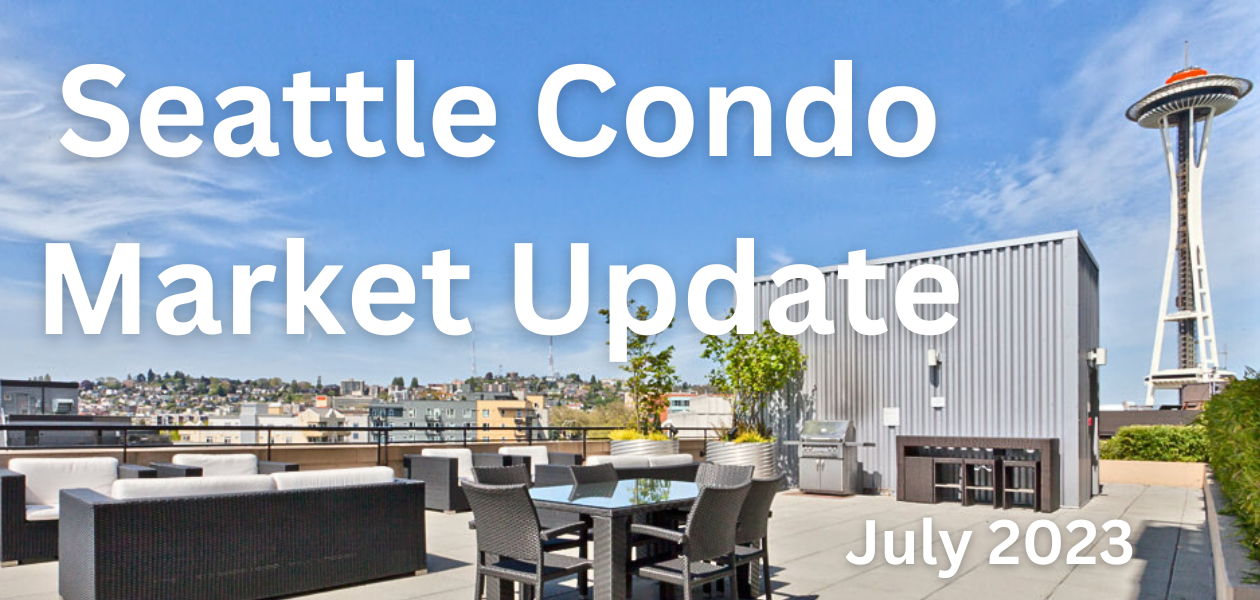 With the exception of selling prices Seattle's condo market slowed in July as the number of sales and new listings dipped for the month.
The bright spot was the Seattle citywide median condo sales price, which came in at $550,000 for the 3rd consecutive month. It represented a year-over-year (YOY) increase of 2.4% and tied the previous two months for the 2nd highest selling price on record.
Median selling prices varied widely by neighborhood area with most showing YOY improvements. Ballard/NW Seattle (+19.4%) and Queen Anne/Magnolia (+16.5%) reflected the largest increases. On the other hand, downtown (-18.2%) and West Seattle (-25.2%) exhibited the biggest YOY decrease. Keep in mind, this is just comparing the difference between July 2023 and July 2022 and is not indicative of a trend. View the full neighborhood statistical results here.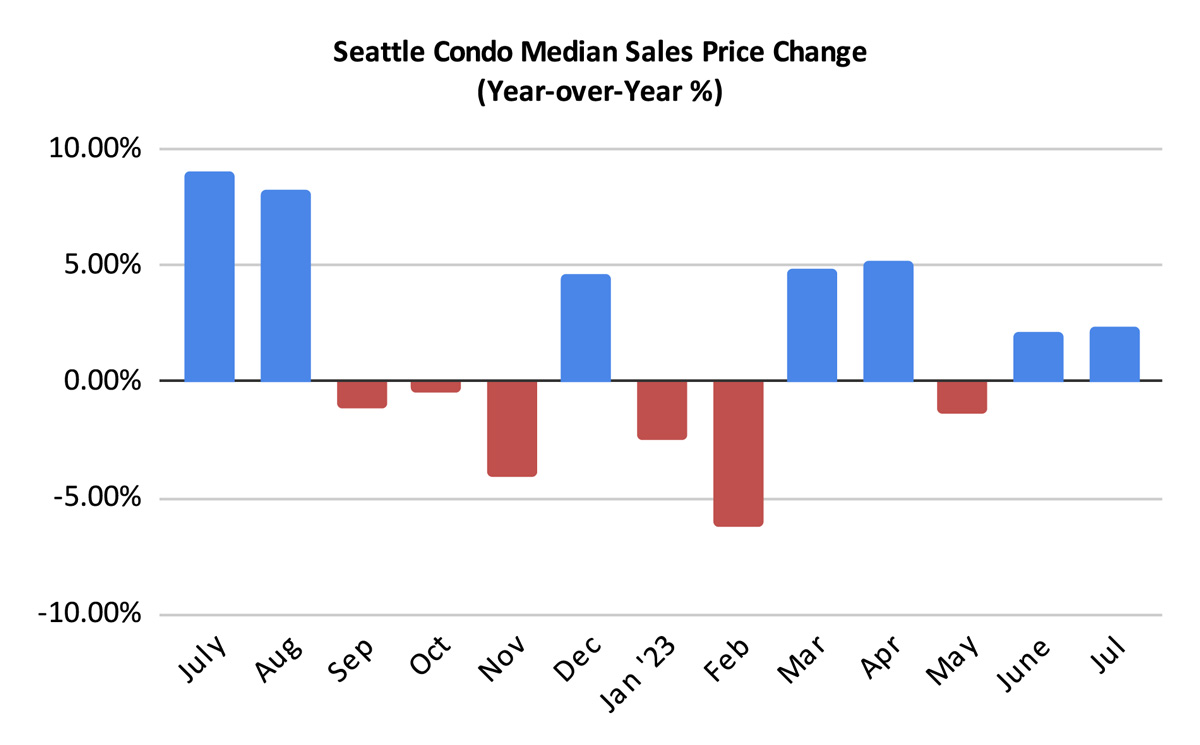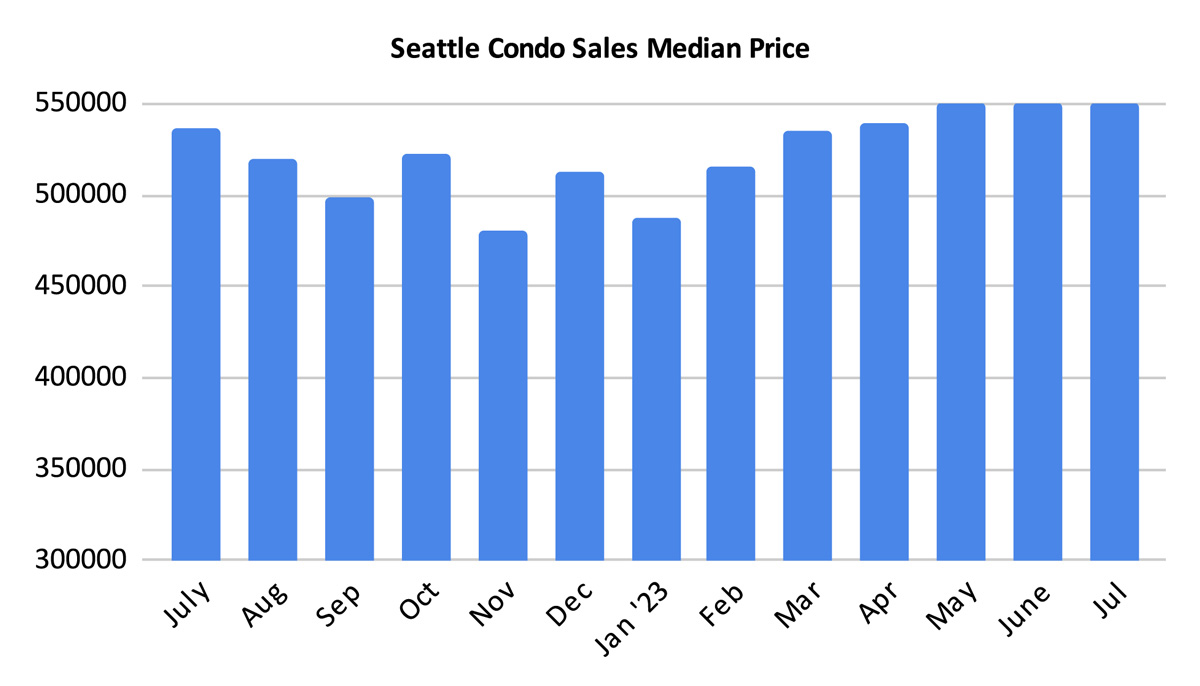 In respects to active condo listings for sale, the number of active listings increased and we ended July with 566 listings, or 6.6% more than June.
However, that also reflected a reduction in listings of 7.1% compared to last July. But, a little more startling is the number of new listings coming to market, or lack of new listings. In July 2022 there were 403 newly listed condos for the month compared to 323 in July 2023. That's a 19.9% drop in the number of new listings coming to market. Seller's aren't lining up to sell their condo this year compared to last.
If the number of new listings are coming on the market at a decreasing rate, then how is the number of listings increasing overall? Short answer, fewer buyers are buying this year. Had condo sales remained on par with June, then we would have had a net decrease in the number of condo listings.
The listing figures we use are based on the listings reflected in the NWMLS database. Note, however, the NWMLS does not represent all available condo properties. Developers limit the number of new construction units they list at any one time.
As a result, there are more units available but are not listed for sale in the NWMLS. Though, this basically comprises a handful of new condo buildings in the downtown area and townhomes sprinkled throughout the city.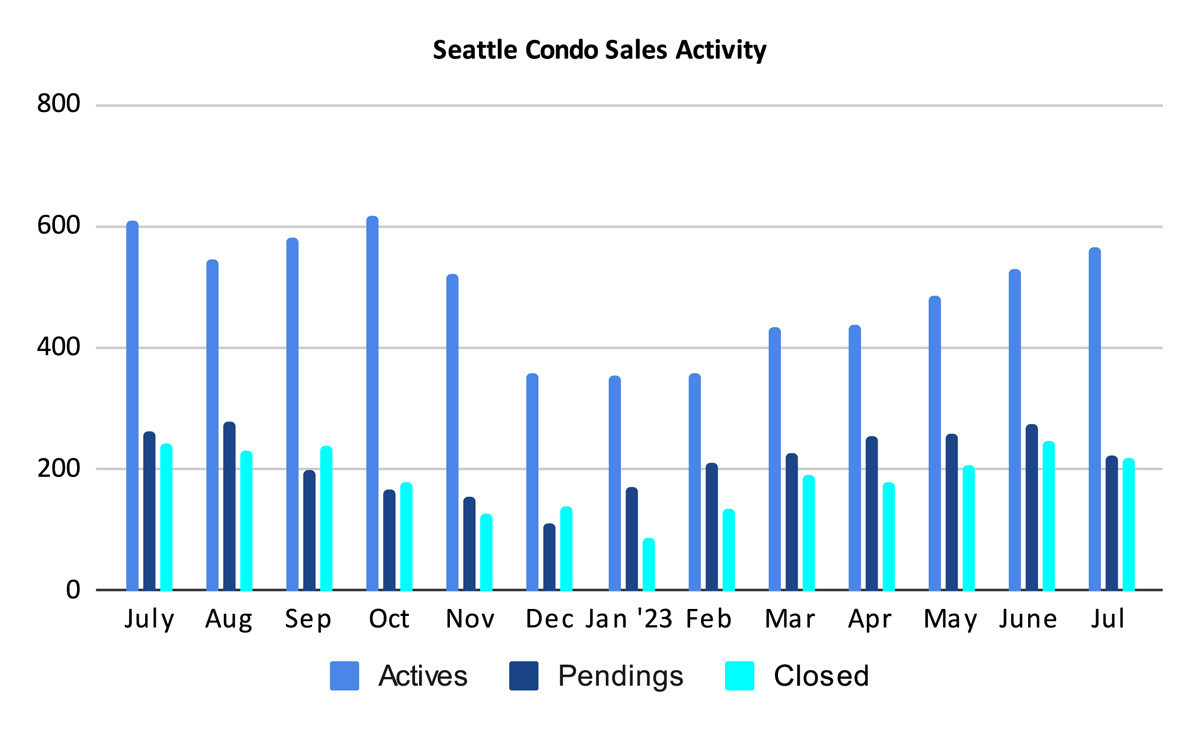 With fewer buyers buying the inventory supply rate increased to 2.5-months of supply. But, realistically buyers won't feel much difference as a 2.5-month supply keeps Seattle in a seller's market. Though, if the trend continues, particularly as we head into the 2nd half of the year, we may potentially see a softening of the market.
The supply rate is an indicator of market conditions. A supply rate under 4-months of supply is considered a seller's market. A rate between 4 to 7-months of supply is a balanced or normal market, and more than 7-months would be a buyer's market.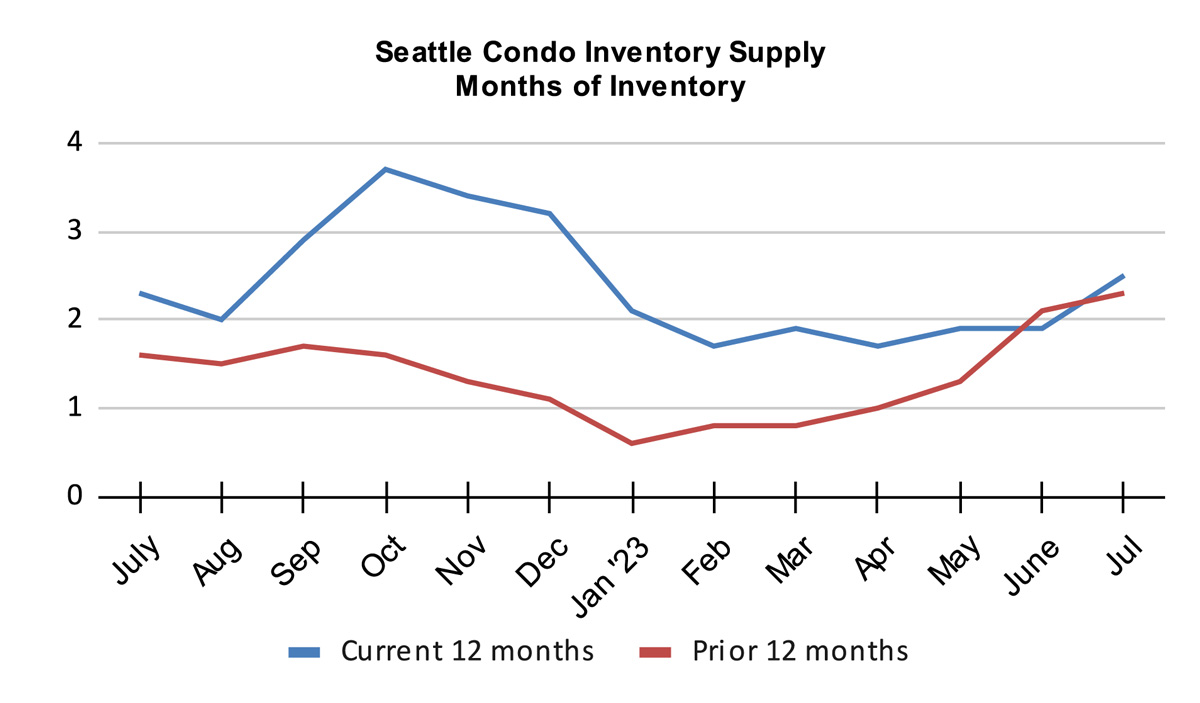 As mentioned above, fewer buyers are buying and that was highlighted by the drop in the number of pending transactions in July to 222 units. That reflected a year-over-year and a one-month decrease of 15.9% and 19.3%, respectively.
Typically, we see real estate sales plateau in the summer as the nicer weather, vacations and outdoor activities compete with house hunting. And, that may partially account for the dip in sales. Though, rising mortgage interest rates may have had more to do with sidelining buyers.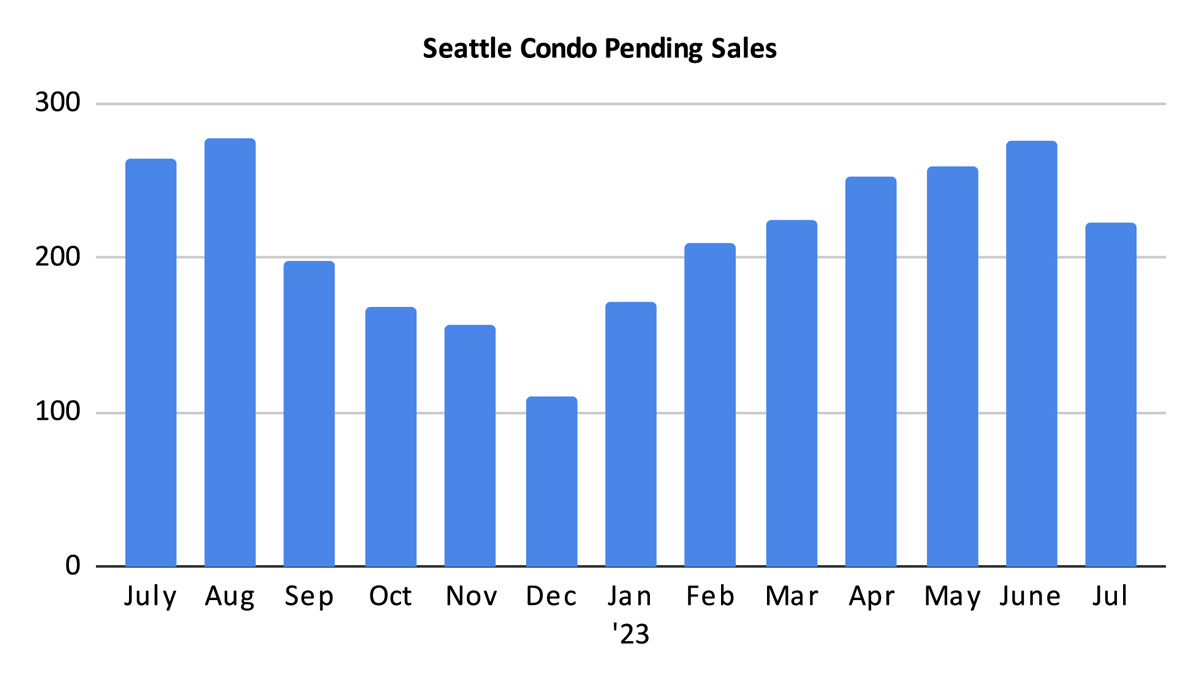 As with the drop in pending sales, there were fewer closings in July. The 217 closings last month reflected a drop of 11.1% compared to last July and a decrease of 11.8% compared to the prior month.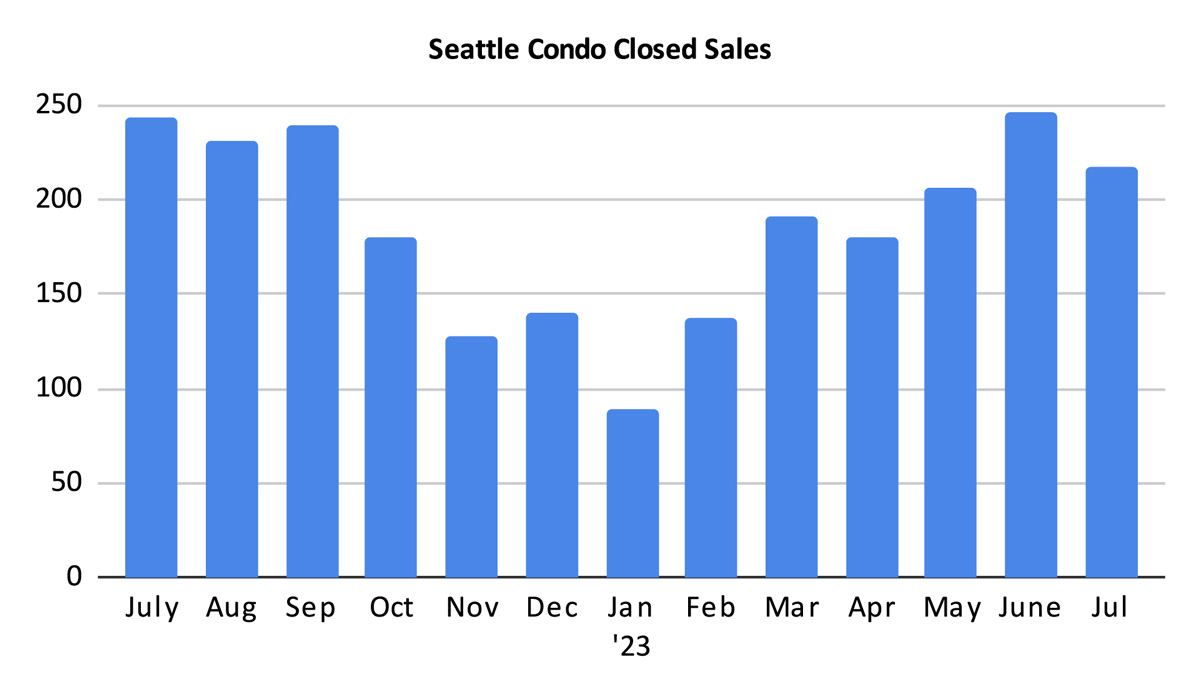 Seattle's real estate market is seasonal and we usually experience similar market activity year after year. The market accelerates during the spring, then plateaus in the summer before slowing during the fall. For the most part Seattle continued this trend this year, except we seemed to hit a bump in July.
Condo sales activity reduced in July and fewer sellers listed their condos for sale. Though, the drop in sales volume outweighed the drop in new listings that resulted in a net increase in listings for the month. Nevertheless, the citywide median sales price remained unchanged and July tied for the 2nd highest on record.
Seattle Condo Market Statistics July 2023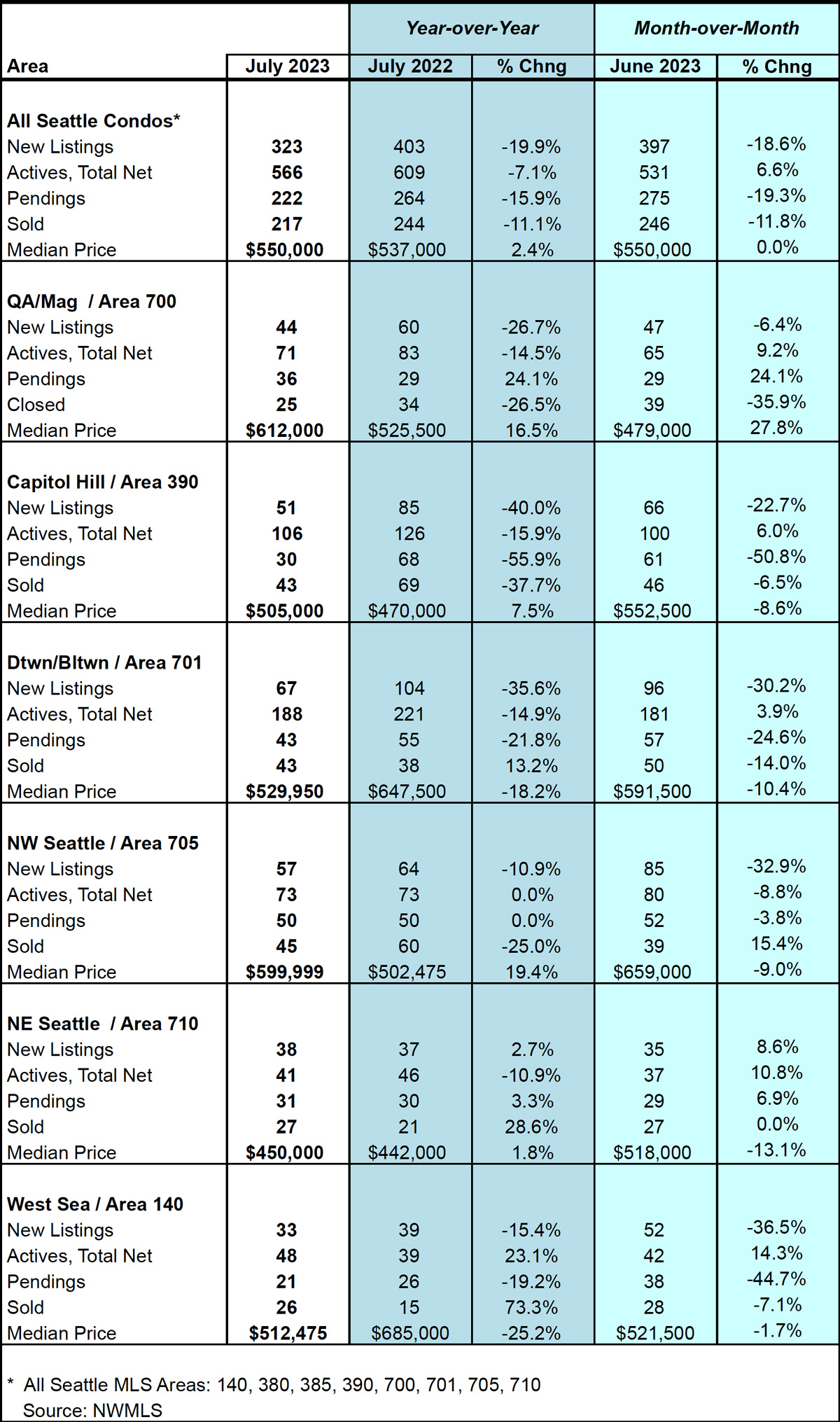 Source: Northwest Multiple Listing Service. Some figures were independently compiled by Seattle Condos And Lofts and were not published by the NWMLS.
© SeattleCondosAndLofts.com