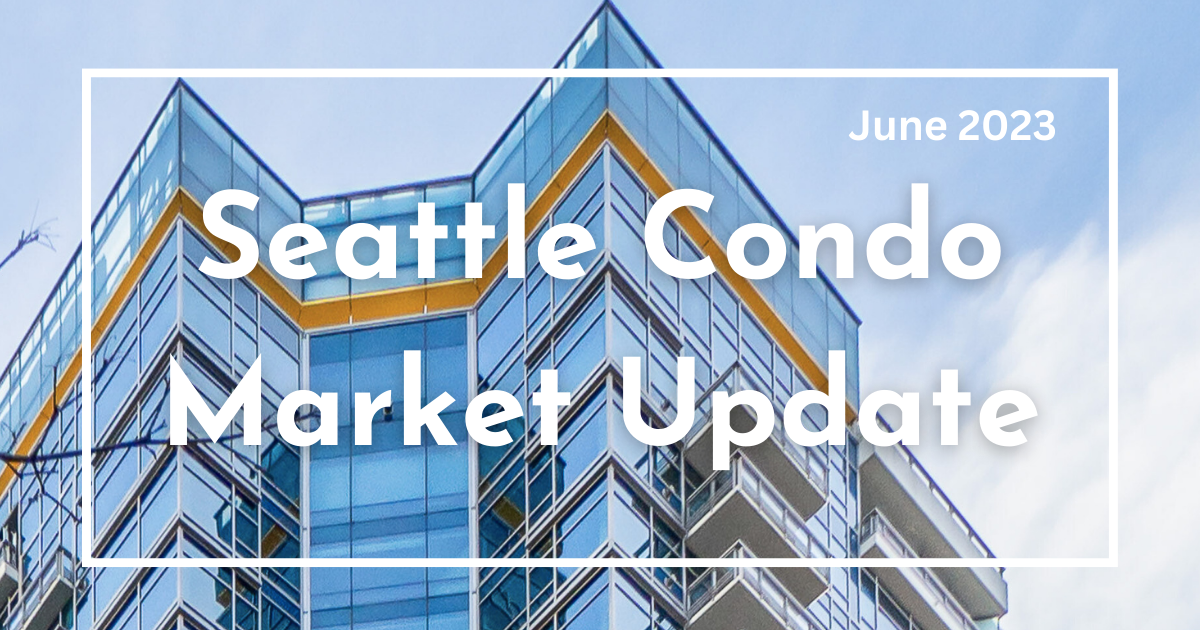 The June 2023 results for Seattle's condo market exhibited a relatively robust market place, yet hinted at the reaching the seasonal summer plateau. Sales activity improved from the prior month and median prices held steady. Though, the market continued to underperform 2022 levels as a whole.
Seattle Condo Median Sales Price Remain Steady
The citywide median sales price for Seattle condos remained at $550,000 for the second consecutive month and reflected a modest 2% year-over-year increase. June tied May's $550,000 median sales price as the second highest on record in Seattle.
The NWMLS neighborhood areas varied widely. In looking at year-over-year (YOY) results, Northwest Seattle (+36.6%), West Seattle (+12.8%), Capitol Hill / Central (+5.2%) and Queen Anne / Magnolia (+2.5%) reflected improvements in their median sale prices. On the other hand, Northeast Seattle (-14%) and downtown (-4.2%) noted decreases. View complete neighborhood results at the end of the post here.
A note about Northwest Seattle's 36.6% spike in median sales price to $659,000, which was the highest for any neighborhood area for the month. This was primarily the result of infill and small multi-unit developments. There were a number of single family homes with DADU and/or ADUs that had been reclassified as condominiums, stand-alone townhomes (similar to single family homes) and attached duplex townhomes that sold. These accounted for about half of the sales and shifted the mid-point upwards.
If we looked at just traditional condominium sales in Northwest Seattle, the median sales price would have been $440,000 in June. That would have resulted in a YOY decrease of 8.8% instead of an increase of 36.6%. To a lesser extent, this is occurring in other neighborhoods as well.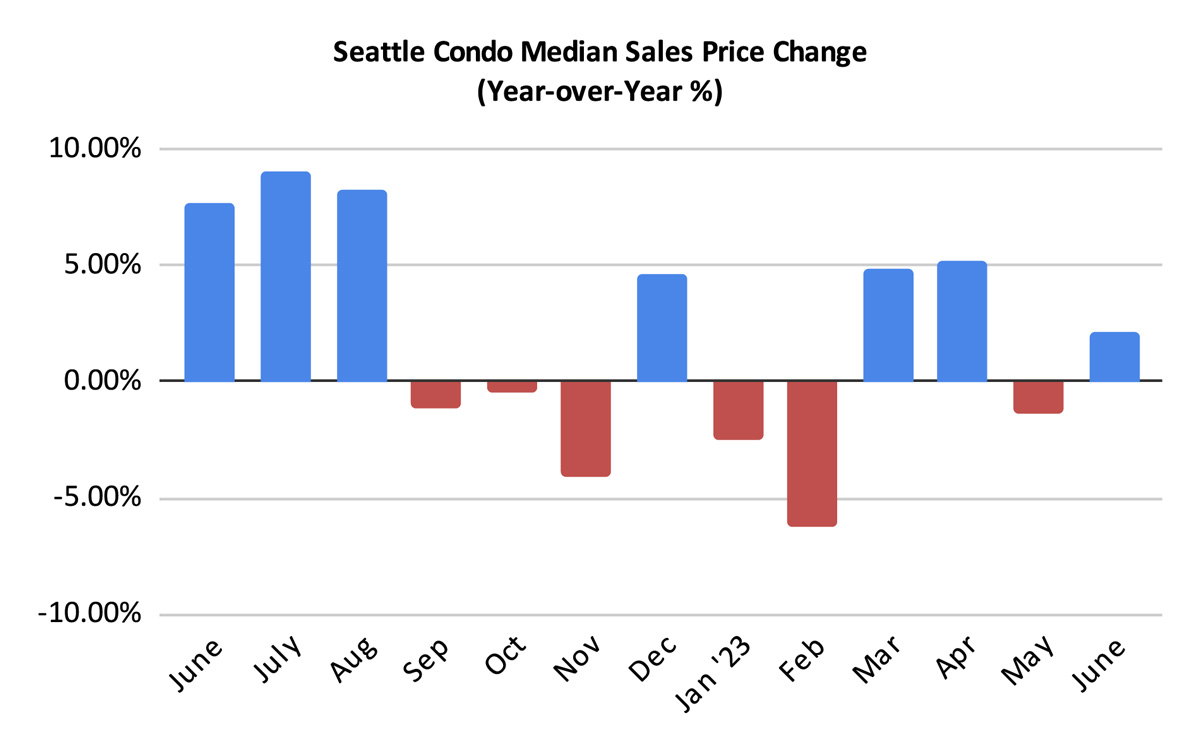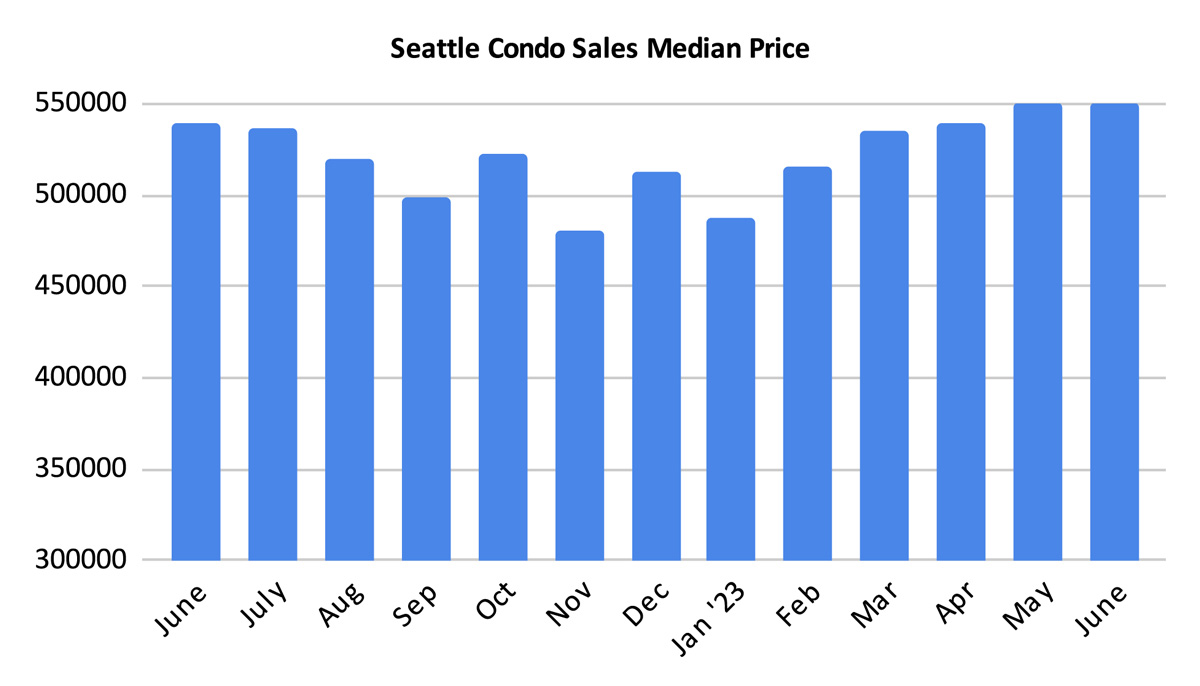 Resale Condo Listings Constrict
Seattle ended June with 531 condo units for sales. That reflected a one-month increase of 9.3% but also a YOY decrease of 8%. That is, we have fewer condos listed for sale than we had a year ago.
Additionally, fewer sellers are listing their properties for sale. Last month there were 397 newly listed condo properties for sale compared to 508 units a year ago. That's a 21.9% drop in new listings.
The numbers we use are the official statistics published by the NWMLS. As a result, this does not include all available condo properties available for purchase. Developers of new buildings only list a handful of their inventory at a time in the NWMLS. Therefore, there are considerably more properties available than listed in the NWMLS.
Conversely, the trend of structuring ADU/DADU, infill and townhomes developments as condominiums increased the number of condo listings in the NWMLS. While legally condominiums these are not what many consider a typical condo unit. Plus, they are often larger and higher priced.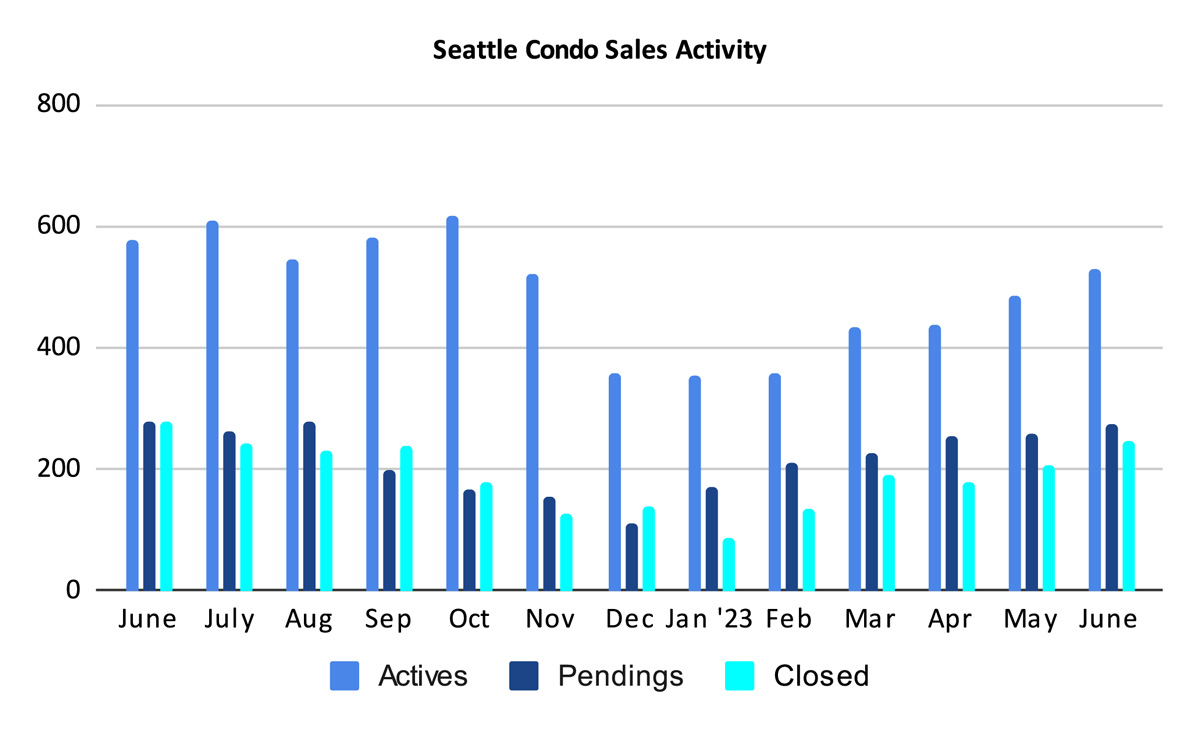 Fortunately, with an improvement in condo sales activity the inventory supply rate remained unchanged at 1.9-months of supply. What this means is — it would take 1.9-months at present sales level to exhaust the current inventory.
The monthly supply rate is a metric to characterize the current market place environment. A rate under 4-months of supply is considered a seller's market. A rate between 4 to 7-months of supply is a balanced or normal market, and more than 7-months would be a buyer's market.
Another often used term is the absorption rate. Seattle's condo absorption rate in June was 52% based on pending transactions. An absorption rate of over 20% is deemed a seller's market.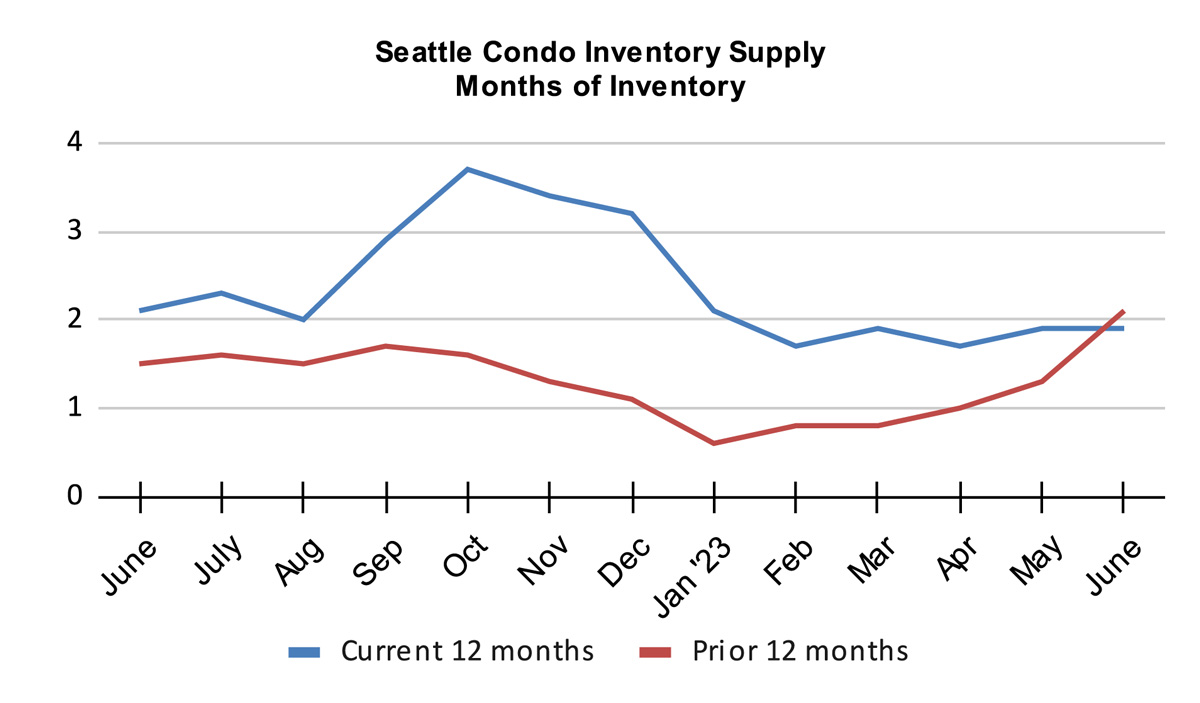 Condo Sales Hold Steady
There were 275 pending sales in June. That reflected a YOY decrease of 0.7%, but also a one-month increase of 6.2% over May. Though, we are now in the summer plateau period where we typically see real estate sales level off.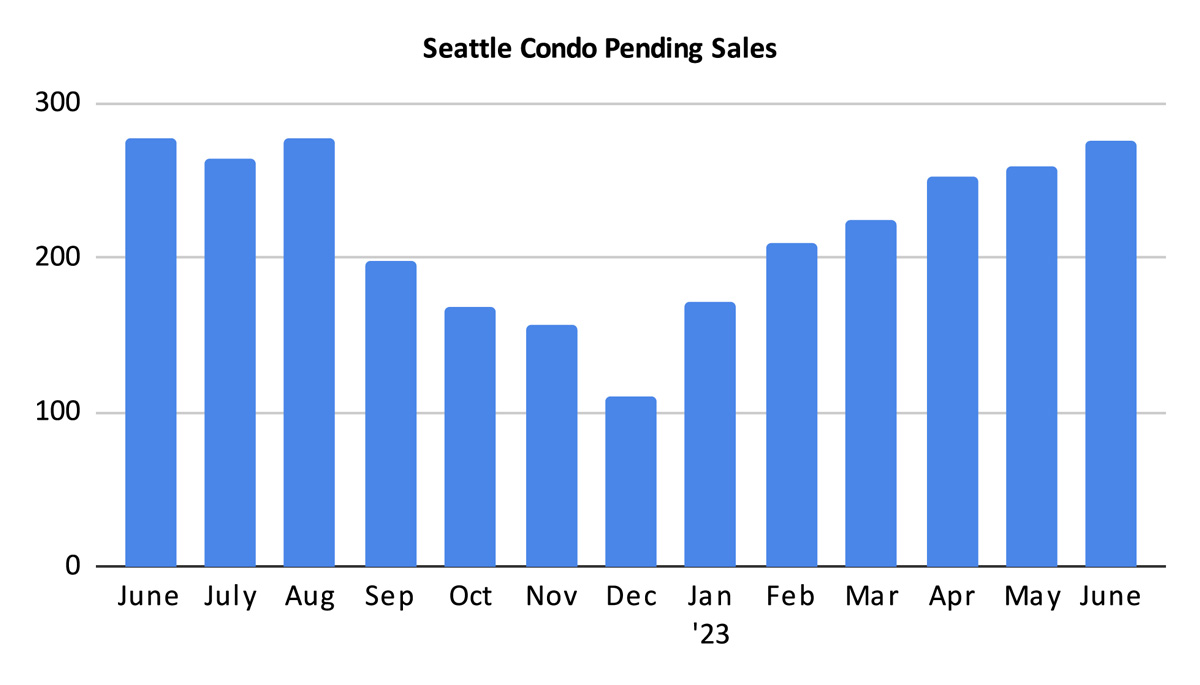 There were 246 closed condo sales in June, which exhibited a YOY drop of 11.8%, but 18.8% more closings than in the prior month. As closings usually lag behind pending transactions by a month or so, we should see a similar level in July.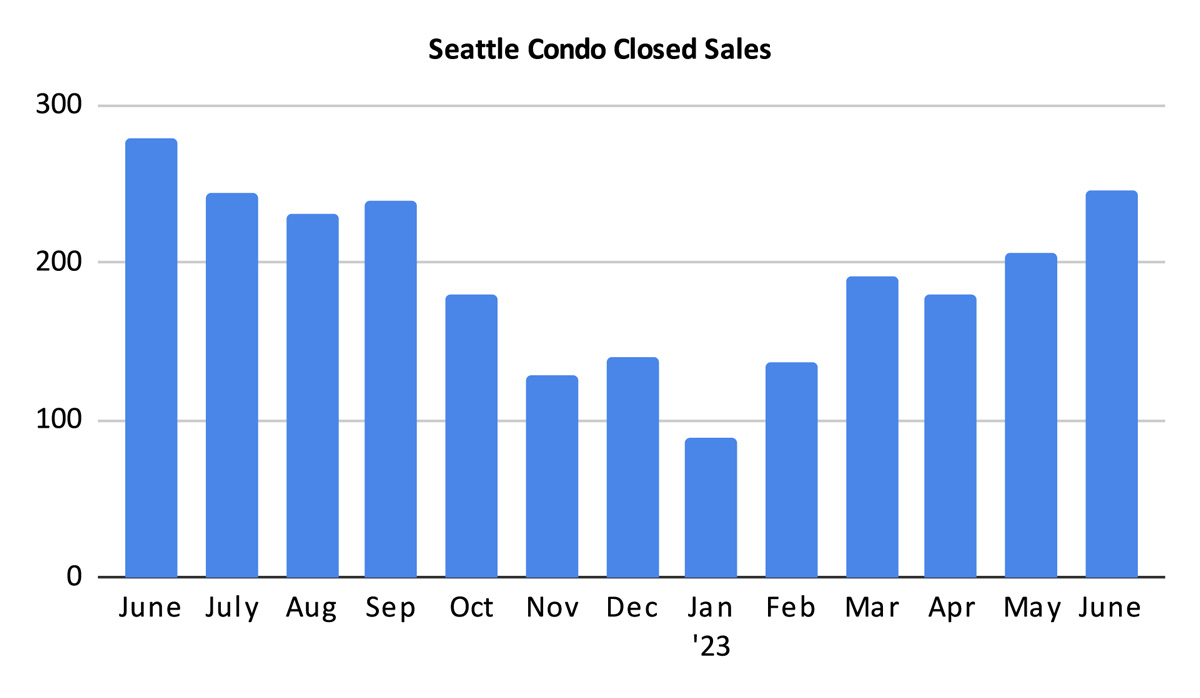 Summary and Looking Ahead
June was a fairly solid month for Seattle's condo market. One-month trends showed increases in sales activity and strong selling prices.
The citywide median sales price remained steady at $550,000. Though, part of that is due to the influx of many townhome and infill single family homes lots with ADU/DADU units being classified as condominiums. These are typically larger and have higher prices than traditional condo units.
Fewer sellers have been selling their units this year, which was reflected the drop in active listings compared to last June. Buyers still buying in light of higher condo mortgage interest rates kept Seattle in a seller's market. Though, that does vary by neighborhood area.
Outside of the downtown area there hasn't been any new major condominium building developments for several years, with the exception of townhomes. Thus, new stock of traditional condo flat units have been sparse with buyers limited to a constricting number of resale properties to choose from.
For sellers who have been contemplating selling, the market remains in your favor. With less competition, steady values and solid demand, this may be an excellent time to sell before the fall seasonal slowdown.
For buyers, the market remains tight overall, particularly in Capitol Hill, north and West Seattle. Though, the greater downtown area provides more options.
Seattle Condo Market Statistics June 2023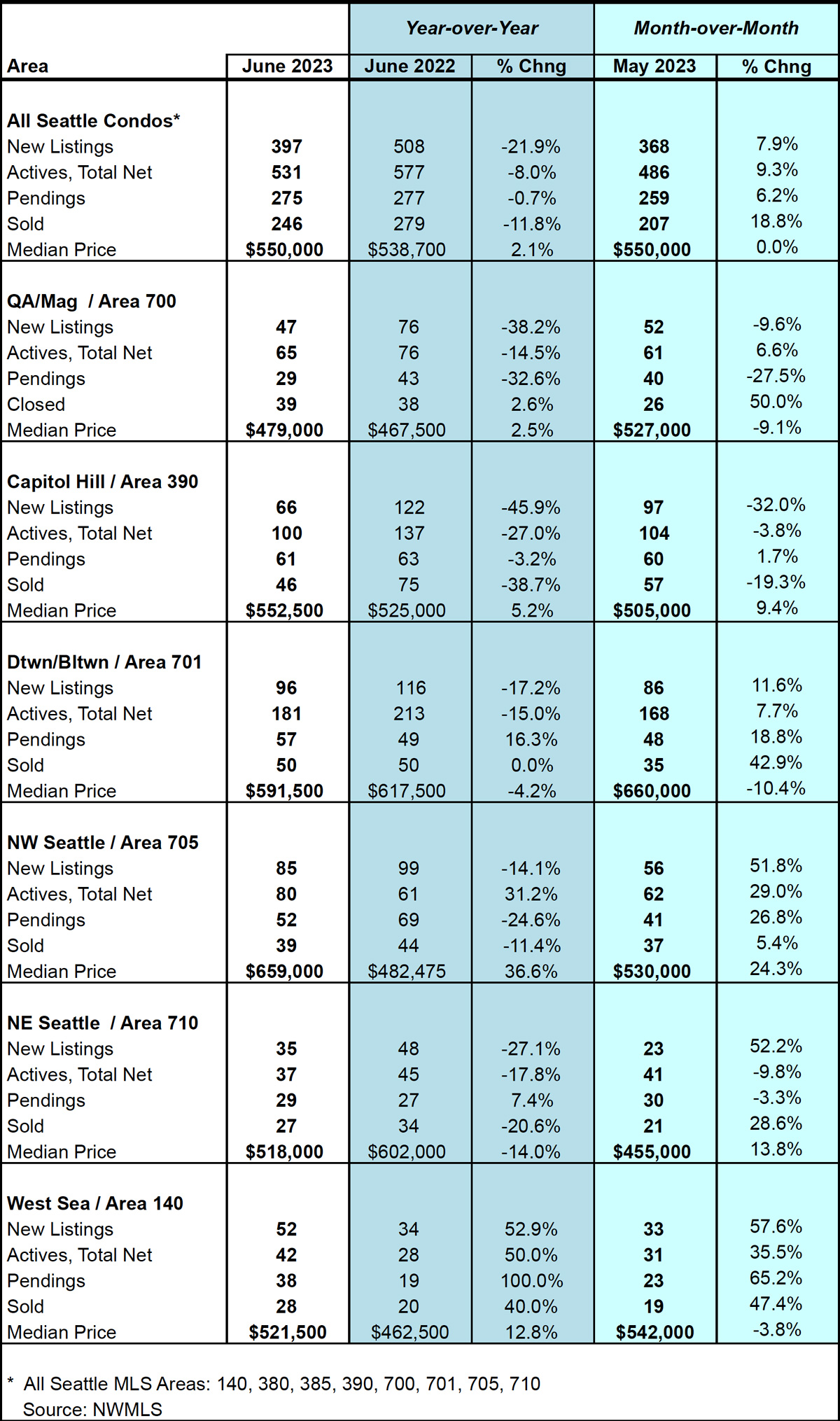 Source: Northwest Multiple Listing Service. Some figures were independently compiled by Seattle Condos And Lofts and were not published by the NWMLS.
© SeattleCondosAndLofts.com