Seattle's condominium market clocked in another stellar month in July with double digit increases in unit sales and values.
The citywide condo median sales price rose to a new record high of $385,000, a phenomenal year-over-year (YOY) and one-month increase of 34.0% and 13.2%, respectively. Values rose throughout the city with Capitol Hill and downtown/Belltown exhibiting the biggest gains (see chart at bottom of post).
However, that increase is partially the result of new construction closings that had begun at Insignia last month. Excluding the Insignia closings, the citywide condo median sales price would be $339,000. That's still a substantial 18% YOY increase, but was on par with June.
Median sale prices will continue to increase as more, higher valued units begin to close at Insignia. We may very well exceed $400,000 in August.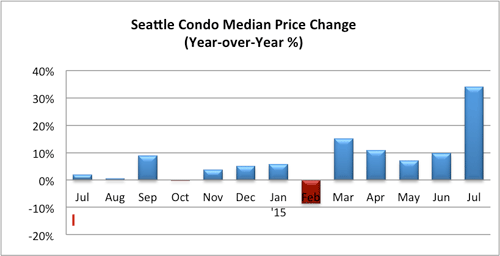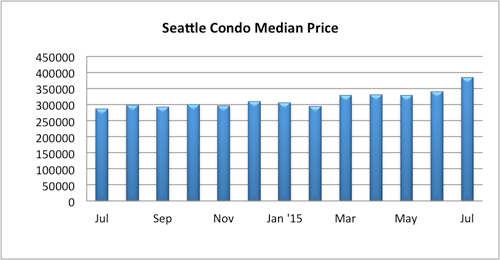 The available MLS-listed Seattle condo inventory for sale ticked up slightly by 10 units to 290 unit. Yet that's 38.8% less than a year ago, resulting in a 0.8-month supply rate based on pending sales. That continues to reflect tight seller market conditions.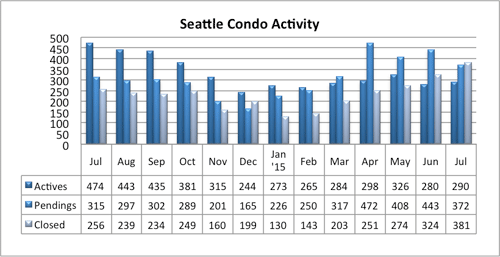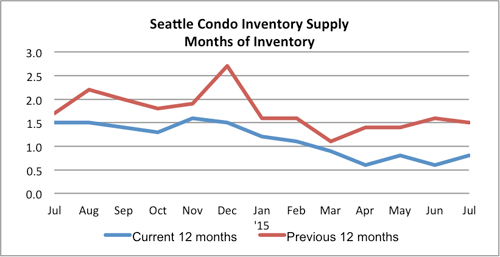 The number of pending transactions (properties where the seller accepted offers and are in escrow) rose by 18.1% to 372 units compared to the same period last year. Though, the seasonal summer slowdown tempered sales by 16% relative to June and has begun trending downward.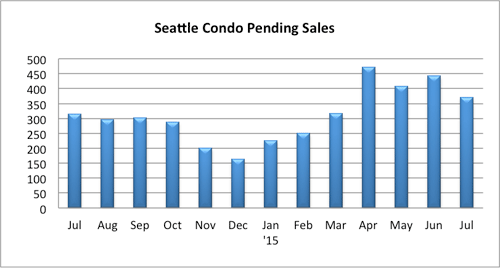 Closed unit transactions, on the other hand, increased significantly to 381 units reflecting a YOY and one-month improvement of 48.8% and 17.6%, respectively.
That, of course, is the result of the 91 units that closed at Insignia (per MLS data). If we exclude those, we would have realized 10% fewer closings in July compared to June, but still outpaced last July by 13.3%.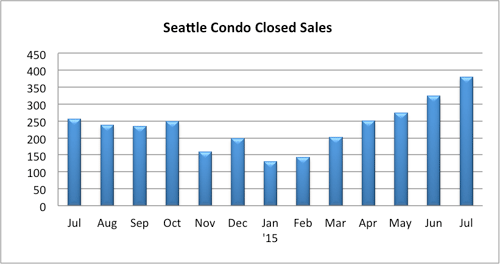 We don't anticipate any changes going forward through the latter half of the year. Cyclically, though, the housing market is less active than the first half so we do expect listings and pending sales to taper off.
Historically, median sales prices would plateau or even dip in the fall, but with Insignia's closings that's not likely to occur this year. Though, that's really only applicable when contemplating citywide and downtown figures. Real estate is local and Seattle is comprised of neighborhood micro markets with their own characteristics and trends.
Pre-sales at Hyde Condos is expected to start in the fall, which will provide buyers an additional option in the North end.
The next set of noteworthy new construction closings will begin in January/February 2016 with the Vik in Ballard and I'd expect sales of the remaining units will pick-up with greater velocity between now and then.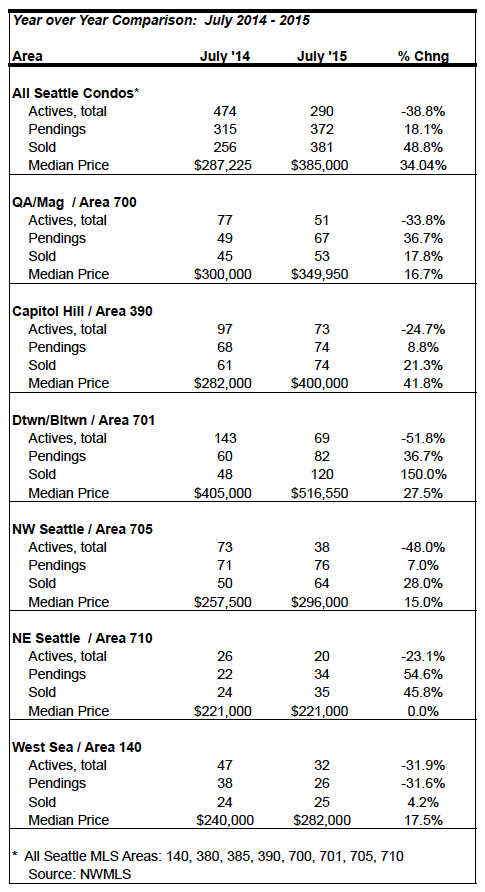 Source: NWMLS. Some figures were independently compiled by SeattleCondosAndLofts.com and were not published by the Northwest Multiple Listing Service.
________________________
© SeattleCondosAndLofts.com