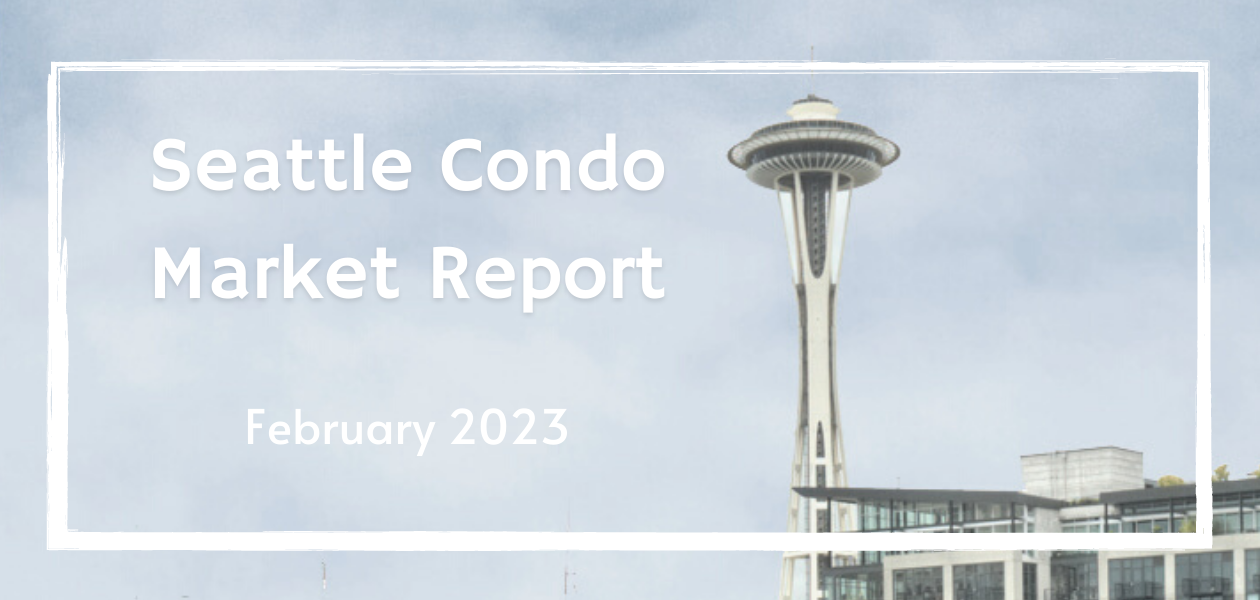 The Seattle condo market in February reflected mixed results. Compared to a year ago, the market softened. Compared to the prior month, things improved, through we expect that coming out of the holiday / winter break.
The overall Seattle citywide median sales price for condos was $515,000 in February. That reflected a year-over-year (YOY) decline of 6.2%, but also an increase of 5.6% over January.
By NWMLS neighborhood areas, all areas except West Seattle experienced a YOY drop in their median selling prices for the month. Capitol Hill and Northeast Seattle exhibited double-digit decreases. Keep in mind, this is just for the month of February and is based on a relatively small sample size. See this table at the end of the post for more results.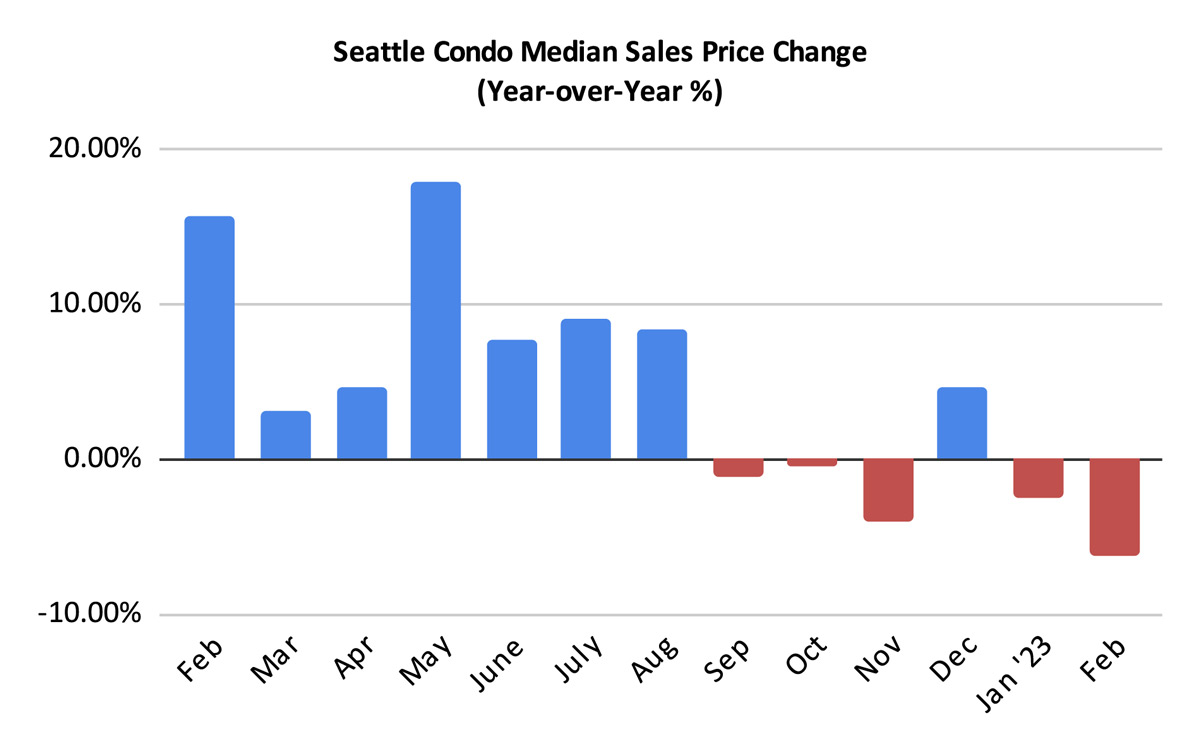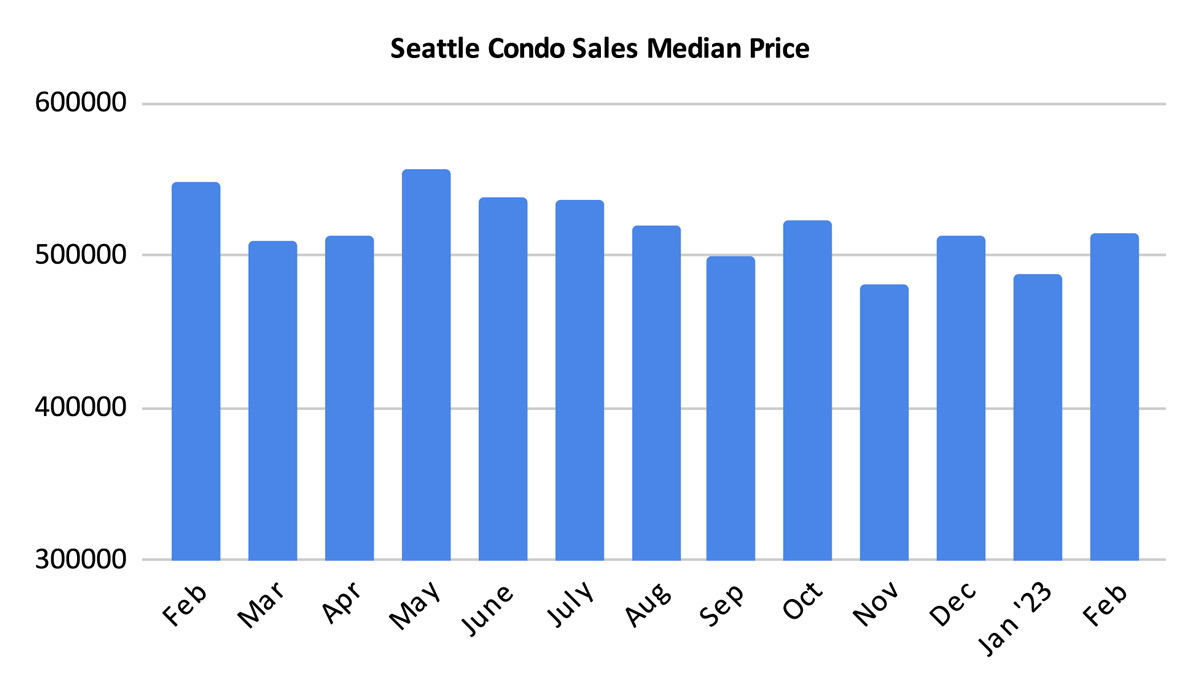 Seattle's condo inventory (based on NWMLS listed condos for sale) has plateaued. For the past three months we've hovered around the 360 units level. Though, compared to last February, inventory is up 50.6%.
This is not typical. Historically, given the cyclical/seasonal nature of our housing market, we expect the number of listings to rise considerably through to summer.
The number of newly listed condos continued to come on the market at a decreased rate. In February sellers added 242 condo listings compared to 342 for the same period last year. These were predominately resale condo listings since developers only list a handful of their inventory at a time.
The actual number of available condos for purchase is quite a bit higher, specifically in the downtown area.
Another note about condo inventory, many new townhome developments, as well as DADU properties are now organized and sold as condominiums. Currently, they account for about 10% of the condo inventory listed for sale in the NWMLS. Previously, zero-lot line townhomes and subdivided fee simple lots were more common.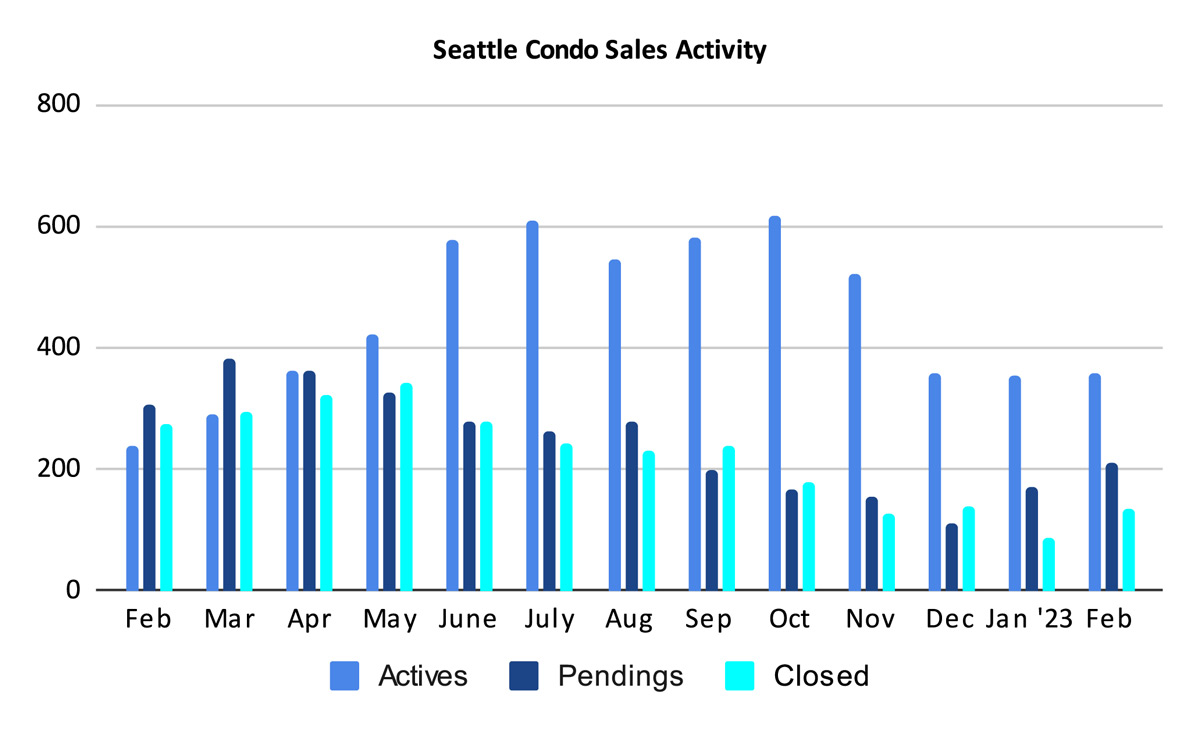 The inventory supply rate tightened further in February to 1.7-months of supply. This resulted from a consistent level in the number listings combined with increased condo sales activity.
We base our supply rate on pending sales transactions as it reflects current market activity vs closed sales, which typically has a one-month lag.
Seattle's real estate landscape is made of varied neighborhood micro-markets. In the condo dense areas such as downtown, Belltown, Capitol Hill, the inventory supply rate is more indicative of a balanced to a buyer's market. By comparison, less dense areas in North, South and West Seattle are more reflective of a seller's market.
The inventory supply rate metric characterizes market conditions. A rate under 4-months of supply is considered a seller's market. A rate between 4 to 7-months of supply is a balanced or normal market, and more than 7-months would be a buyer's market.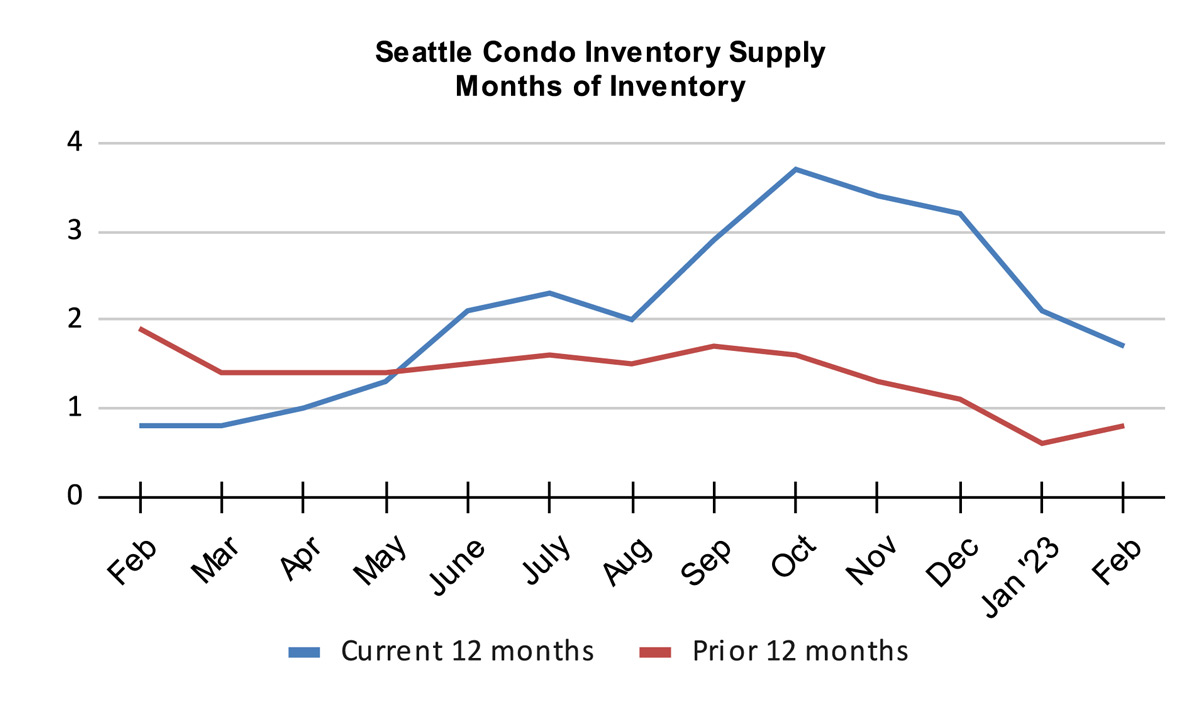 There were 209 pending condo sales transactions last month. That was 31.5% fewer sales YOY but an increase of 21.5% over the prior month.
While buyers are returning to the market, they are doing so tepidly. Buyers are experiencing rising mortgage loan rates and stricter guidelines for condos as well as continued uncertainty in the employment and financial markets. The tech sector downturn has a noticeable effect on the in-city condo market.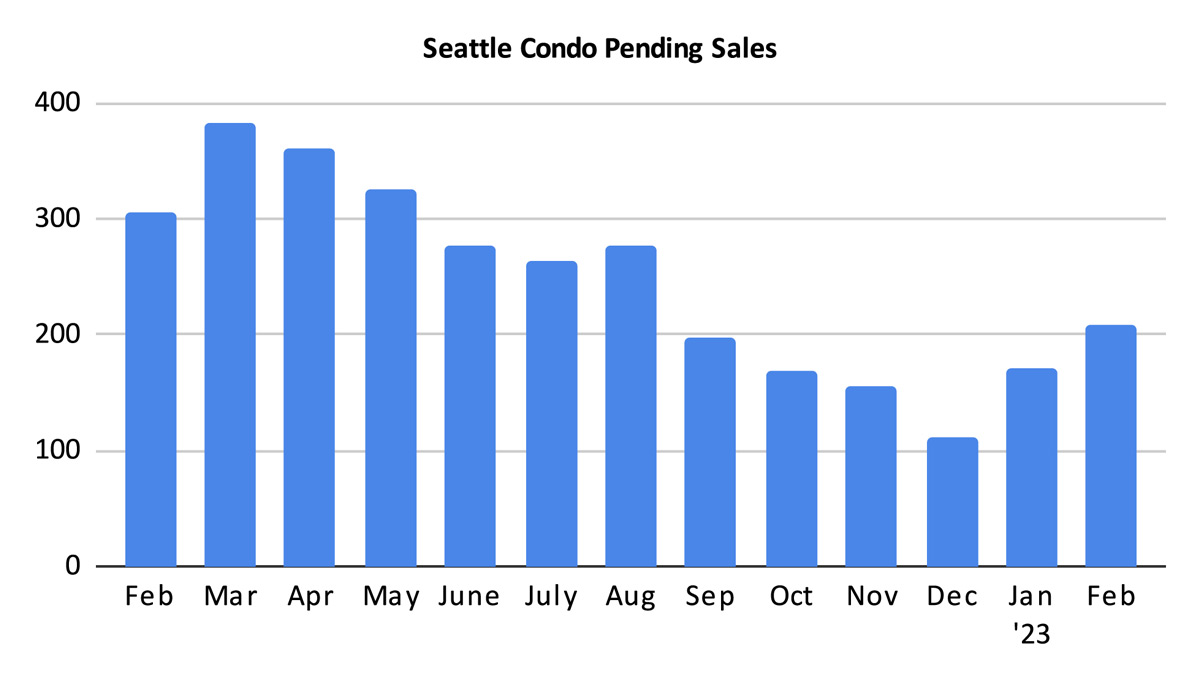 As expected the number condo sale closings increased in February to 137 units. That was 53.9% more than in January but only 50% of the number of closings compared to last February.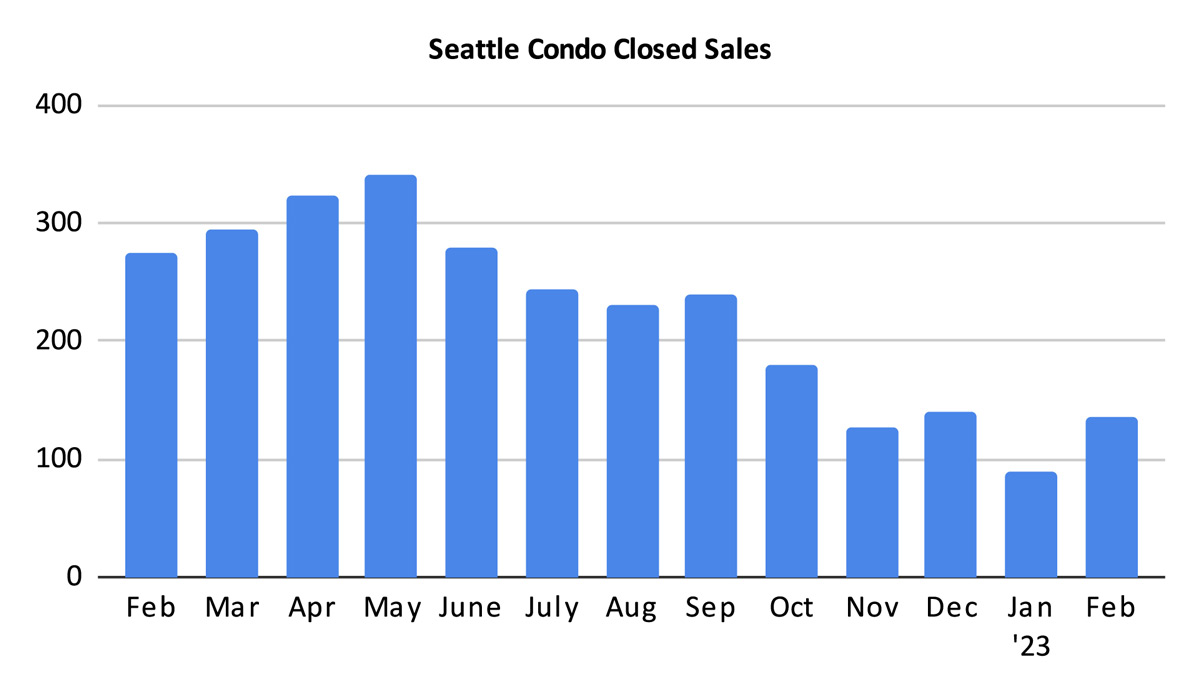 The start of spring typically herald the peak season of Seattle's condo and real estate market. We usually experience a noticeable rise in the number of condo listings and sales velocity. This year, the market has been rather muted with stagnating inventory levels and lukewarm sales activity.
The downtown condo market is partly fueled from buyers employed in the tech, financial and medical sectors. The recent turmoil from layoffs and uncertainly in the financial markets, along with rising interest rates are impacting the condo market.
Seattle Condo Market Statistics February 2023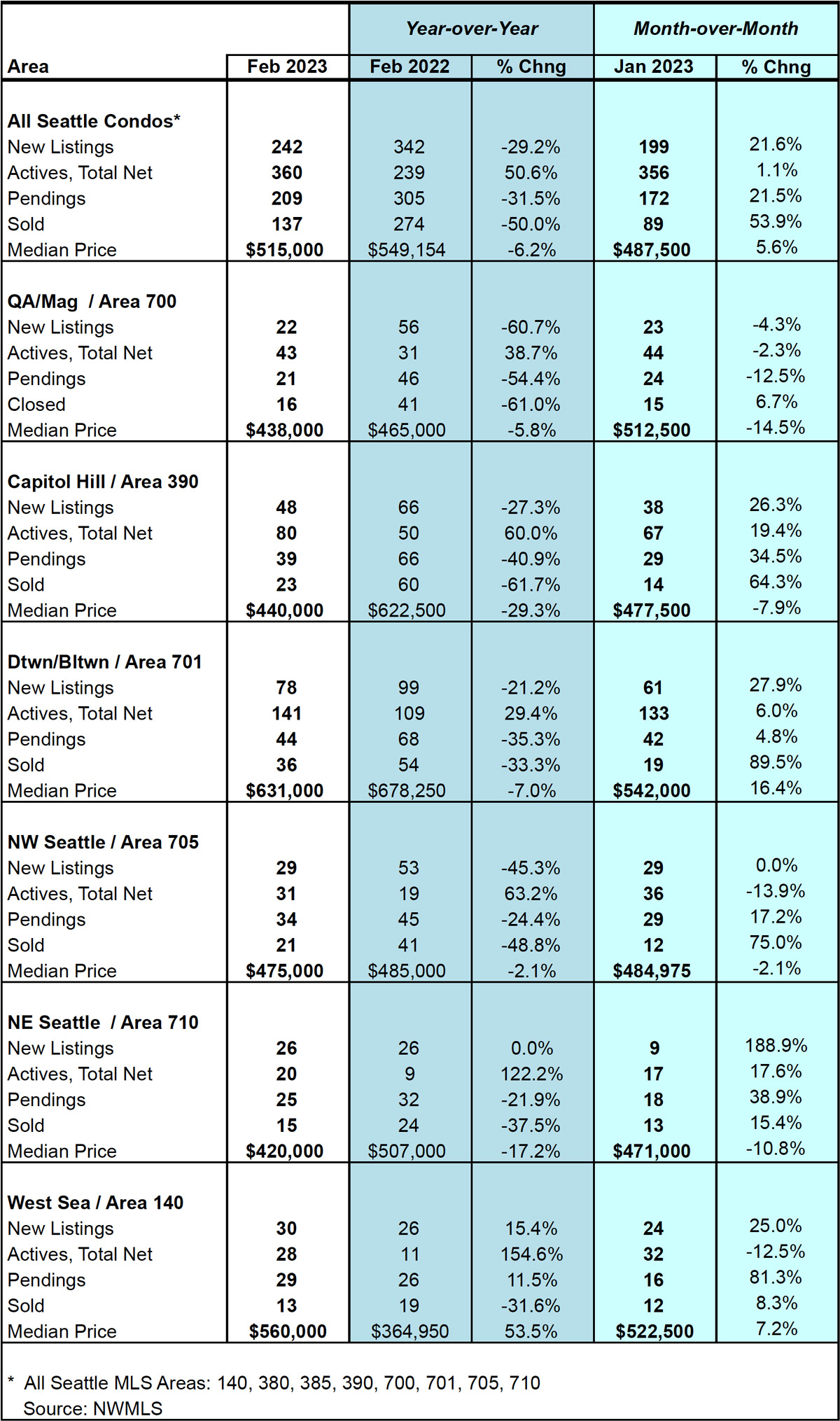 Source: Northwest Multiple Listing Service. Some figures were independently compiled by Seattle Condos And Lofts and were not published by the NWMLS.
© SeattleCondosAndLofts.com