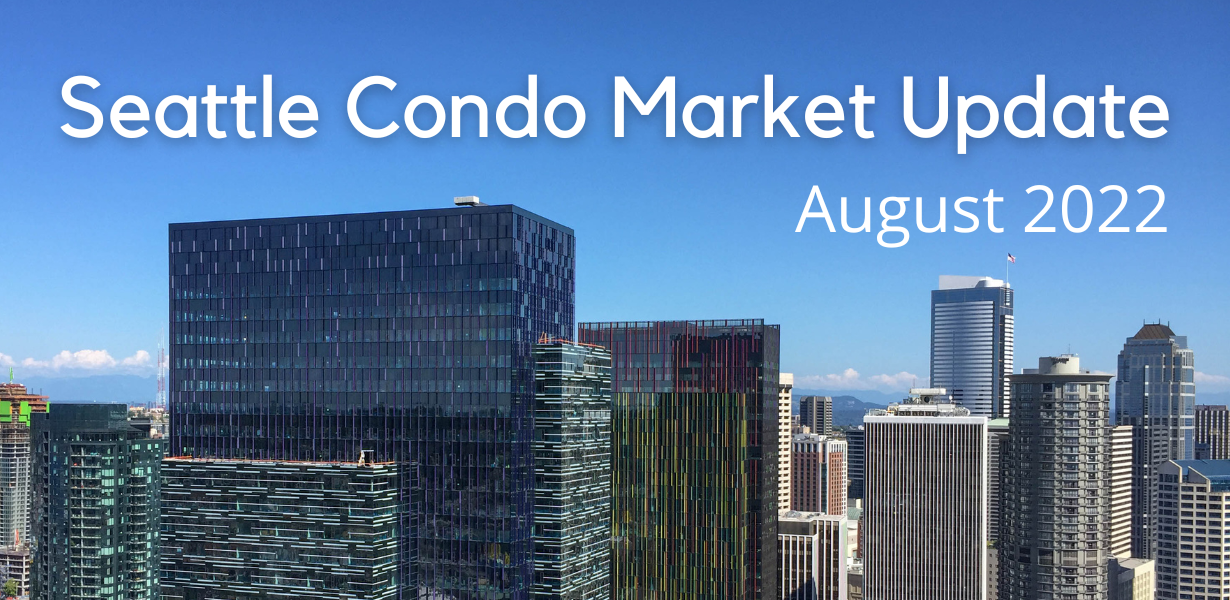 The August results for Seattle's condominium showed the market remains in a state of flux. The end of summer marks a seasonal turning point for the market impacting prices and sales activity.
Overall, the median sales price for condos have been trending downward as the graph below indicates, yet, the Seattle citywide median of $520,000 in August still outperformed the same period last year by 8.3%. That reflected the 12th consecutive month of year-over-year improvement in selling prices.
Compared to the prior month, the median dipped 3.2%.
In looking at the year-over-year numbers for the month, the areas that exhibited the largest increase in their median selling prices were Queen Anne / Magnolia (+13.7%), Capitol Hill / First Hill (+23.1%) and NW Seattle (+15.6%). On the other hand, downtown (-15.2%) and NE Seattle (-9%) experienced a dip in prices. View the complete neighborhood result in this table at the end of the post.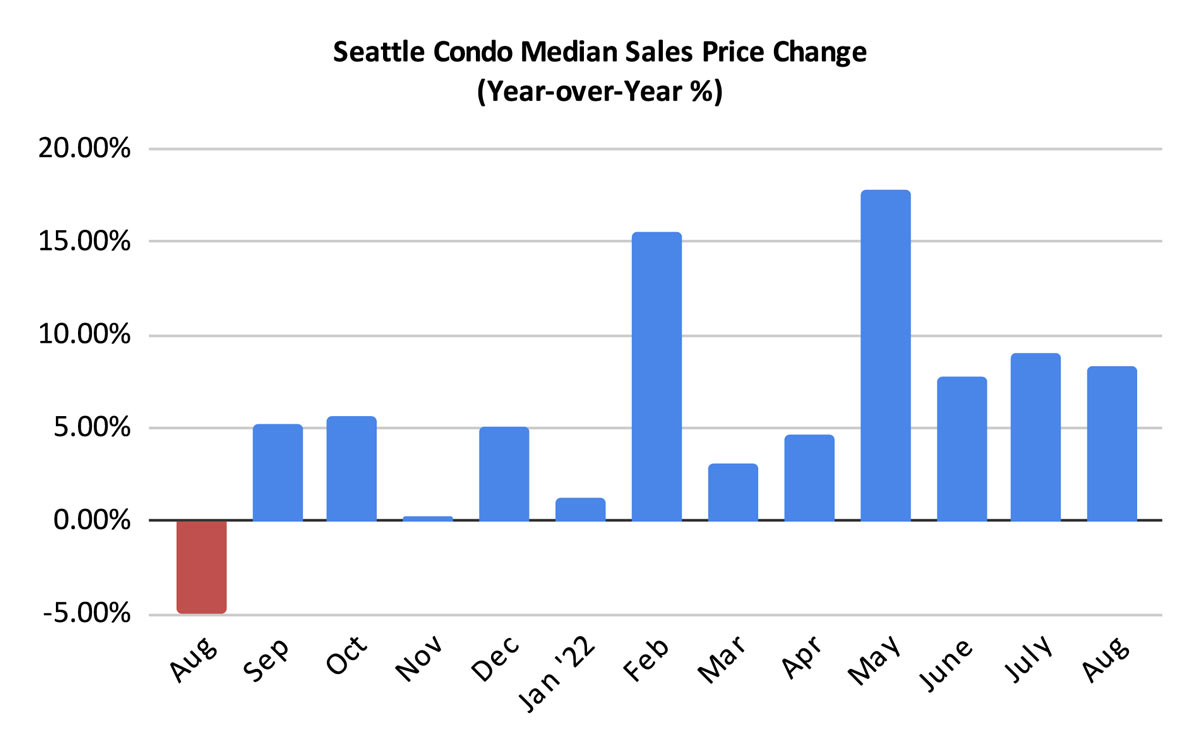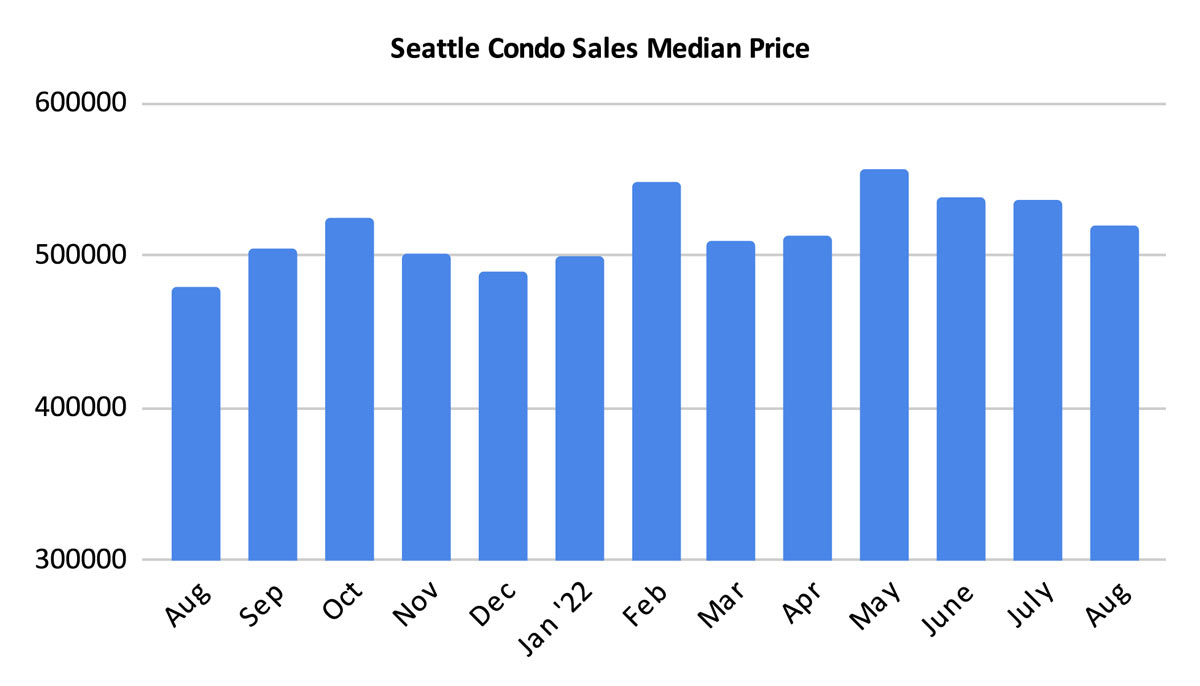 Available Seattle condo listings have been rather buoyant, though they are starting to trend downward, which we'd anticipate following the end of summer.
We ended August with 545 active units listed in the NWMLS for sale, which was 8.4% more year-over-year, but 10.5% fewer than we had in July.
We added 318 new listings for the month, compared to 334 last August. So, while we have more listings compared to last year, new listings are coming on the market at a declining rate.
Note, these figures predominately reflect resale properties that are listed in the NWMLS. Only a small fraction of the available downtown area new construction inventory are listed in the NWMLS, thus the actual condo inventory is a bit higher.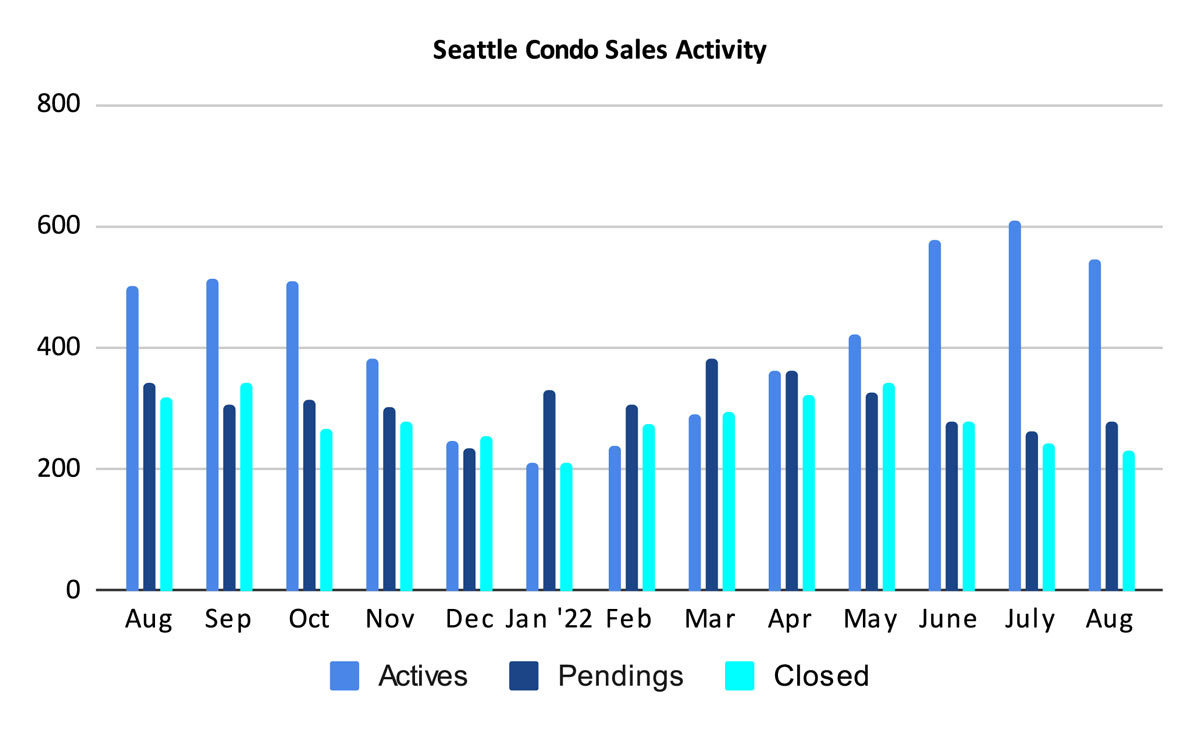 The reduction of listings, combined with a slight bump in pending sales, resulted in a decrease to the condo inventory supply rate to 2.0-months of supply.
The supply rate classifies the housing market environment. A rate less than 4-months of inventory is characterized as a buyers market, between 4-6 months a normal market, and over 6-months a sellers market.
While the city as a whole reflects a sellers market condition, buyer and seller experiences will vary depending on each neighborhood micro-market. For example, Queen Anne and North Seattle, particularly the Ballard area, have experienced a much tighter market place. Downtown, on the other hand, is reflective of a balanced-to-buyers market (factoring in unlisted new units).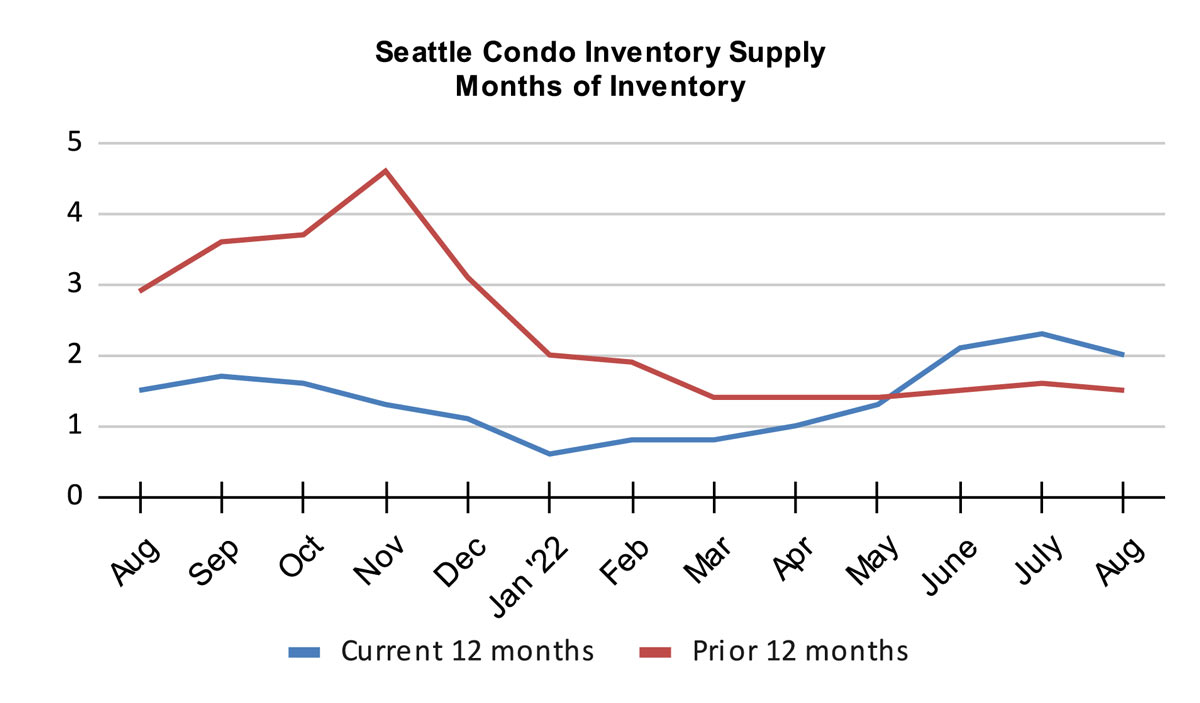 The number of pending sales transactions (listings in escrow) dropped 19.2% year-over-year to 277 units. Though, more condos went under contract in August compared to July by 4.9%.
This, however, is not entirely unexpected as our local market is historically cyclically that's influenced by seasonal changes. The second half of the year is slower for the real estate market and we typically see listings, sales and prices trend downwards.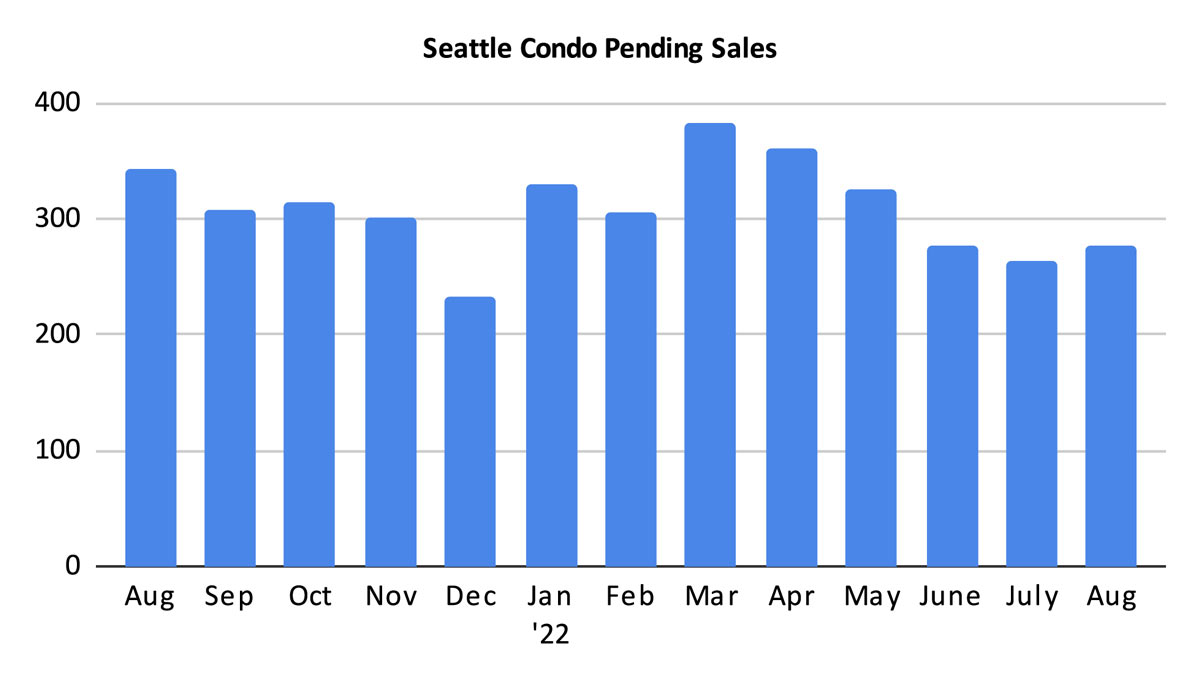 The number of closed condo sales dropped considerably in August to 231 units, down 27.4% from a year ago and 5.3% from the prior month.
Again, we also expected the number of closings to dip in August since closings lag behind pending by a month and we had fewer pendings in July. This number will rebound slightly in September as pendings increased in August.
August was a month in fluctuation as we transition from summer to autumn. Seattle's real estate market is impacted by seasonal changes. The second half of the year typically exhibits a slower, softer market place.
That said, we historically see a slight uptick in sales during September/October, the last push between the end of summer and the start of the holiday season and inclement weather.
The second half of the year may be ideal for condo buyers who may see more opportunities, less competition and more favorable prices.
For sellers who need to sell, yes, you might encounter a softer market, but likely fewer competition as well.
Seattle Condo Market Statistics August 2022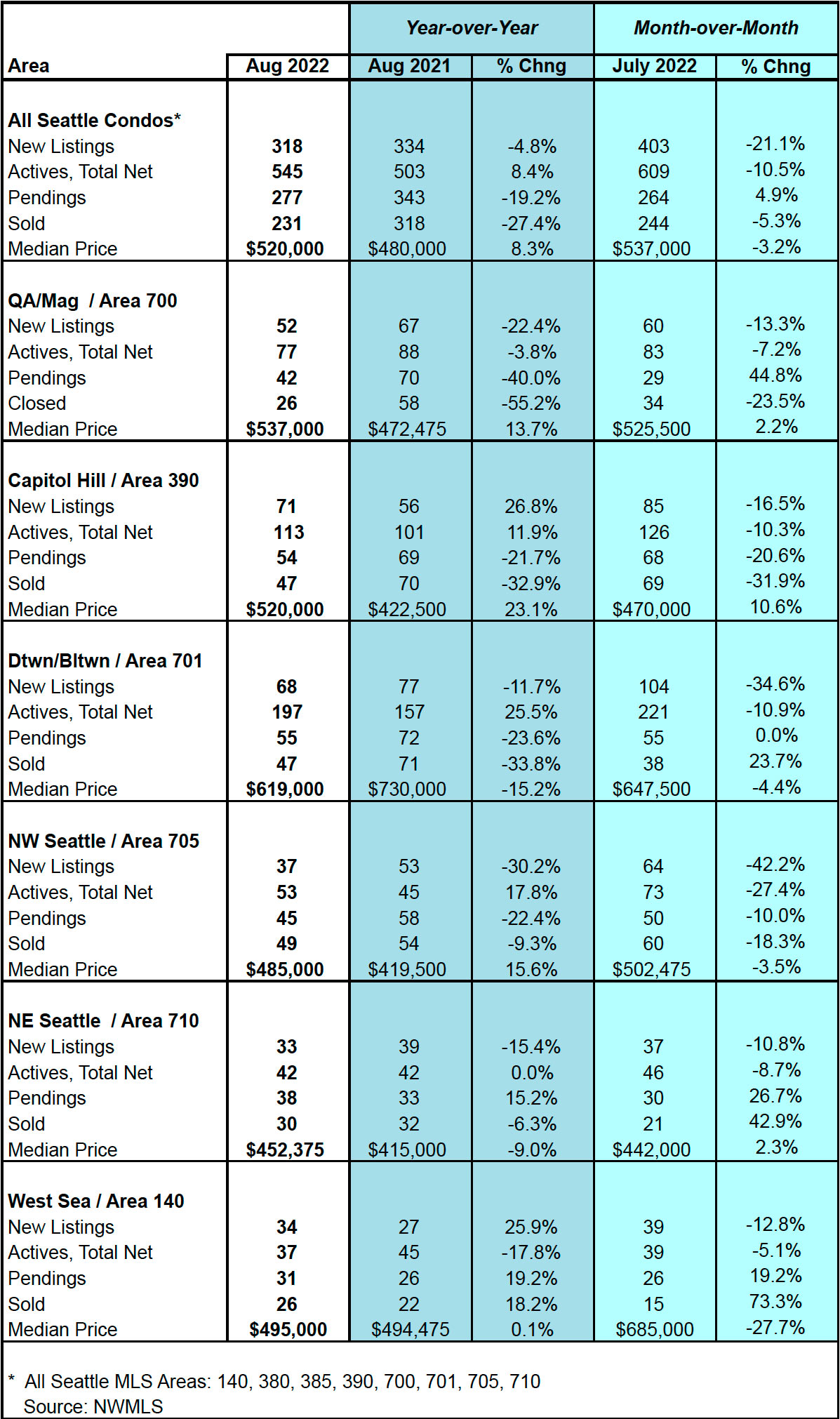 Source: Northwest Multiple Listing Service. Some figures were independently compiled by Seattle Condos And Lofts and were not published by the NWMLS.
© SeattleCondosAndLofts.com