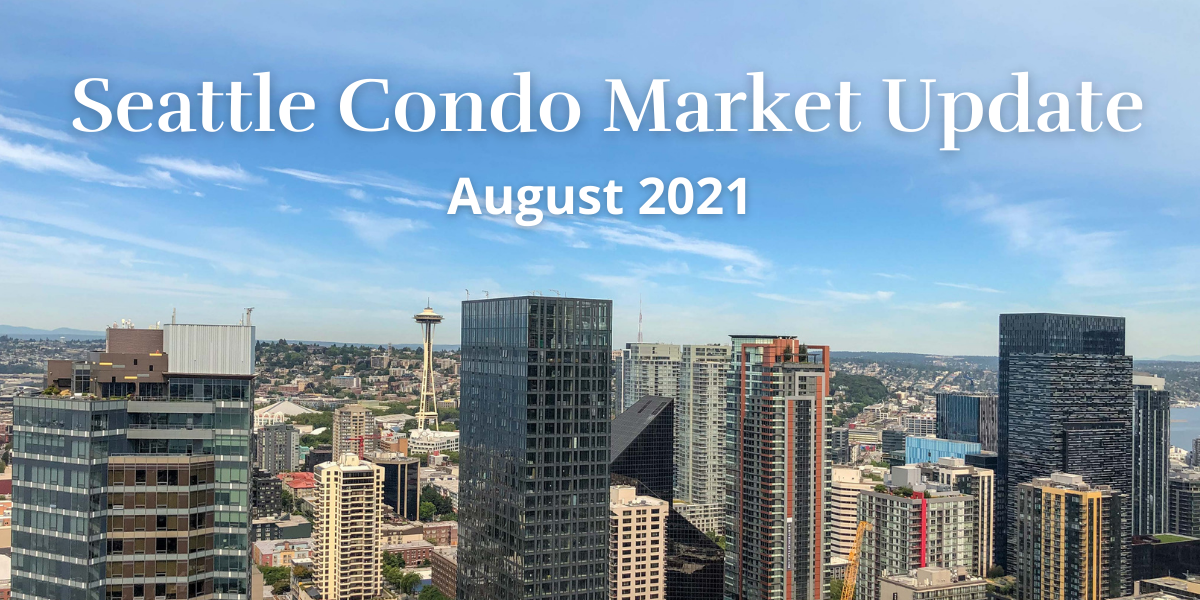 The Seattle condo market remained volatile as exhibited by August's market figures. It appears that our seasonal real estate slowdown may have come a little early this year. Though, the condo market segment has not been as robust this year as has single family homes and townhomes.
The citywide median sales price for Seattle condos in August was $480,000 reflecting a dip of 5% year-over-year (YOY) and 2.5% from the prior month. Historically, sales activity wanes during the second half of the year so it's not unexpected to see fluctuations in median sales prices.
That said, Seattle's condo market varies greatly by neighborhood. Queen Anne, Capitol Hill and the Ballard areas exhibited YOY declines. On the other hand, downtown/Belltown, Northeast and West Seattle realized YOY increases in their median sale prices. Downtown, for example, had a YOY and one-month improvement of 18.7% and 20.2%, respectively. See table at the end of the post for more details.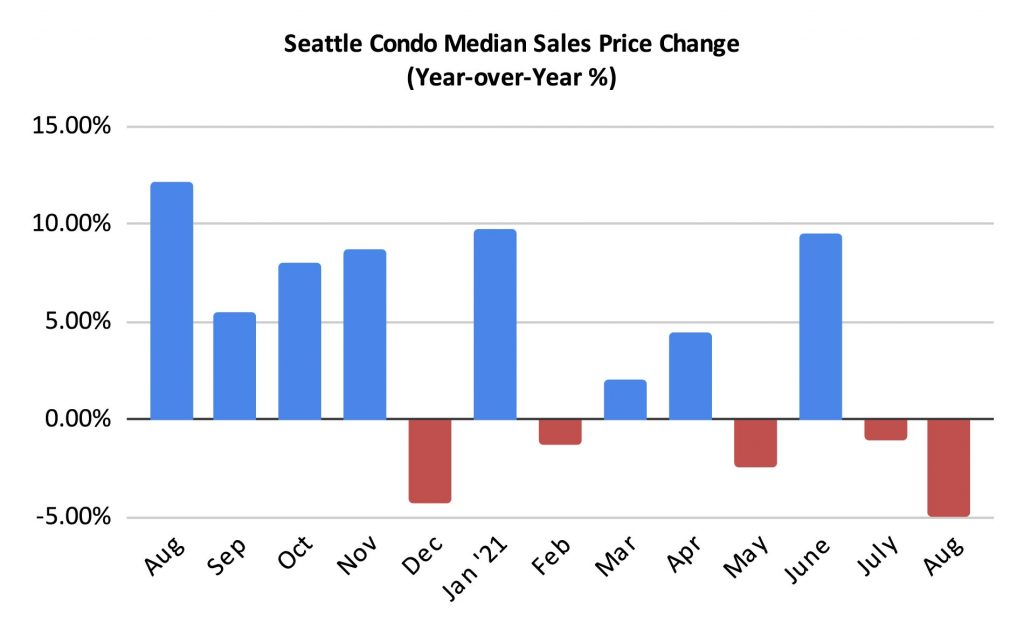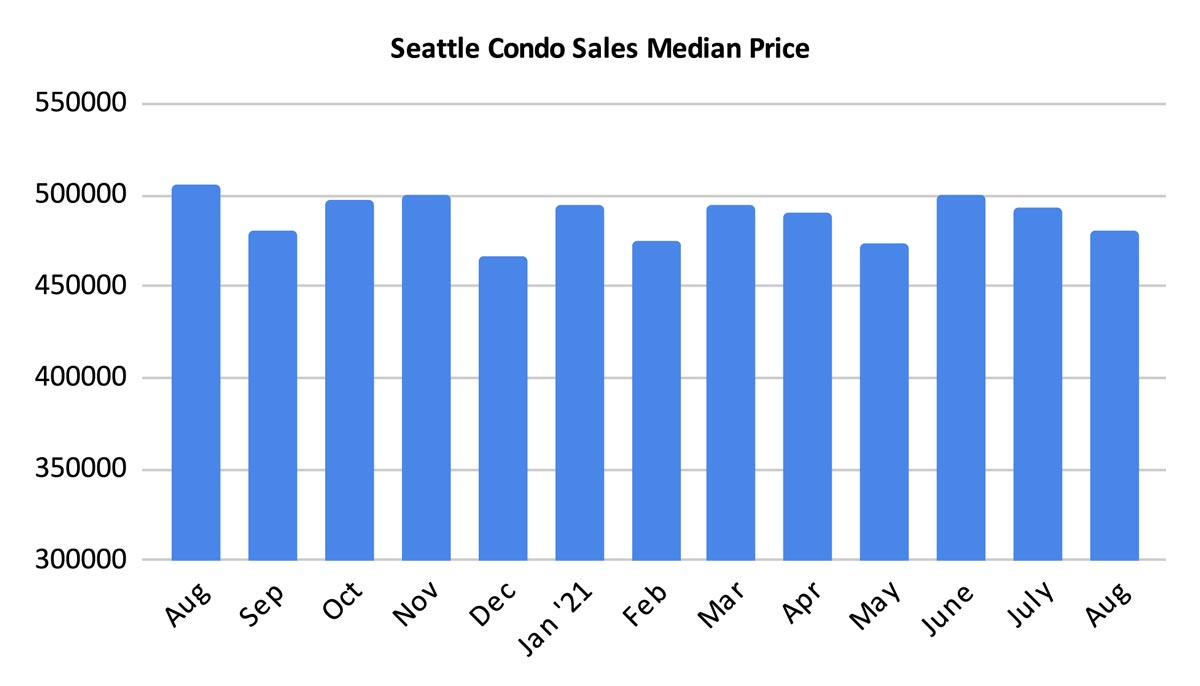 Listings and Inventory Supply
Active Seattle condo listings took a fairly steep drop in August with 503 units listed for sale in the NWMLS resulting in a YOY decline of 43.6% and a one-month dip of 12.7%. The overwhelming majority of the NWMLS listings are resale properties. So it seems current condo owners have pulled back from selling, at least in August.
As mentioned in prior market reports, very few of the new construction condo inventory are listed in the NWMLS. Most condo development's only publicly list a handful of units at a time. Therefore, the true number of available condos for sale in Seattle is a bit higher by a few hundred units. In that respect, we're not far off from where we were a year ago.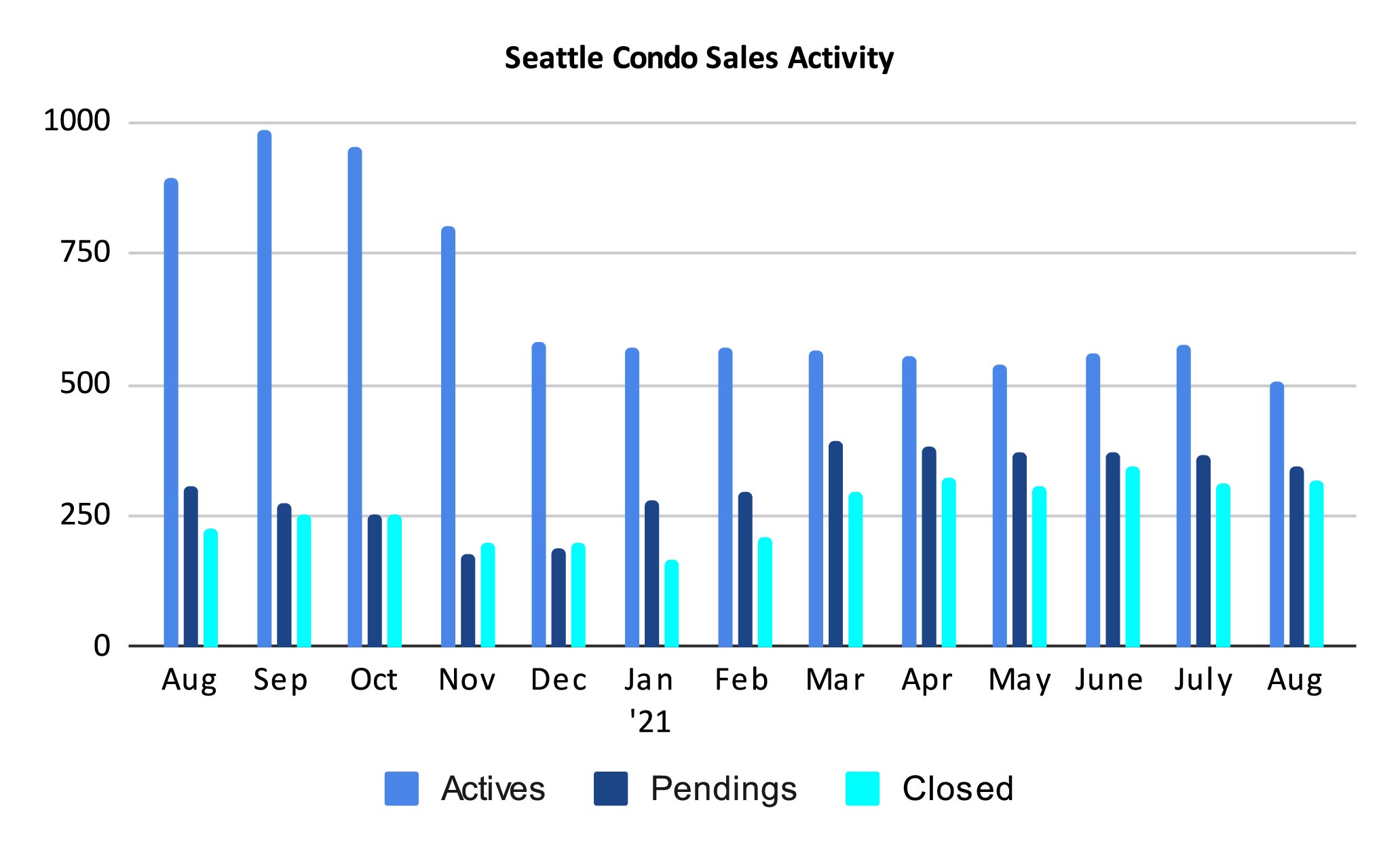 A consequence of fewer listings for sale is a tighter market place for buyers. The condo inventory supply rate constricted in August to 1.5-months of supply. A year ago, it was nearly at 3-months of supply.
The inventory supply rate is an indicator of the current market environment. A rate of less than 4-months of supply is a seller's market, which Seattle has remained in essentially for the past 9 years. A normal, or balance market, would be between 4 to 6 months of supply. And, a buyer's market would have over 6 months of inventory.
We calculate the supply rate by dividing the number of active listings by number of pending sales transactions for the month. It can also be calculated using closed sales instead of pending sales.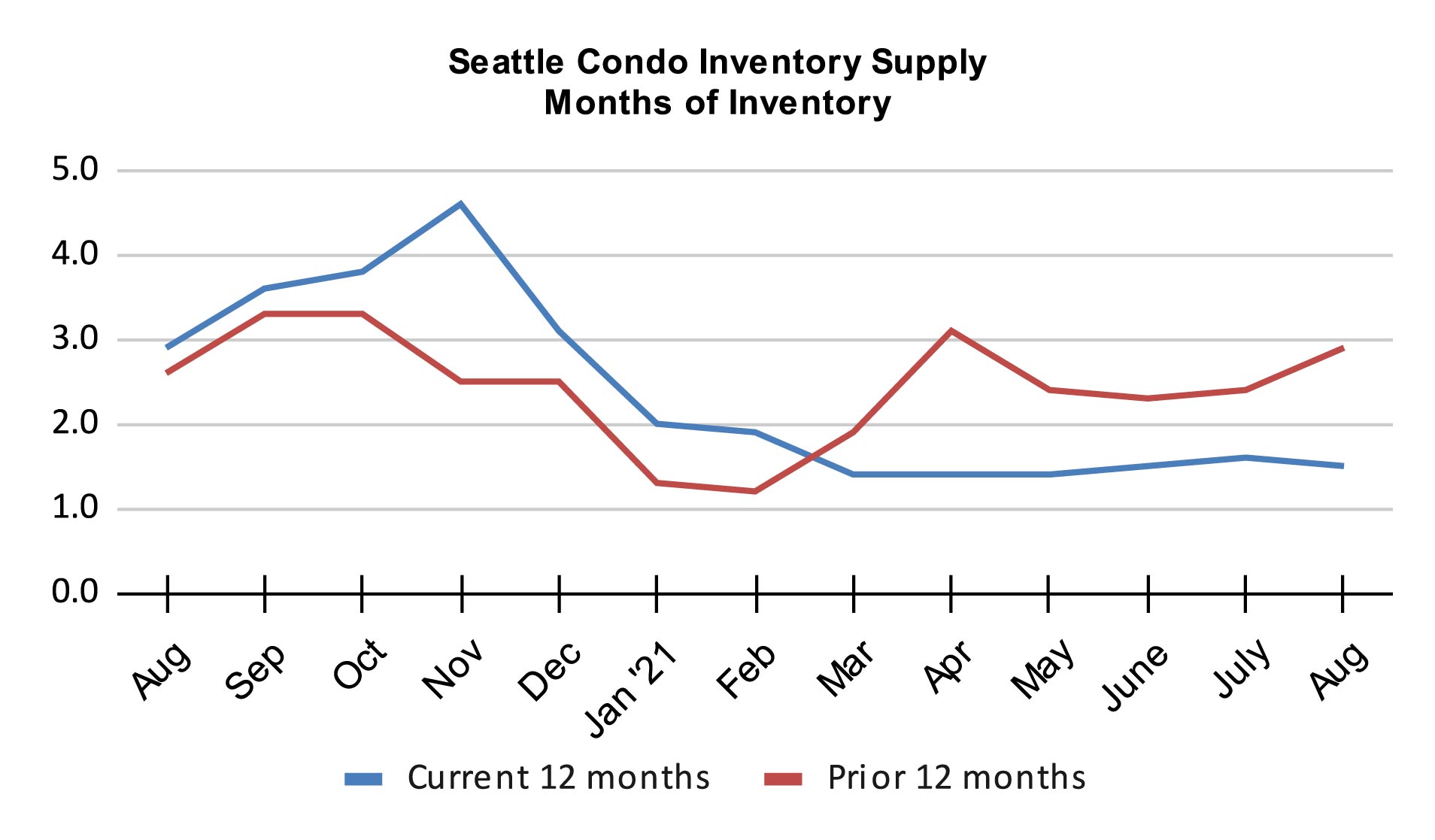 Seattle Condo Sales Activity
Pending sales transactions improved 12.1% YOY to 343 units last month. However, they have been on the decline since a spike earlier this spring. There were 6.3% fewer pendings in August compared to July. Though, that was the height of summer and many buyers may have been pre-occupied with summertime activities instead of house hunting.
Additionally, not all pending sales are included in the the MLS as few new construction pending contracts are entered. That skews the officially published NWMLS results and market statistics (mostly downtown – MLS area 701).
With that said, our market is cyclical and we are entering the second half of the year where we typically experience fewer sales overall.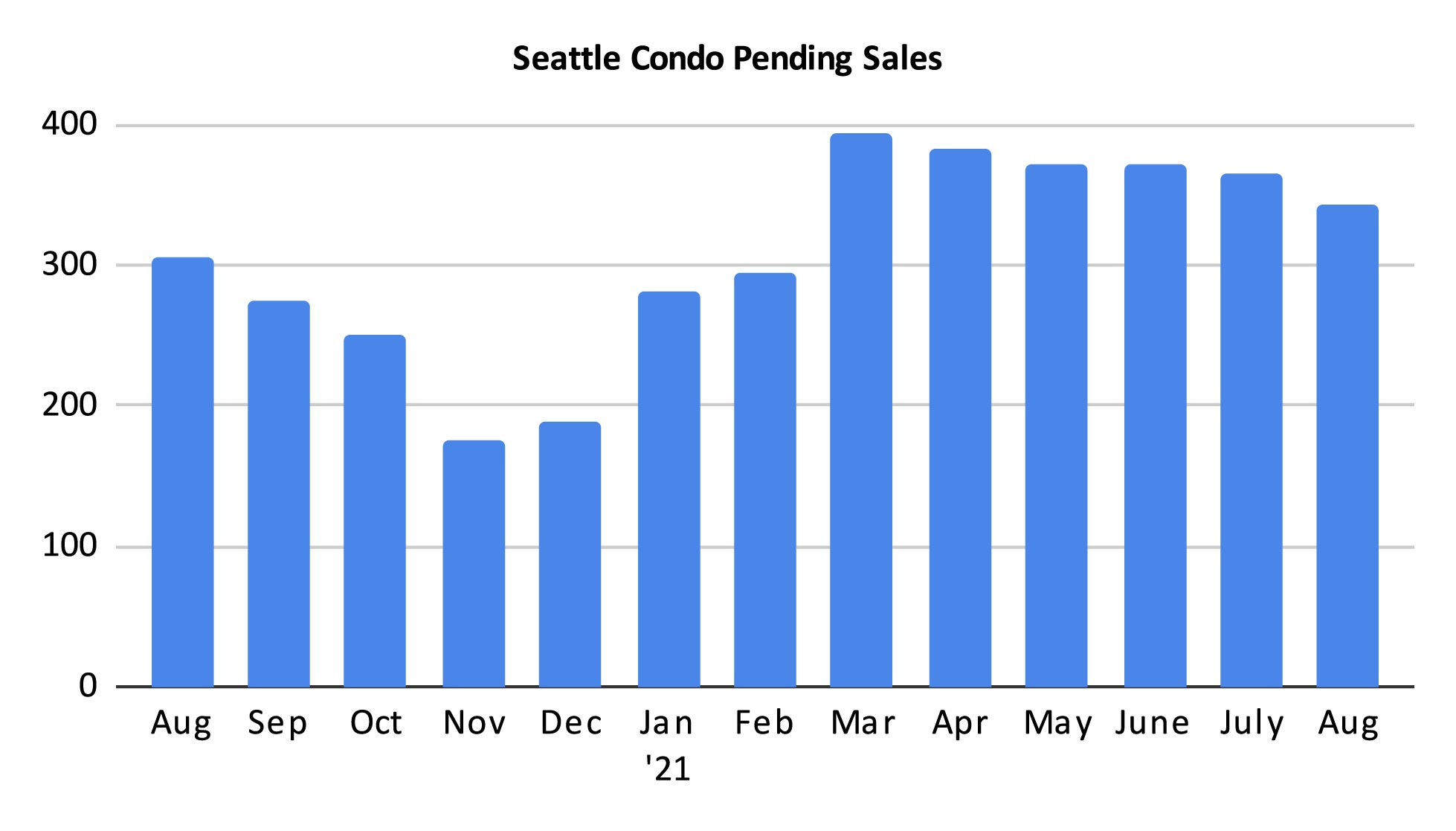 The number of closed Seattle condo sales was the bright spot in August with 318 closings. That represented a one-year and one-month increase of 40.1% and 1.6%, respectively.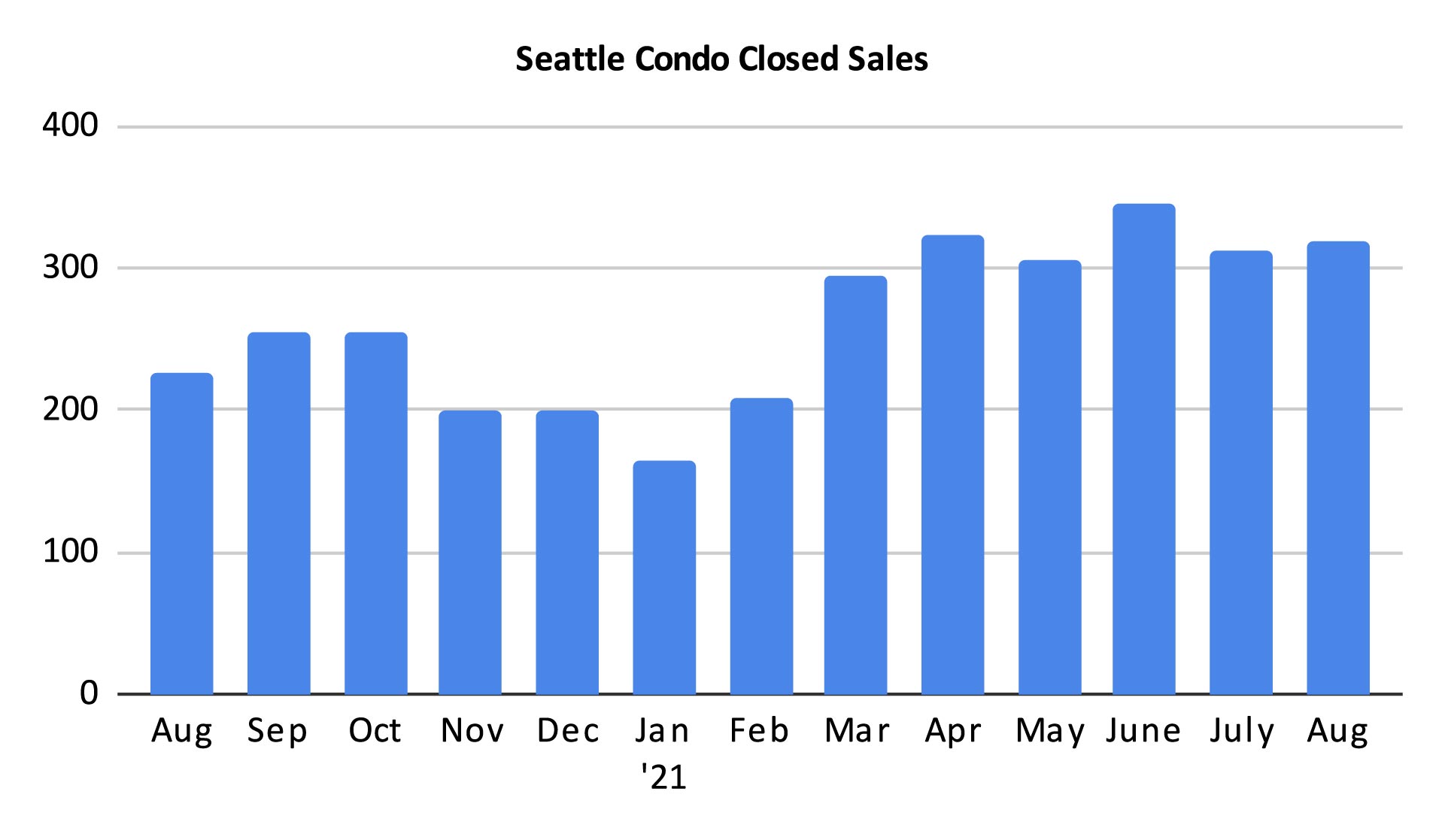 Going Forward
With August now behind us we are heading into a seasonally slower market place that will take us through the end of the year. Though, there may be a post summer bump in September.
As resale condo listings reduce, Seattle's condo market may continue to remain relatively buoyant particularly outside of the downtown core where most of the new condo buildings are located. For instance, Ballard (MLS area 705) remains exceptionally strong with sales outpacing new listings for the 6th consecutive month.
Drop us a note if you'd like to learn more about the condo market or looking for a condo specialist to assist in buying your Seattle condo.
For sellers on the fence there may be a potentially tighter market place this fall (we already have fewer listings since the onset of the pandemic last spring). It might be worth considering selling your Seattle condo.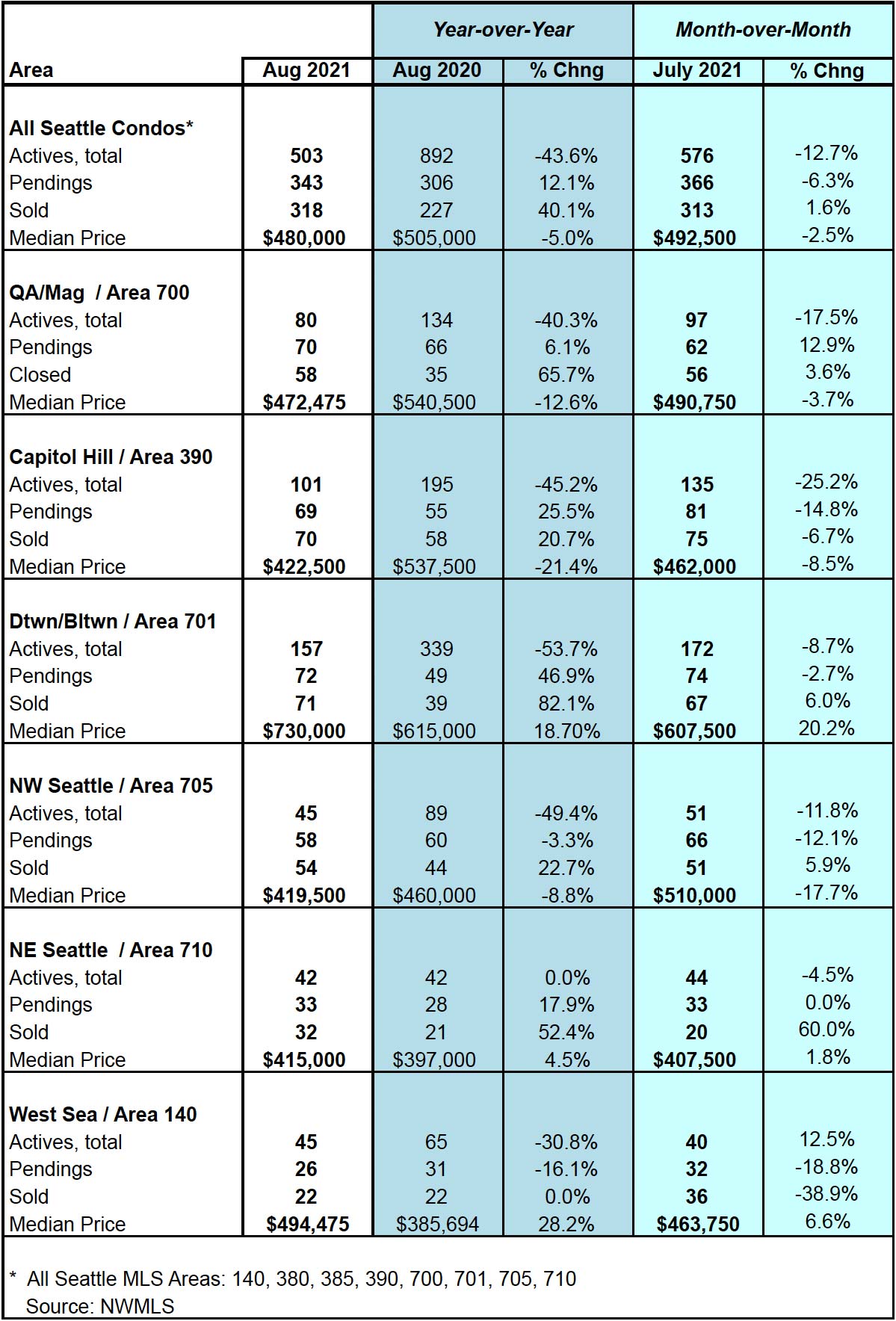 Source: Northwest Multiple Listing Service. Some figures were independently compiled by Seattle Condos And Lofts and were not published by the NWMLS.
© SeattleCondosAndLofts.com