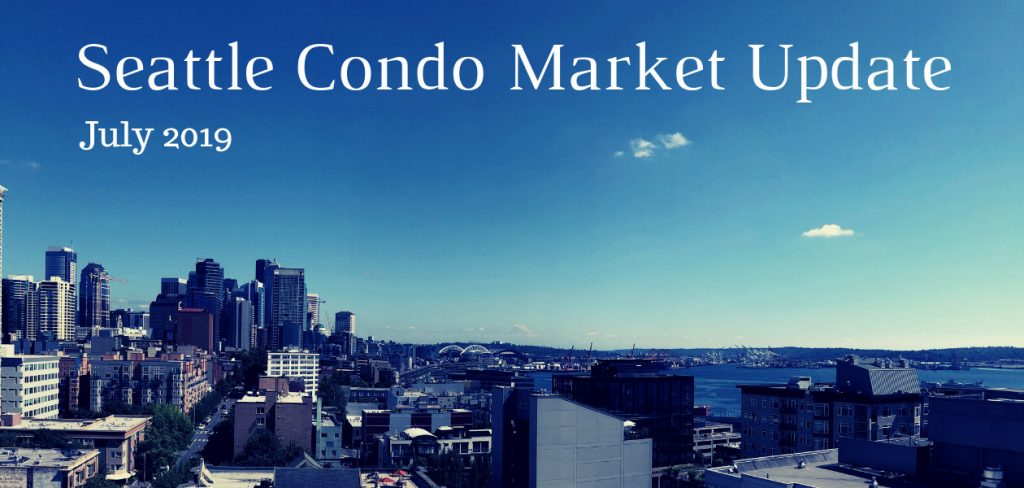 While the number of Seattle condo listings and sales activity remained relatively stable, selling prices eroded in July.
The Seattle citywide condominium median sales price fell 12.35% year-over-year and nearly 9% from the prior month to $450,500. Selling prices dropped throughout the city with the exception of Queen Anne, which exhibited a 23.7% increase, but more on that later.
The most significant declines were in the Capitol Hill and West Seattle areas, which saw double digit dips (see table at bottom of post).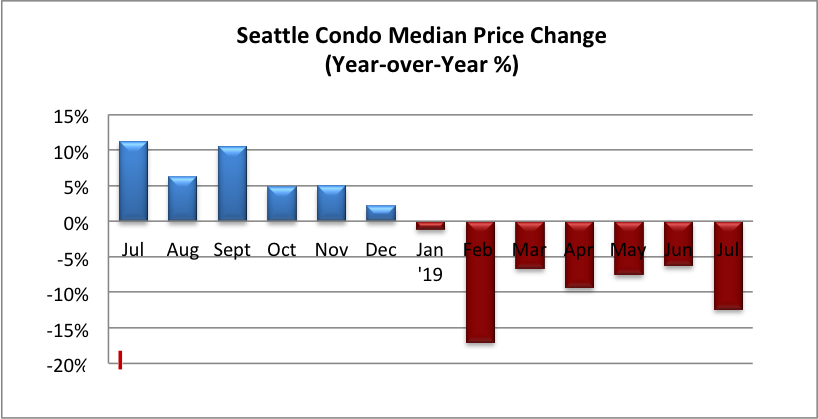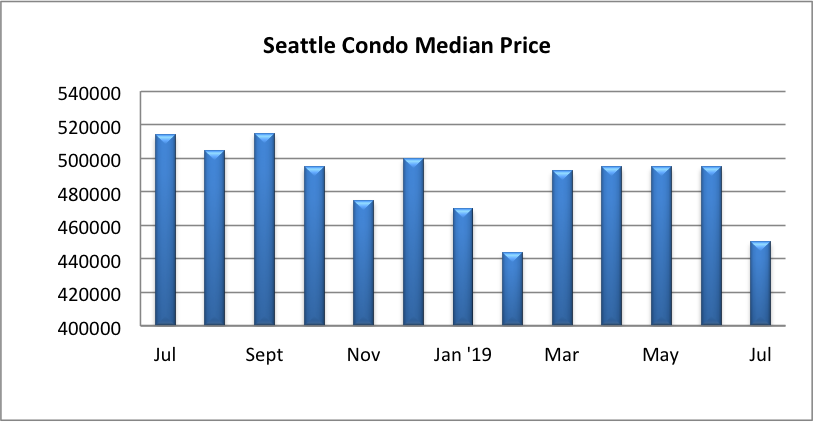 The number of Seattle condo listings for sale remained on par with prior months at 700 units (MLS listed) for the month. The number of actual listings is a bit higher when contemplating pre-sales at new condo projects currently under construction.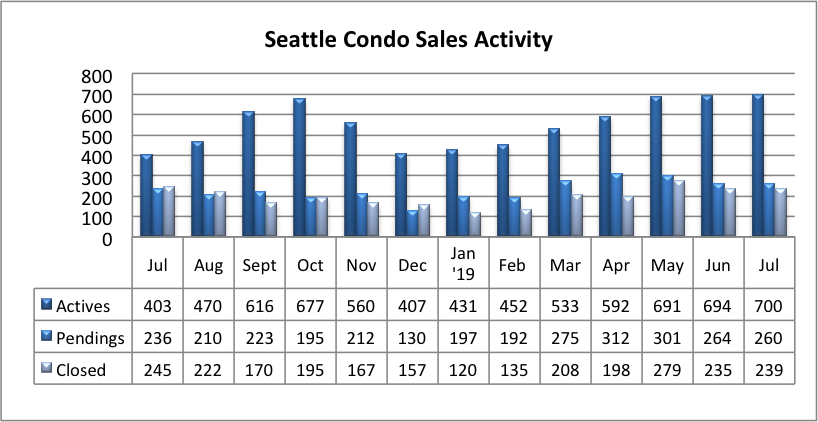 With listings and sales remaining steady last month, the Seattle condo inventory supply rate was minimally affected increasing from 2.6 to 2.7-months of supply.
Nonetheless, we are inching closer towards a balanced market, which could occur before year end.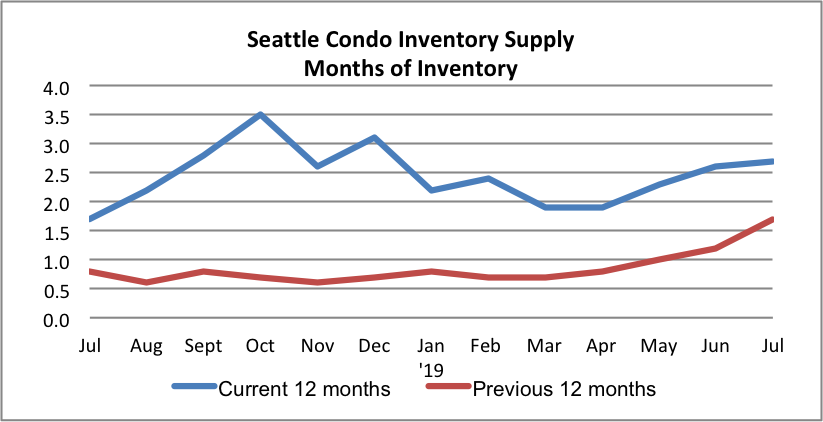 The 260 pending sales transactions in July, or listings under contract, increased 10.2% year-over-year, but remained relatively unchanged from the previous month.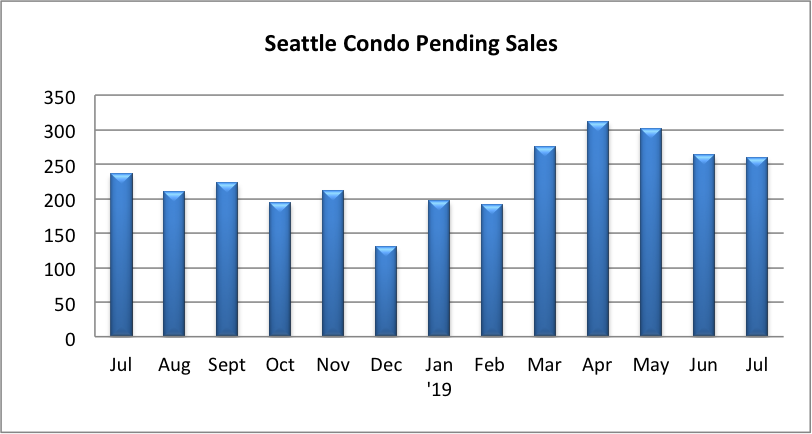 Closed condo sales transactions exhibited the opposite result, increasing 1.7% over June to 239 units, but dipping 2.5% compared to last July.
Real estate sales in the Seattle metro area historically slows during the second half of the year so we'll start to see fewer pending and closed sales going forward.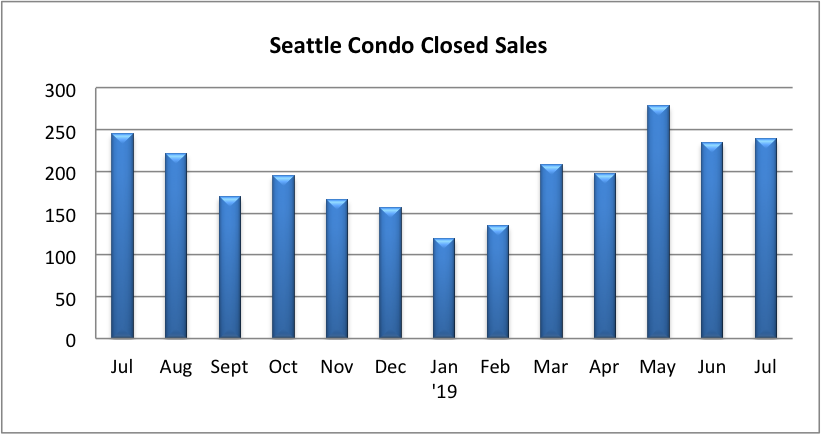 As noted above, the Queen Anne neighborhood reflected an increase in its median sales price for the month, rising 23.7% to $575,000. However, that was due to the number of high-end sales rather than improving values.
In July 2018, only 1 of the 41 condo sales sold over $1,000,000 compared with 10 of 37 for July of this year. The greater number of higher priced sales relative to lower valued properties moved the midpoint (median) upward.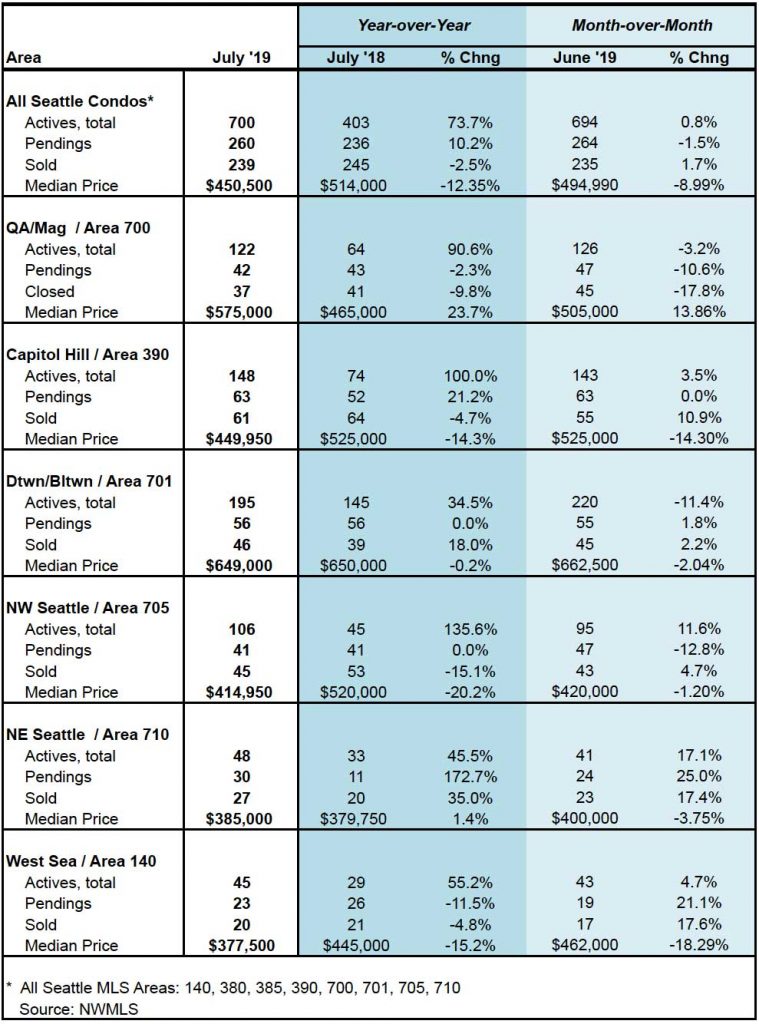 If you've been contemplating buying a condo, let our Seattle & Bellevue condo specialists help you succeed with our effective buyer strategy.
For condo owners, if you had been thinking about selling your Seattle condo, you can rely on our dedicated condo sales brokers more than ever to realize the highest returns. We can help you navigate through Seattle's shifting housing market.
________________________
Source: NWMLS. Some figures were independently compiled by SeattleCondosAndLofts.com and were not published by the Northwest Multiple Listing Service.
© SeattleCondosAndLofts.com