June was a phenomenal month for Seattle's already hot condo market. Condo values and unit sales skyrocketed as inventory became even more constrained.
Seattle's citywide condo median sales price clocked in at an all-time record high of $340,000, rising 9.7% year-over-year and 3.5% over the prior month. And, it's only going to go higher once Insignia begin closing in the next month.
The Capitol Hill and Downtown areas reflected double-digit increases for the month, up 29.8% and 15.6%, respectively. Though, not all areas of the city saw improvement with median sale prices dipping slightly in the Queen Anne and Northwest Seattle areas (see chart below).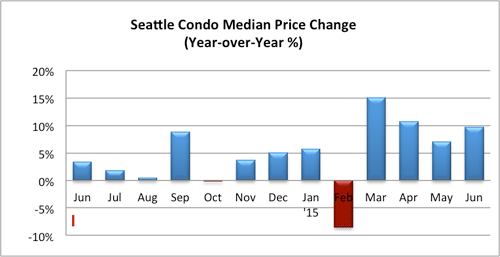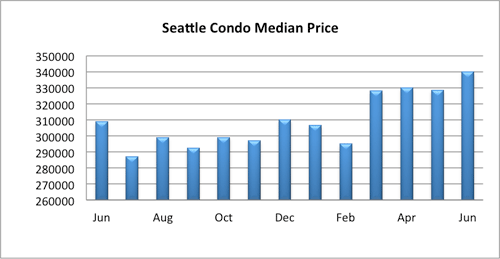 They city's already tight inventory supply got tighter with a 42% drop in available Seattle condos for sale compared to last June and 14.1% fewer than last month.
Combined with strong sales activity, the Seattle condo inventory supply rate reduced to 0.6-months of supply. That is, if no new listings come on the market it would take a little more than 2-weeks to sell out of our condo inventory.
We utilize this metric to determine the state of the housing market. An inventory rate of less than 3-months is reflective of a seller's market. Between 4-6 months of supply is a normal market, and inventory greater than 6 months is considered a buyer's market.
Thus, with a 0.6-month supply rate, Seattle is in a extremely tight seller's market with inventory selling faster than they are becoming available for sale.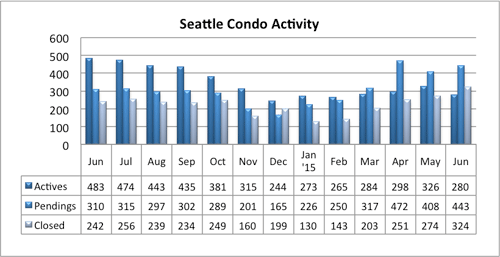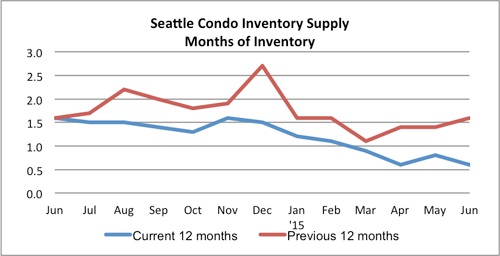 The number of condo sales increased substantially, rising nearly 43% to 443 pending units compared to the same period last year. New construction presales at the four buildings under construction accounted for approximately 15% of condo sales in June.
Following strong sales activity in May, the number of closings jumped in June to 324 units, reflecting a year-over-year and one-month increase of 33.9% and 18.2%, respectively.
Closings will rise significantly over the next couple months as Insignia begin closing its South tower homes.
Looking forward for buyers, the current state of the Seattle condo market is not likely to ease much as we head into the 2nd half of the year. Expect further pressure on inventory and higher median sale prices. Be prepared for buying in a tight market and work with a buyer advocate.
For condo owners, the market place has shifted and this may be a opportune time to sell your Seattle condo.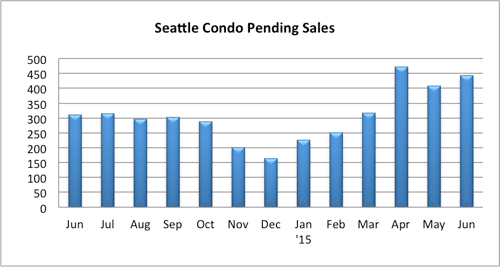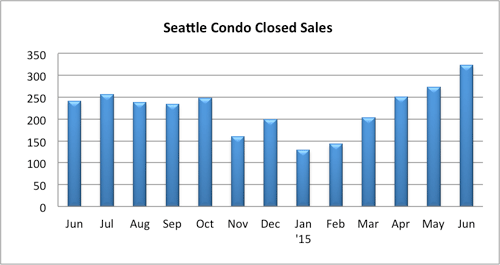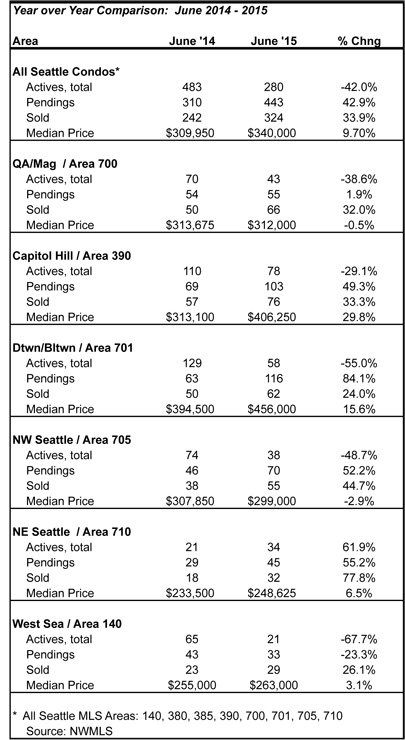 Source: NWMLS. Some figures were independently compiled by SeattleCondosAndLofts.com and were not published by the Northwest Multiple Listing Service.
________________________
© SeattleCondosAndLofts.com