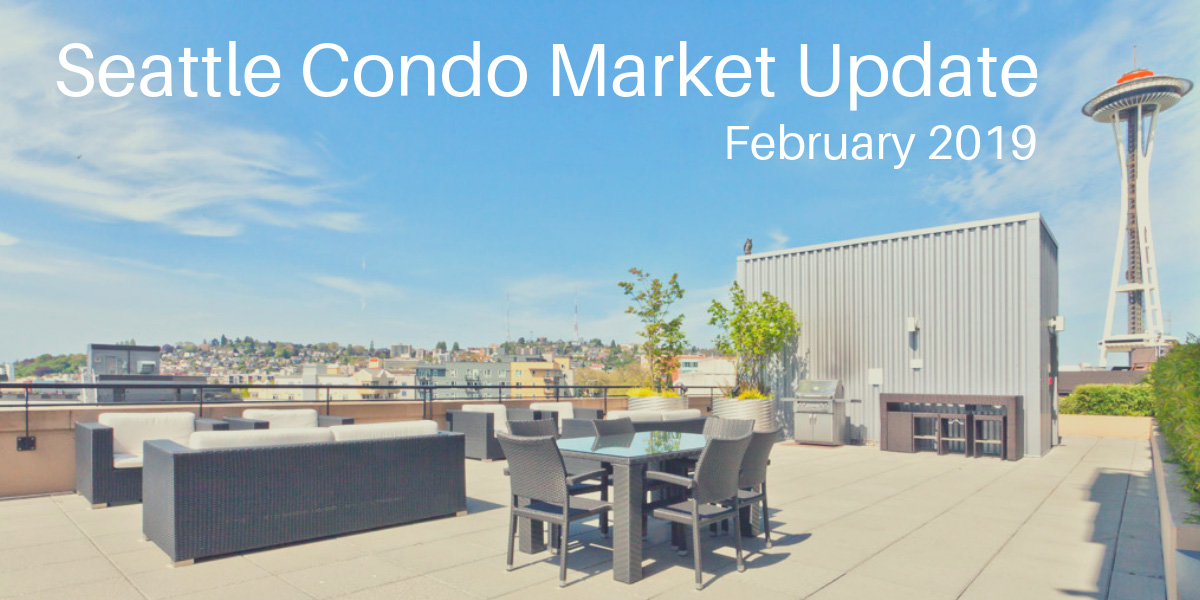 Seattle's condominium market hit a bump in the road in February; median sales prices decreased as inventory rose further and sales activity flattened.
The citywide condo median sales price dropped 17.01% compared to last February to $444,000, which also reflected a one-month dip of 5.5%. While we have seen other year-over-year declines, this is the first double-digit drop in the median sales price since the market bottomed in spring 2012.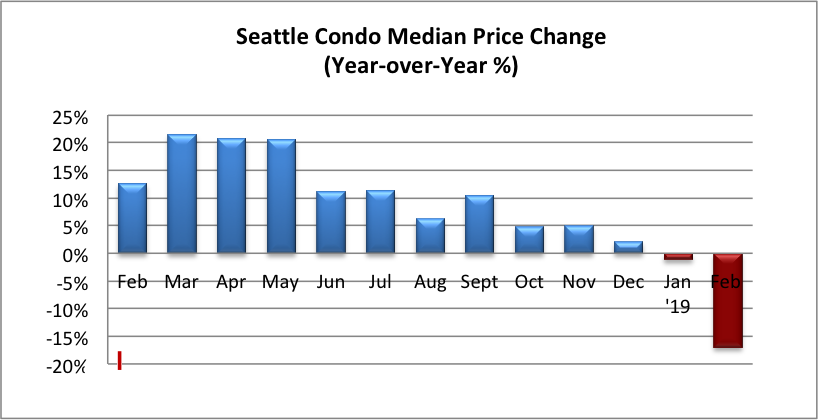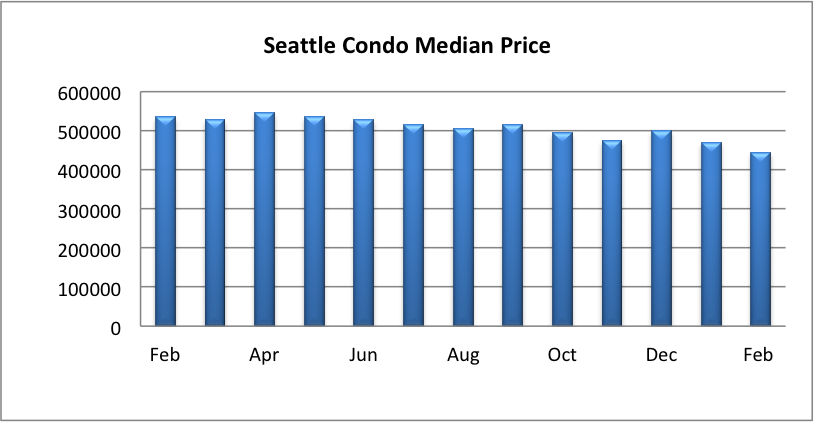 Does this signal the market is cooling? Well, there are some signs of that. For instance, in the aggregate, condos sold 2.4% below list price in February 2019 compared to 8% over list last February, while days on market dragged out to 71 days compared to 26 days.  Sales are slower and the market appears to be correcting from overpricing last year.
The makeup of condo sales also contributed to the lower median sales price. The median is the midpoint (the one particular unit that sold) where half of the units were priced above and half were below.
Last February, 39% of the 158 condos that sold (62 units) were priced below $500,000. This year, 59% of the 135 condos sold (80 units) were priced under $500,000.
With a greater number, and higher percentage, of lower valued condos selling in February 2019 vs 2018 the median sales price effectively moved downward.
Looking at March 2019, which admittedly is premature at this point, we have 36 closed sales to date with another 292 pending sales, of which 58 went under contract this month so far (9 days in at this writing). That said, of the 292 pendings, 74 are new construction still to be completed so they won't be closing anytime soon.
Of the closable current pending condos, the median sales price is $517,000, so it is possible we'll see an increase in the median sales price for March.
Lower mortgage rates should also spur further condo sales as will a number of the new condominiums now available, both move-in ready and pre-sale.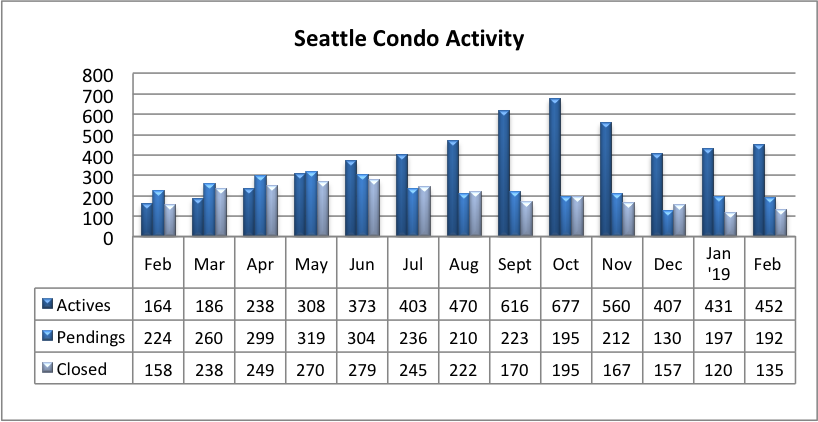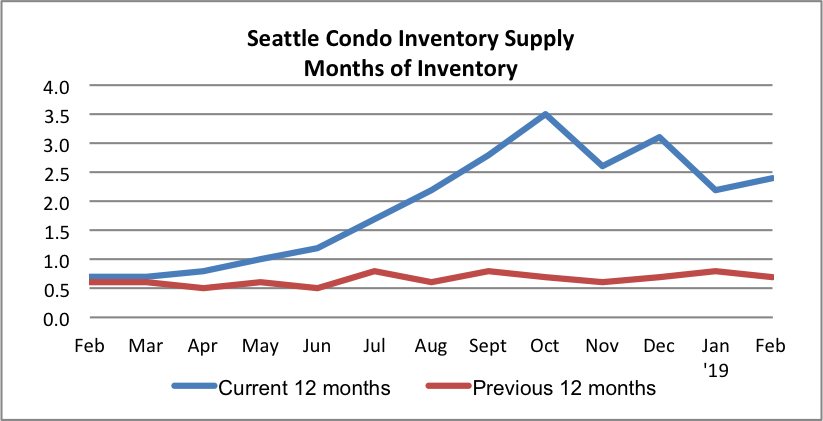 Seattle's condo inventory (NWMLS listed properties) rose in February to 452 units, an increase of 175.6% and 4.9%, year-over-year and one-month, respectively.
The greater number of available Seattle condos for sale, combined with flat sales for the month, resulted in a rise to the inventory supply rate to 2.4-months of supply. But, that still keeps us in a seller's market.
The inventory supply rate is a market condition metric. A supply rate of less than 3-months is indicative of a seller's market, a rate of 4-6 months is a balanced market, and more than 6 months is a buyer's market.
One note about inventory, we report figures based on the Northwest Multiple Listing Service (NWMLS) database, which only includes listed properties. It does not factor in the hundreds of new construction (i.e. still to be completed) condos available through pre-sales.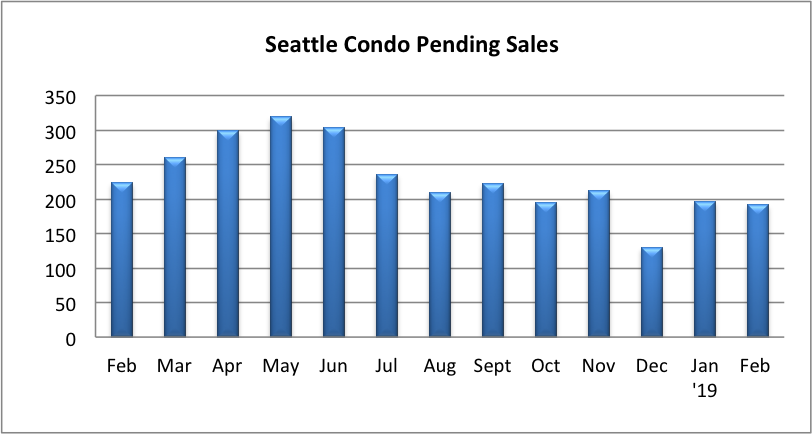 The number of pending sales was fairly flat last month compared to January. However, the 192 pending sale transactions (listings with accepted offers in escrow) reflected a decline of 14.3% compared the same month a year ago.
The NWMLS reported that sales took a hit due to the snow storms in February, which may have contributed to less than anticipated sales activity.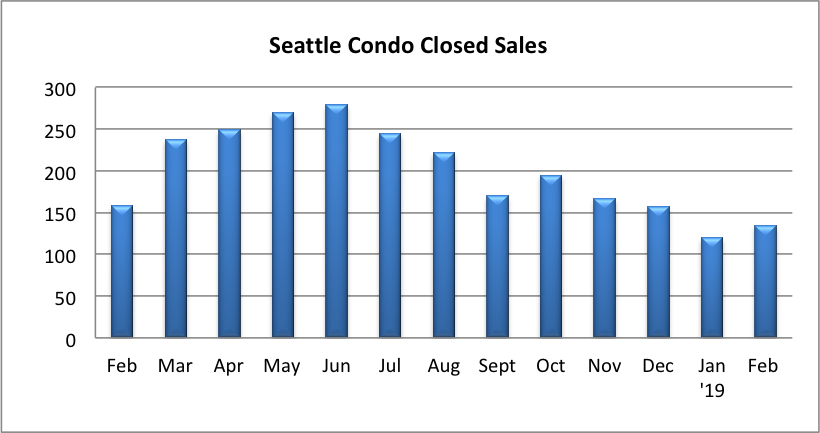 There were 135 closed condo sales in February, exhibiting a 12.5% increase over January but 14.6% fewer than last February.
As we progress towards spring, our peak season, the number of pendings and closings will rise. Though, with 1 in 4 NWMLS listed sales being new construction, I'm not sure that we'll be able to outperform 2018 levels as most of those will close at the tail end of 2019 and beyond.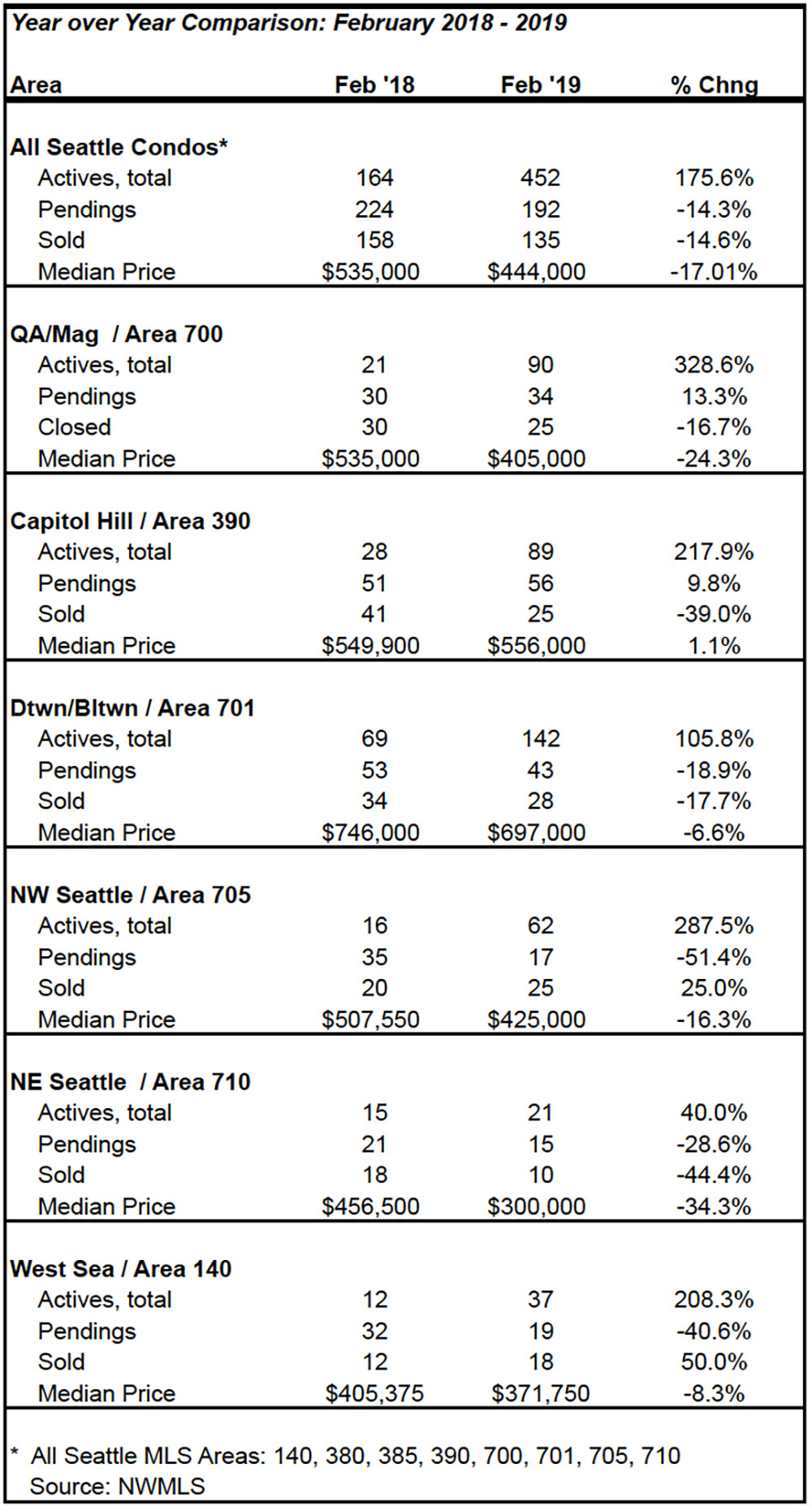 If you've been contemplating buying a condo, let our Seattle condo specialists help you succeed with our effective buyer strategies.
If you plan to sell your Seattle condo, you'll need to rely on dedicated condo sales brokers more than ever to realize the highest returns. We can help you navigate through Seattle's shifting housing market.
________________________
Source: NWMLS. Some figures were independently compiled by SeattleCondosAndLofts.com and were not published by the Northwest Multiple Listing Service.
© SeattleCondosAndLofts.com