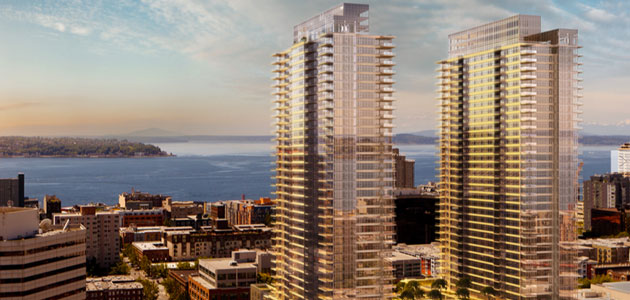 Seattle's newest, and largest condominium, Insignia, is set to close out sales with just 20 units remaining out of 700 in the twin-tower development on the edge of Belltown and South Lake Union. The remaining new developer homes start from $1 million.
If you're looking for new construction in downtown, Insignia is your only option for another 2-3 years when Gridiron (Pioneer Square) and Nexus (Denny Triangle) are expected to be completed.
It's amazing when you consider Insignia is the only new condominium in downtown Seattle during a nearly 10-year span. It's no wonder then that buyers were lining up around the block for Nexus.
Over the past several months resales and flipped properties have come on the market at Insignia, but they've been relatively few in number.
Just on the outskirts of downtown on First Hill, Luma Condo, which is nearly 70% sold is slated for completion next month.