August's Seattle condo sales figures reflected phenomenal market results with double digit increases in median sale prices and sales volume. That, though, may depend on how one interprets the results with Insignia closings and an acknowledged error in the published NWMLS condo statistics affecting downtown (Area 701) and citywide sales.
I verified with the NWMLS that their published condo market stats for Seattle and Area 701 were inaccurate as it failed to contemplate 36 closings in downtown (Area 701). The NWMLS confirmed our calculation method is correct, thus we'll be utilizing our data over the NWMLS' for citywide and Area 701 sales.
With that said, the citywide condo median sales price skyrocketed 43.81% year-over-year (YOY) buoyed by Insignia closings to $430,000 and setting a new record high. That's also an 11.7% improvement over the prior month. For comparison, the citywide median sales price for single family homes was $575,000 last month.
Excluding Insignia closings to compare YOY resale figures, the median Seattle condo sales price would be $325,000 reflecting a more reasonable 8.7% increase over last August, though that's a 4.1% drop from the prior month.
Interestingly, West Seattle and Northeast Seattle saw a decrease in median sale prices, while Capitol Hill and downtown exhibited double digit increases (see chart at bottom).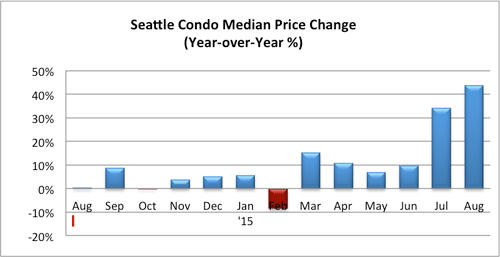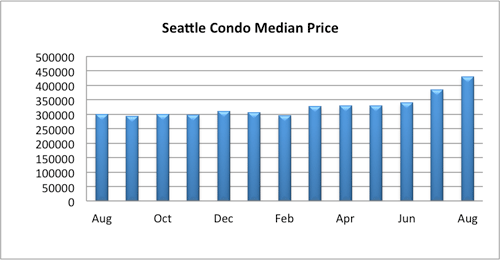 Inventory continued to remain sparse and held even with July at 290 units, or 34.5% fewer than a year ago.
Though, the actual available Seattle condo for sale inventory is greater when contemplating the unlisted new construction units slated for completion in 2016 that are currently offered for presale.
The condo inventory supply rate for August inched up ever slightly to 0.9-months of supply, which maintained Seattle in a strong seller's market place, though not as tight as it was earlier in the year.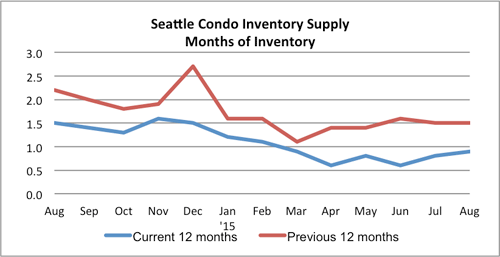 Compared to last August the number of pending sales transactions (units with accepted offers) increased 13.5% to 337 units, though that trailed July by 9.4%.
As we progress through the second half of the year housing sales historically taper so we'd expect month-over-month pending results to trend downward.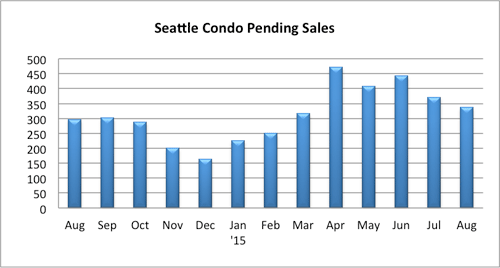 The aforementioned NWMLS published statistics data error affected closed condo sales so we are utilizing our independently compiled figures for closed sales.
The number of closed condo sales for August was 363 units reflecting a whopping YOY increase of 51.9%, but also a 4.7% dip from July. Of the 363 units, 114 or 31.4% of the citywide total were closings at Insignia, a newly completed building (phase 1) that began closing in July.
For Area 701 (downtown Seattle), Insignia accounted for 80.3% of all closings in August resulting in a 273.7% YOY increase in closed condo sales. Contemplating just resales, there were 28 closed resales in Area 701 last month reflecting a drop of 26.3% when comparing resales to the same period last year.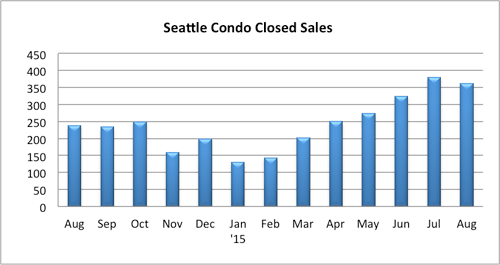 To date, approximately 67% of Insignia Phase 1 (South towers) units have closed, as reported to the NWMLS. Therefore, closings at this new luxury complex will continue to have an affect on the market in the near future.
Thereafter, Vik will begin closing around January/February 2016, then both Insignia Phase 2 and Luma are expected to start closing in Summer 2016.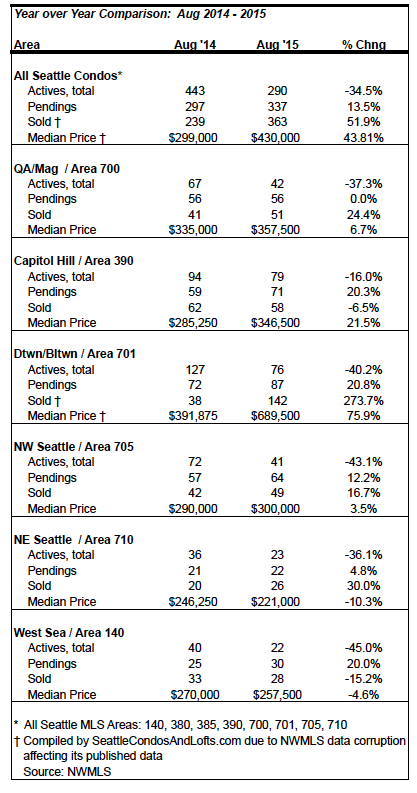 Source: NWMLS. Some figures were independently compiled by SeattleCondosAndLofts.com and were not published by the Northwest Multiple Listing Service.
________________________
© SeattleCondosAndLofts.com