February saw Seattle condo sales pick-up, as is typical this time of year with the selling season beginning. Though, sale prices tumbled a bit with the citywide median sales price for condos dipping to $295,000, reflecting a -8.53% year-over-year and a -3.8% one-month decrease, respectively.
That may be a bit misleading, however. Last February's citywide condo median sales price was $322,500, which was an anomaly of sorts. It was the highest amount dating back to January 2009, and over that 6-year span the citywide median sale price rarely made it past $300,000 (and, the average median sales price for 2014 was $299,702).
The downtown core neighborhood exhibited year-over-year declines while the outlying areas (North and West Seattle) experienced increases in median sale prices.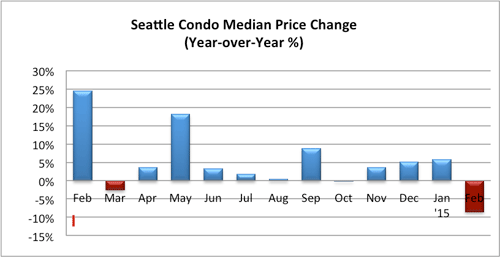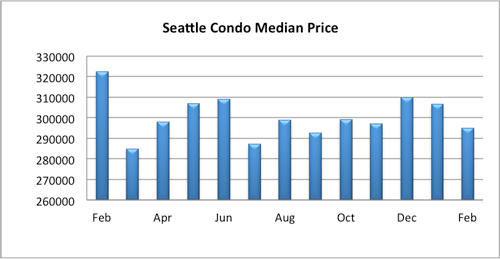 We would expect the number of Seattle condo listings for sale to increase starting in February. However, inventory remained scarce with the total number of available units for sale falling 32.1% last month to 265 units. That's even 2.9% fewer than January. And, in terms of new listings for the month there were 224 units added vs. 269 last February.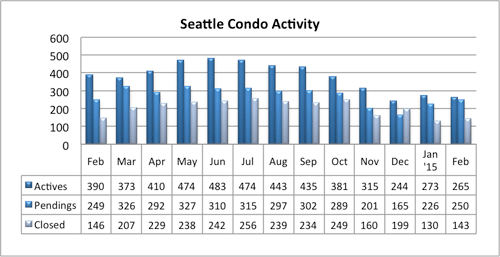 With fewer condos for sale and a steady buyer appetite, the inventory supply rate reduced to 1.1-months of supply. Virtually every condo available was sold, making it an even tighter market for buyers. Of the 265 units for sale last month, buyers purchased 250 units (Pending transactions – accepted offers in escrow).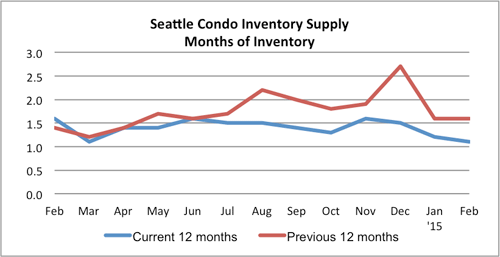 The total number of Pendings (250) reflected a one-month improvement of 10.6% and held even with the same period last year.
The number closed condo sales also improved over January to 143 units, but actually trailed last February by 2.1%.
Provided that more sellers put their condos up for sale to ease strong buyer demand, we should expect sales to remain vibrant. On the other hand, buyers could be put off by fewer choices and multiple offer bidding situations, and thus may just wait it out a bit longer.
Though, with the scant number of new condo projects in the pipeline, and developers reluctance to jump in the market while downtown jobs and population burgeons, that may be a long wait.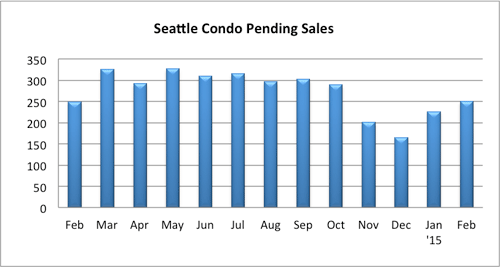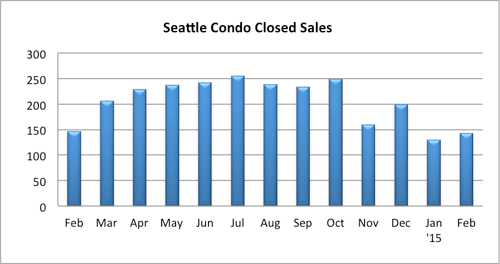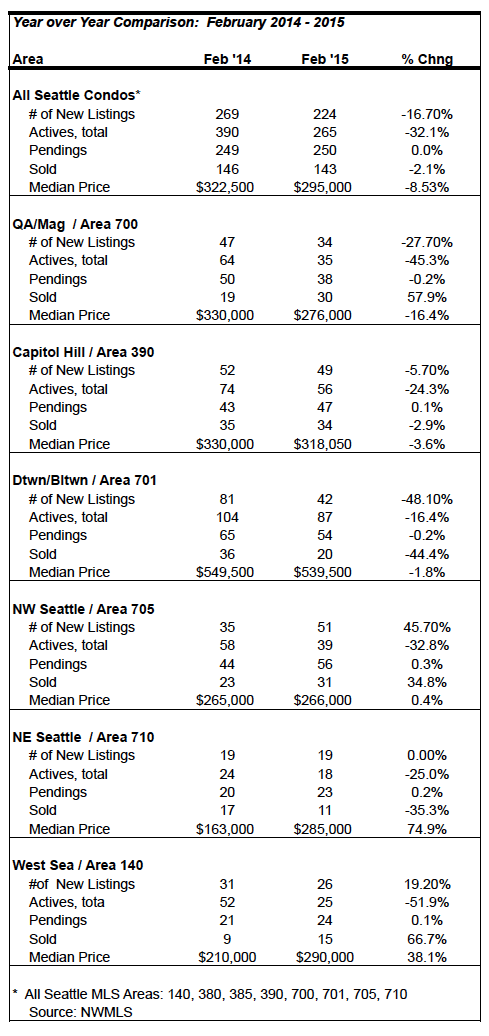 Source: NWMLS. Some figures were independently compiled by SeattleCondosAndLofts.com and were not published by the Northwest Multiple Listing Service.
________________________
© SeattleCondosAndLofts.com