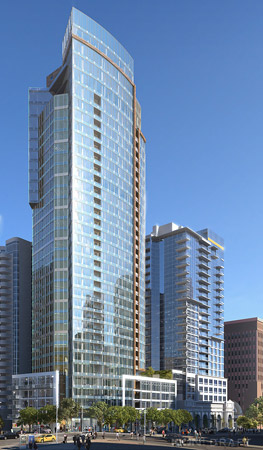 According to PCL Construction, ground breaking for the 2nd and Virginia project in downtown, known as "Tower 12", is expected to break ground the week of March 30th with the demolition of the surface parking lot. Mass excavation of the site is anticipated for late April.
Tower 12 is a 34-story residential building developed by Continental Properties, whose other projects include the Vik Condo and Canal Station in Ballard, and the Cosmopolitan in downtown.
Tower 12 is notable for two reasons. First, this may be only the second condominium in the downtown core under construction (the other being Insignia). At this time, the project may be completed as apartments or condos. And, second, it is being built adjacent to the Cristalla, towering over and obscuring Cristalla's southerly views, that is the downtown skyline views.
Cristalla is the shorter building on the right hand side in the rendering.
Update: Sources indicate Tower 12 will most likely be completed as an apartment rather than a condo.
Rendering courtesy of Weber Thompson.