Seattle's condominium market remained buoyant in December with improving median prices, tightening inventory and a dip in sales activity.
The December market results exhibited the fifth consecutive monthly year-over-year increase in the citywide median condo sales price, increasing 21.79% to $285,000, which was the highest it's been in 22 months. The December median sales price also reflected a one-month improvement of 16.8% over November.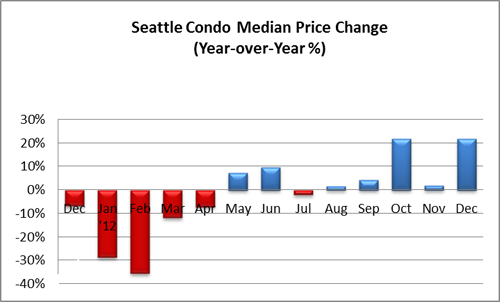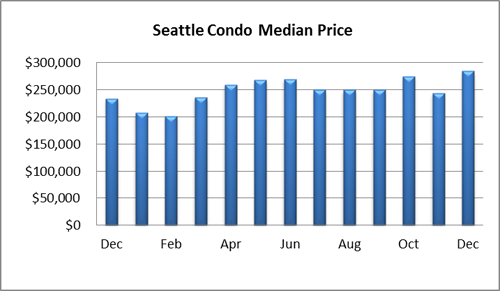 The number of active listings dipped below 400 units last month, a drop of 46.9% compared to last December and down 15.5% from November. At the height of the glut, Seattle had more than 2,000 condo units on the market.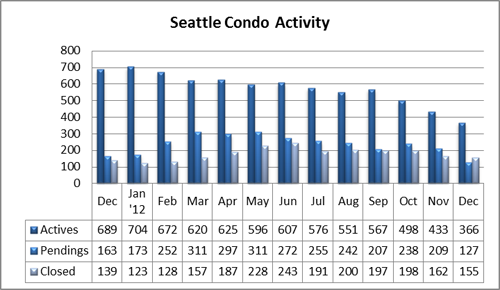 The holiday season, as well as the limited number of listings available in December, may have contributed to the drop in sales activity last month. The number of pending transactions (properties with offers accepted) decreased 39.2% from November and 22.1% from a year ago. December is historically one of the slowest months for home sales, yet last month's pendings reflected the fewest number of Seattle condo sales since December 2010.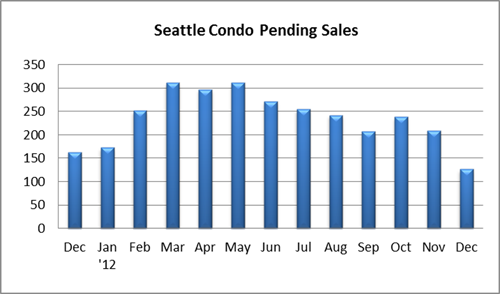 The number of closed condo sales dipped 4.3% from November to 155 units, but did improve 11.5% from a year ago. Expect closed sales to plummet in January given the reduced sales activity last month.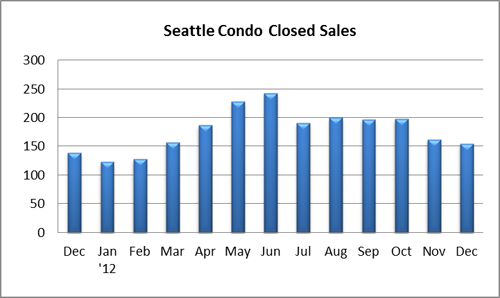 Even though inventory continued to constrict, the reduction of pending transactions resulted in an increase to the Seattle condo inventory supply rate to 2.9-months of supply. That is suggestive of a sellers-to-neutral market environment. However, I expect that to transition back to stronger sellers market conditions (likely under 2-months of supply) as we move closer to spring.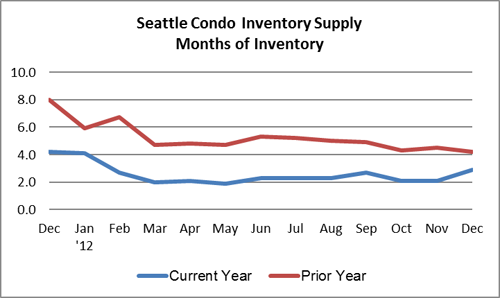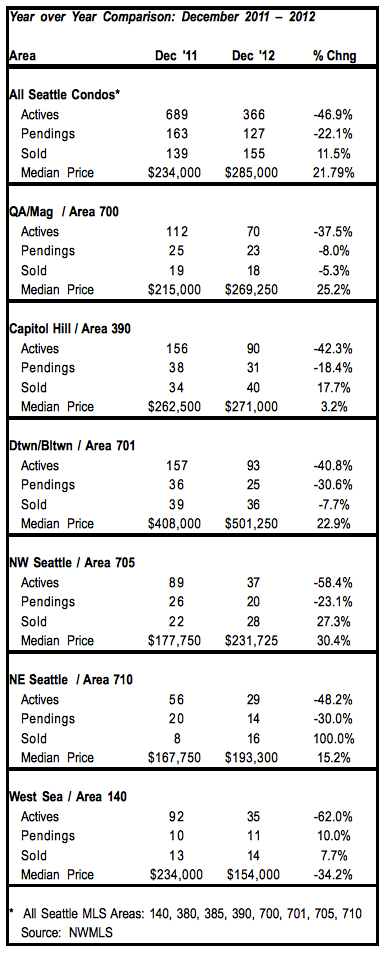 Source: NWMLS. Some figures were not compiled or published by the Northwest Multiple Listing Service.
_____________________________
© SeattleCondosAndLofts.com