The Seattle condo market results for May show a marked improvement across the board. In fact, it was on fire with increases in median sale prices, pending sale transactions, the number of closed sales and shrinking inventory levels.
The citywide median condo sales price continued to trend upwards to $268,500, reflecting a one-month increase of 3.3% and a year-over-year improvement of 7.4%. It was the first positive year-over-year result and the highest median sales price in the past 13-months.
Those results were generated by the strength of sales in downtown & Belltown (+11.9%) and Capitol Hill (+7.1%). They were, however, tempered by year-over-year median price declines throughout the rest of the city based on MLS areas (see table below). West Seattle and Northeast Seattle both experienced double digit YOY declines of 21.9% and 15.2%, respectively.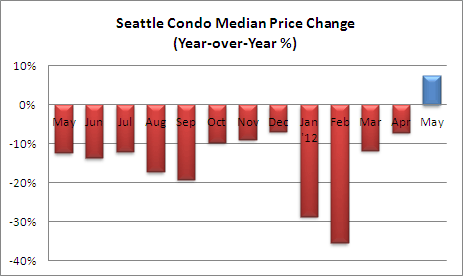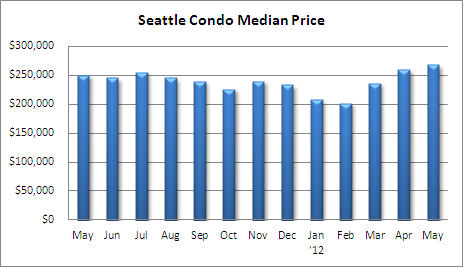 The number of pending transactions remained healthy with 311 condo units going under contract in May, equaling the number of pendings in March. The ongoing low mortgage interest rates and a better economic outlook in the Seattle region have helped to keep the Seattle condo market active.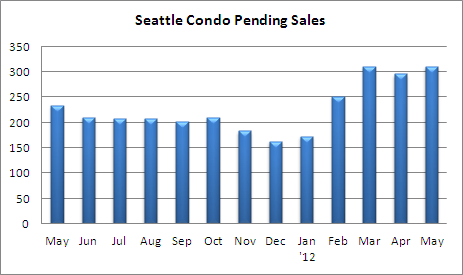 More significantly, the number closed Seattle condo sales spiked 29.6% over the same period last year, and 21.9% over April, to 228 units. Just how impressive was that? It was the highest number of closed condo sales dating back to June 2008. Not even the artificially induced activity from the tax credit incentives was able to produce a similar level of sales volume.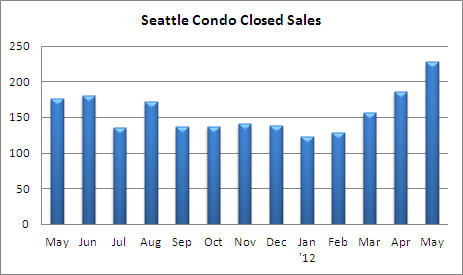 There were 596 available condo units for sale in May, which reflected a 6-year low and a 64% drop from the height of the glut in 2008.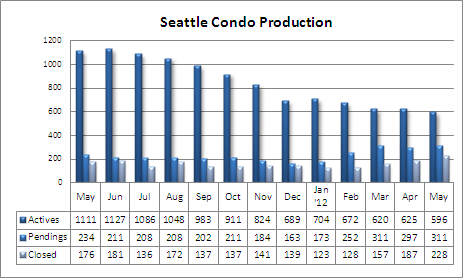 The robust sales level and dwindling available inventory pushed the Seattle condo inventory supply rate down to 1.9 months of supply…the lowest level since June 2006. At 1.9 months, Seattle is exhibiting a solid seller's market.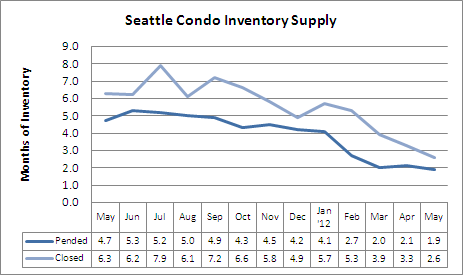 The current market environment is not likely to change anytime soon (e.g. this year) as the main drivers are the amazingly low mortgage interest rates, the increasing costs to rent, a growing employment base in the region and constricting inventory. Bosa Development is expected to break ground on Insignia Towers shortly, which would be the first condo start in years. Though, it won't be delivered for at least another 2-3 years and it doesn't appear any of the newer apartment buildings will convert anytime soon.

Source: NWMLS. Some figures were independently compiled by SeattleCondosAndLofts.com and were not published by the Northwest Multiple Listing Service.
________________________
© SeattleCondosAndLofts.com