It goes without saying that 2011 was not a banner year for Seattle condo values. The citywide median condo sales price dipped 11.6% from 2010 to $252,000. Distressed properties, which accounted for 29% of the condos sold last year, were a significant factor in lowering Seattle condo sale prices.
The lower selling prices, however, encouraged steady sales activity with unit sales dipping just 2.4% compared to 2010. That's a pretty good result considering there were no external incentives (e.g. tax credit or condo auctions) to bolster sales last year.
Condominium sale prices declined throughout Seattle in 2011. However, there were a few exceptions – South Lake Union (+53.1%), Crown Hill/Broadview (+4.8) and Maple Leaf (+33.5%) experienced increased prices. Downtown remained flat.
A word on how we calculated the downtown Seattle neighborhood districts. In our monthly market reports we provide stats based on the MLS defined area for downtown, known as Area 701, which includes downtown, Belltown, Denny Triangle, Pioneer Square, the International District and parts of South Lake Union. For our annual report, we separated the districts into their distinctive neighborhoods and manually scrubbed the sold listing data for greater accuracy. For instance, an MLS classification limitation and agent preference placed sales at Marselle, Veer, Enso and several First Hill and Queen Anne condos in "downtown". Because of scrubbing and re-classification, we have adjusted the 2010 median prices for downtown and South Lake Union.
A greater number of lower priced property sales also influenced the median sales price. Compared to 2010, there was a 25.6% increase in the number of condos sold under $250,000 last year. Nearly half (49.1%) of all Seattle condos sold in 2011 were priced under $250,000, which weighted the mid-point downward.
Interestingly, there was a significant increase in million-plus dollar condominiums as well, up 24.6% over the prior year. That's reflected in SLU's strong showing and kept downtown on par with 2010.
Finally, the figures reflect median sold prices and not property values. In some neighborhoods, there were too few condo sales to be meaningful, such as the two sales in Fauntleroy or zero sales in Leschi. When looking at the chart, it's important to note that property values did not fall, or increase, by the numbers shown. For instance, condo values in Fauntleroy did not drop 64.4% or Lake City by 51.4%; and conversely, condos in SLU did not rise 53.1% in value.
While foreclosures remain an important factor affecting local condo values and sale prices, it may not be as prevalent in the near future has they've been in the past. King County foreclosure filings have reduced significantly compared to 2010 and shrinking inventory is accelerating multiple offers (in the lower price points), which may eventually lead to a pricing recovery.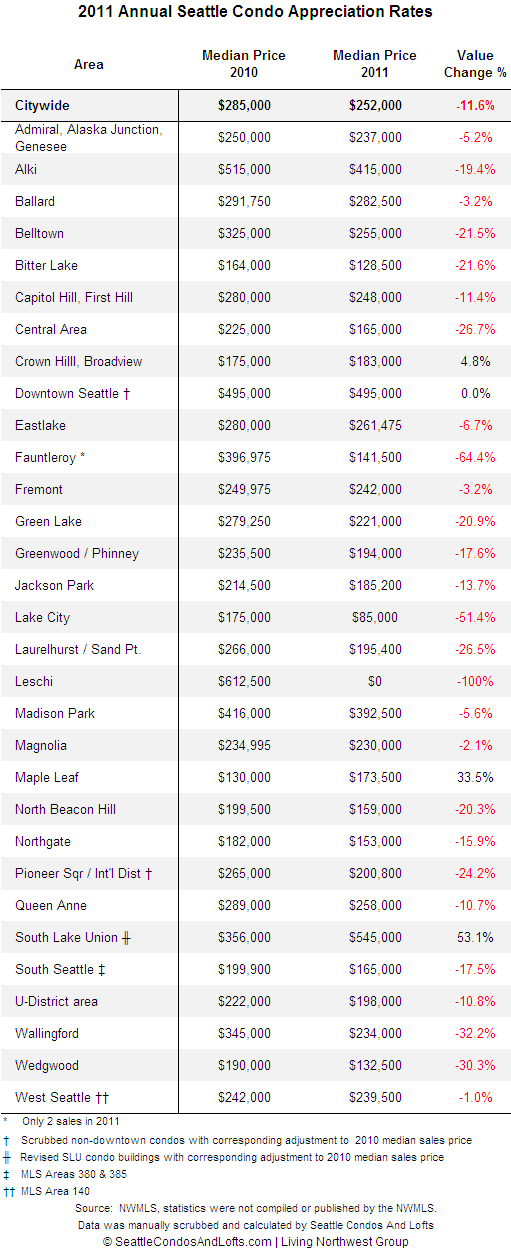 Sales information provided by the NWMLS; all figures were independently calculated by SeattleCondosAndLofts.com. Private sales (by owner) and some new construction unit sales were not reflected in the NWMLS database.
______________________________
© Seattle Condos And Lofts
Cover photo by Christian Terboven available under a Creative Commons Attribution 2.0 commercial license.