Recently completed by Cascade Built, the prefabricated Alley House 2 is now ready for prime time.  The 1,687 square foot 3-story single family dwelling boasts an open floor plan with 3-bedrooms and 2-baths. Alley House 2 is currently available for $599,000 and is located at 216-B 26th Avenue East in Madison Valley.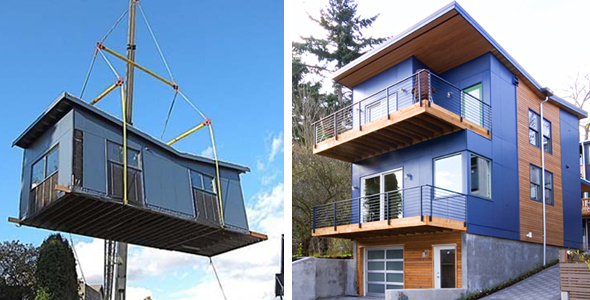 What makes Alley House 2 unique is that it is only the second private modular residence targeting LEED Platinum Certification in the Seattle area.  To achieve LEED Platinum, which is the highest classification possible, a development needs to exceed in five categories – sustainable sites, water efficiency, energy and atmosphere, materials and resources, and indoor environmental quality.
Alley House 2 is targeting LEED Platinum Certification with the following features:
Much lower than code energy and water consumption – expected to be around 50% reduction
Building is wrapped with foam, additional insulation
High performance windows
Low flow fixtures
Comfort/Health Quality
Heat recovery ventilation for continuous fresh air
No VOC paint
Sustainable materials includes FSC bamboo hardwood floors and Squak Mountain stone recycled countertops (locally sourced)
Alley House 2's design features include a modern architecture designed by David Foster with a butterfly roof, an open floor plan with 10-foot ceiling height on the main floor, large decks with territorial views and a one-car garage.
Overall, the interior layout and finish level is fairly standard with comparable townhome-styled properties you find in the area. The main level is a large open area incorporating the living, kitchen and eating space. The bathrooms are located on the ground and top floors.
View more photos and details of Alley House 2 or inquire about private tour or for additional information.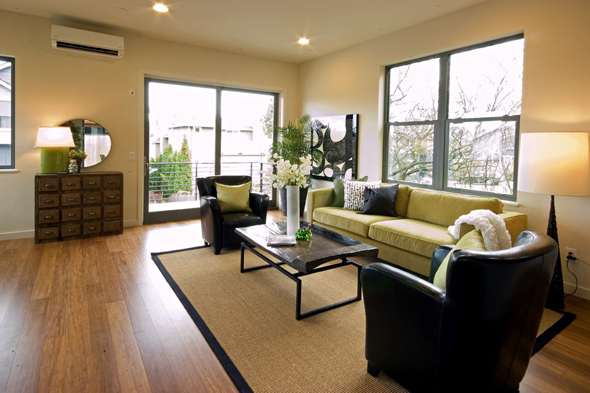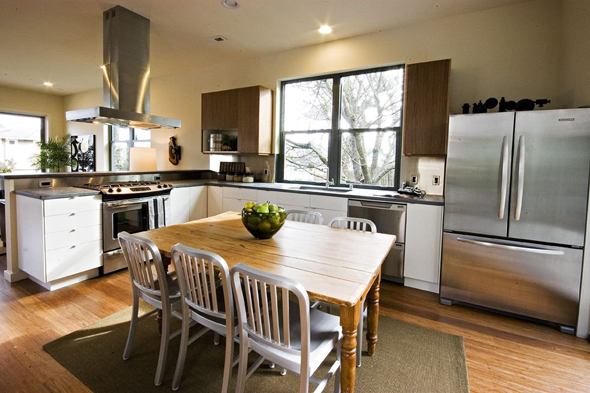 Photos and information courtesy of Cascade Built and Danielle Johnson of Infiniti Real Estate.